Last Updated on September 7, 2021
Be as quick as a flash to get your FREE sample AERIN Amber Musk perfume with Estee Lauder.
Estee Lauder is currently offering free samples of AERIN Amber Musk perfume thru a sponsored advert on their Facebook / Instagram accounts.
This means we do not have a direct link to the sample request form. However, we recommend you complete a bunch of actions to make the ad pop up in your social media feed, and as a result, be able to order your free perfume samples while the supplies last.
How to receive a FREE Estee Lauder AERIN Amber Musk perfume sample by mail?
Let's get going before the supplies run out. You can perform the following steps :
Like the "Estee Lauder UK" page on Facebook if you haven't already
Follow the "Estee Lauder UK" account on Instagram if you haven't already
Google the offered perfume samples and check out the perfume on Google (in this case, search Estee Lauder AERIN Amber Musk perfume)
Go over to the Estee Lauder UK website and check out the perfume page on there as well…
After this, close all tabs and reopen them. Keep using your social media as usual by scrolling down the feed. Keep an eye for a sponsored advert from Estee Lauder. (see picture below)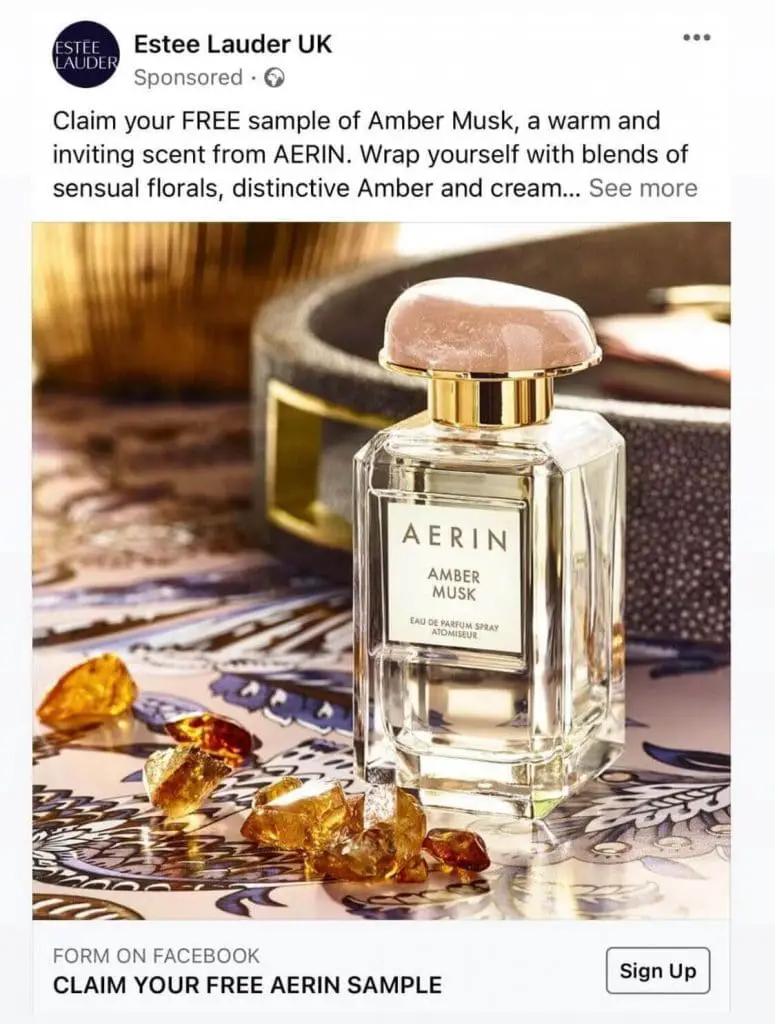 Once you see it, click on the call to action icon to see a SoPost form appear to you. Pop up your details in the corresponding fields or let Facebook do it for you. Just make sure you verify that the coordinates are valid.
These samples can be claimed by UK residents ONLY.
Stay tuned for more free perfume samples from major brands to receive by mail in the UK by subscribing to our newsletter and push notifications.
You can also keep an eye on this article we update regularly to offer you the latest sampling opportunities for perfume in the UK.
Go go go get yours while supplies last.
Be the first to get the latest freebies in your inbox