Last Updated on December 11, 2020
Pepsi is giving away FREE Pepsi Max Samples to receive by mail. This Cola Freebie is offered through a sponsored advert on Facebook (and maybe Instagram too!).
The new Pepsi Max is a low-calorie, sugar-free cola. You can test it free with this new sampling offer available to citizens of the United Kingdom.
To snag yourself a FREE Pepsi Max Sample to get in the mail by regular post, we invite you to follow the simple step-by-step guide below.
How to score a FREE Sample of Pepsi Max Cola?
First things first, this isn't an online form you would usually just click the link and request it. It's happening through a sponsored advert on Facebook, and possibly Instagram. You can complete these actions to make the ad pop up in your social media feed. And as a result, sign up to receive your Pepsi Cola Sample free.
Here are the actions we recommend you complete :
Like and follow Pepsi Max pages on Facebook and Instagram
Engage with the brand on social media. It could be by liking one or two of their recent posts or leaving a comment, or any other social activities.
Search the Pepsi Max Cola on your usual search engine
Visit Pepsi UK website and checkout the offered sample in there as well
Once you're done with these actions, just keep scrolling your social media feed as you always do. But keep both eyes open for the advert offering the freebie. It looks like the screenshot I put below.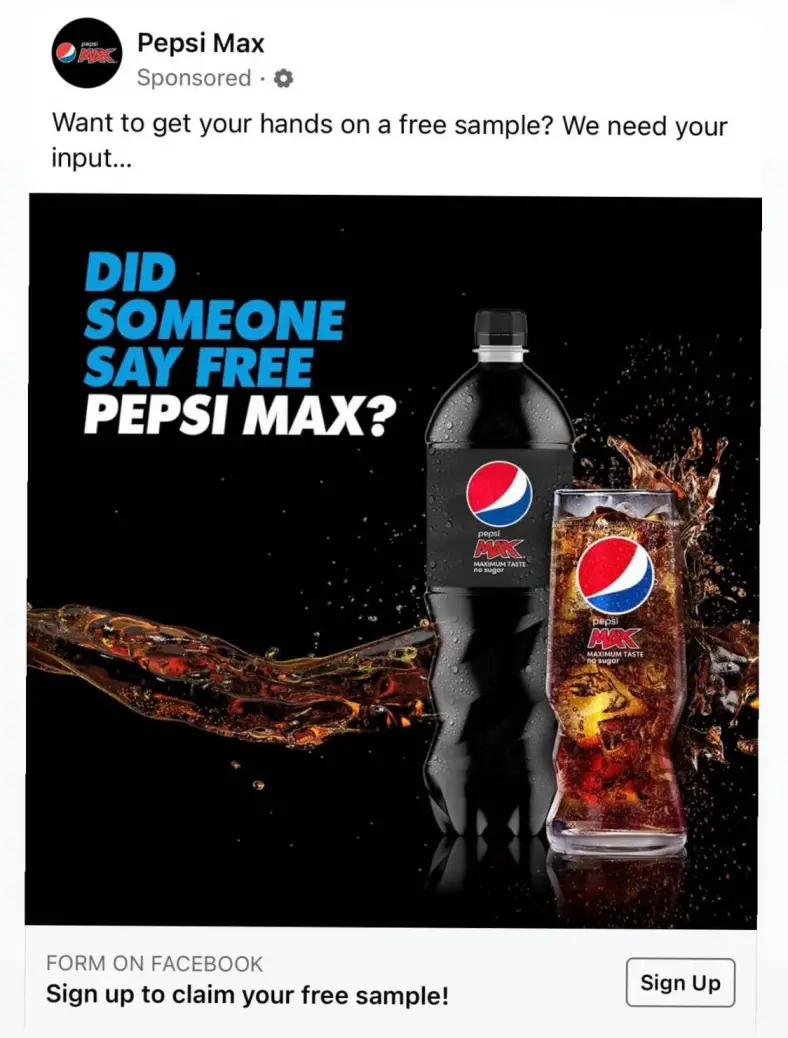 Click the sign up icon to see an online form appear. Pop up your details in there or use the auto-fill option with Facebook (if you use the auto-fill option, please recheck the validity of your details before submitting it.)
The advert is serving in the UK only. So this freebie is for residents of Great Britain.
Valid for a limited time or while supplies last.