Last Updated on June 21, 2023
Hot freebie! the Britney Spears brand is offering Free samples to receive by mail of Britney Spears Fantasy perfume
Hurry to get one if you missed it the first time. Here's how below.
How to get a free Britney Spears Fantasy Perfume sample?
NEW! On TikTok – Available
Right now, you can get a free sample of Britney Spears Fragrance on a TikTok sponsored ad. Follow the tips and tricks below to get it to show up in your feed.
Keep scrolling your TikTok feed as usual while paying extra attention on sponsored ads. Here is the one you should be looking out for.
From Facebook sponsored posts
There is a new sponsored post on Facebook offering free samples of the Britney Spears Fantasy fragrance. Here is how you can claim one while the supplies last.
First of all, this is on Facebook so no direct link. However, you can simply go to the search bar on Facebook and search for Britney Spears Fragrances as you can see in the snapshot below. You should be able to see the sponsored post right away. Thus be able to claim a sample.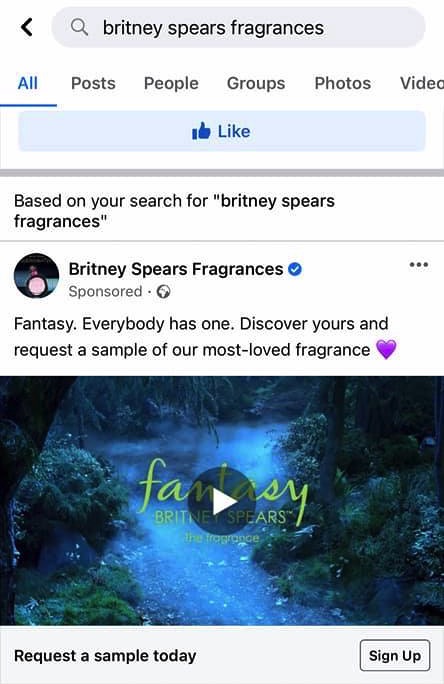 If that doesn't cut it for you, you can do it the regular way like and follow Britney Spears Fragrances page, and like some recent posts shared on their page.
Here are further targeting details for this freebie.
Thru Sampl – Sold Out
To get your hands on this perfume freebie, just proceed as usual. Follow the link right here to the freebie order page. Fill in the form with your shipping address and send it away. You know, the usual drill.
If the freebie is still available and supplies are running, you will see the form in which you just need to pop up your details. Submit and wait for your FREE Britney Spears Fantasy Eau de Parfum sample to be shipped to your mailbox by regular post.
This Free Britney Spears perfume sample is for UK residents ONLY.
Subscribe to our push notifications or follow us on social media to make sure you receive freebies and deals as soon as we share them.
More free perfume samples in the UK? Check out our listing.
Be the first to get the latest freebies in your inbox