Last Updated on May 2, 2022
Free Vichy Mineral Serum sample anyone? Find below the latest offers and sampling campaigns to score free Vichy serum samples in the UK.
Updated regularly to include recent offers.
How to snag a free Vichy Mineral serum sample?
NEW! Thru Facebook / Instagram – Available
There is a new sponsored post doing rounds on Facebook and Instagram. In fact, Vichy is offering UK residents the chance to snag a free sample of their iconic Mineral 89 serum. There is no direct link at the moment, however, you can complete the actions below, and hopefully, the post will pop up in your feed right after.
I suggest you follow Vichy UK page on Facebook if you haven't done so already.
Also, consider engaging with the brand online by liking a couple of recent posts on their page, or watching a recent video they shared.
The post is showing up to female residents of the UK, who are aged 18 and above, and who might be similar to Vichy Customers. Here is a snapshot of the post.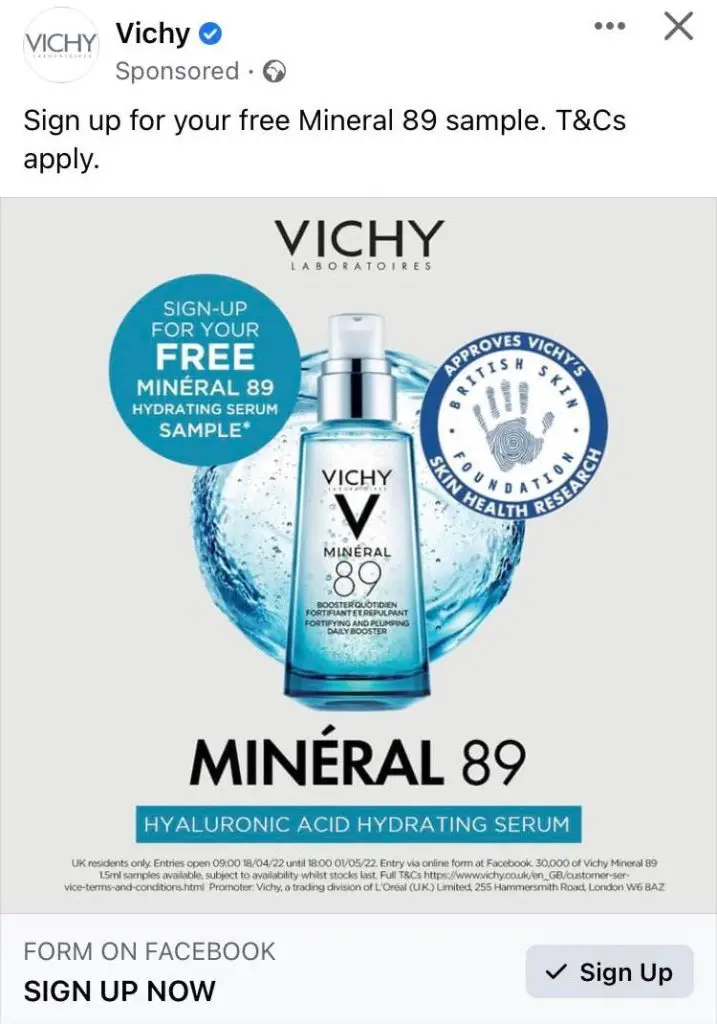 As you can see in the second screenshot, this sponsored post is showing up to select female UK residents who are aged between 18 and 55, and show similarities to Vichy customers.
NEW! Vichy Mineral 89 Hyaluronic Acid Serum – SOLD OUT
The Vichy Mineral 89 Hydrating Hyaluronic Acid serum is one of the best selling products by Vichy. It's a must-try I'm telling you! Now you can do it for free. Hasten!
In order to receive a free Vichy Mineral Serum sample by mail within the UK or Ireland, we invite you to click this link to go to the sampling page. Once on the page, scroll down a bit to find the sample request form. Complete it with your valid personal info and shipping details. Send away to get your Vichy freebie in the mail within a few days or up to two weeks.
The samples can be claimed by both residents of the United Kingdom and Ireland. Aged at least 18 years old or above.
The offer is valid for a limited time only, or while the supplies last.
UK residents 18+ only. Entries open 09:00 04/02/22 until 23:59 28/02/22 or when all the samples have been claimed. If you missed it today, you can retry the next day as early as you can. Good luck!
Vichy Mineral 89 Probiotics Concentrate – SOLD OUT
Vichy UK & Ireland is giving 30,000 samples of the new Vichy Mineral 89 Probiotiocs Concentrate on a simple request through a new form on their website. Be as quick as you can to snag one while the quantities last.
Be quick to get one of 30,000 free samples of Vichy Mineral 89 Probiotics Concentrate by post. To get yours with Vichy UK, simply follow this link to the freebie page. Fill in the form and send it away.
Open to residents of the UK and Ireland. 18+.
We hope you enjoy this amazing freebie from Vichy. Let us know in the comments below.
Have a great week-end everyone!
Be the first to get the latest freebies in your inbox