Last Updated on September 15, 2023
Yves Saint Laurent invites you to try a whiff of elegance, charm, and individuality with a free YSL MYSLF Aftershave sample, their new Eau de Parfum for men. With just a simple request, this tantalizing fragrance could be yours to experience.
The YSL MYSLF Eau de Parfum is a distinguished addition to Yves Saint Laurent's collection of sophisticated fragrances. Designed for confident and self-assured men, it encapsulates a blend of notes that resonate with modern elegance and timeless allure. With its intricate combination of Woody floral, and earthy tones, the MYSLF fragrance captures the essence of individuality and self-expression. It is a perfume for those who desire to stand out and celebrate their unique personality. If you are looking to get your sample to try it before anyone else, then simply read on.
How to claim your free sample of YSL MYSLF Eau de Parfum?
NEW! From Boots – AVAILABLE
Hurry up to claim a free sample of YSL MYSLF Fragrance from Boots sampling… Follow the steps below:
Fill out the form and submit
this offer is available for a limited time or while supplies last… So act fast!
On TikTok
This freebie is also now available to claim through a sponsored post on TikTok. To increase your odds of seeing the ad with the request form to claim a sample, simply follow the steps below:
Follow the YSL account on TikTok,
Like their recent posts and reels on their page and interact with their content
Search for the YSL MYSLF on the TikTok Search Bar and check out the results for any sponsored ads
Here is what it looks like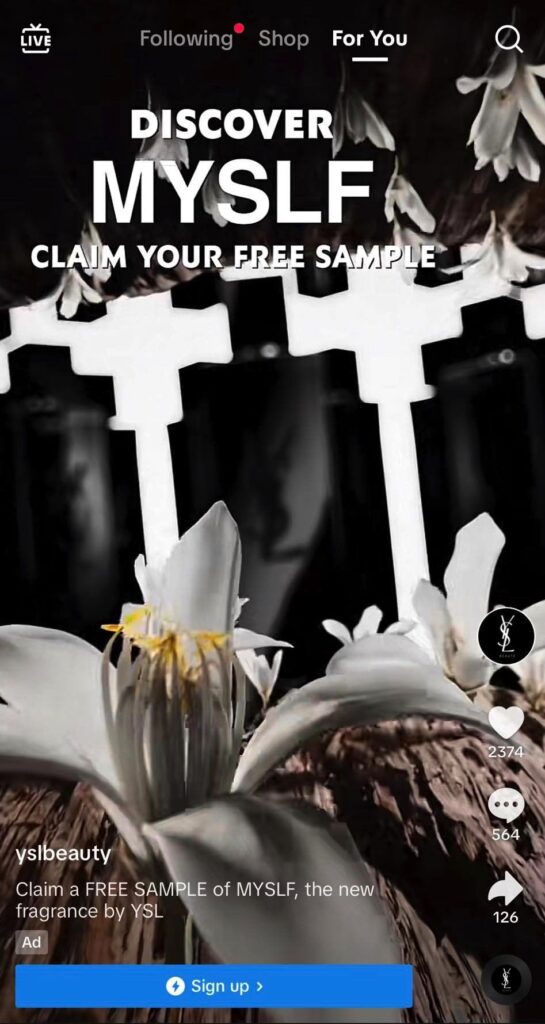 Once you find it, click on the 'SIGN UP' button and fill out the form.
This freebie is also available on Facebook and Instagram. Check out how in the sections below.
On Facebook / Instagram
Facebook and Instagram are now the go-to places to get your free YSL Myslf aftershave sample. Here's how:
follow the official page of YSL Beauty on Facebook and/or Instagram
Engage with their content to show your interest. You can do so by liking recent posts and commenting, or watching their recent reels and stories.
Search for YSL MYSLF on the Facebook or Instagram search bar.
Visit YSL website and check out the new YSL MYSLF Fragrance in there.
Now all you need to do is keep scrolling through your social feed while keeping an eye out for the sponsored advert from YSL Beauty page. Here is the one you need to find in order to order the sample.
As soon as you see it, click on the 'SIGN UP' button and fill out the form. The confirmation email should follow shortly after.
Good luck.
From YSL Website – EXPIRED!
Obtaining a sample of YSL MYSLF Eau de Parfum is effortless. Simply navigate to the dedicated page for the MYSLF Eau de Parfum sampling offer located HERE on the brand's website. Once there, check the header for the Odore link as you see in the picture below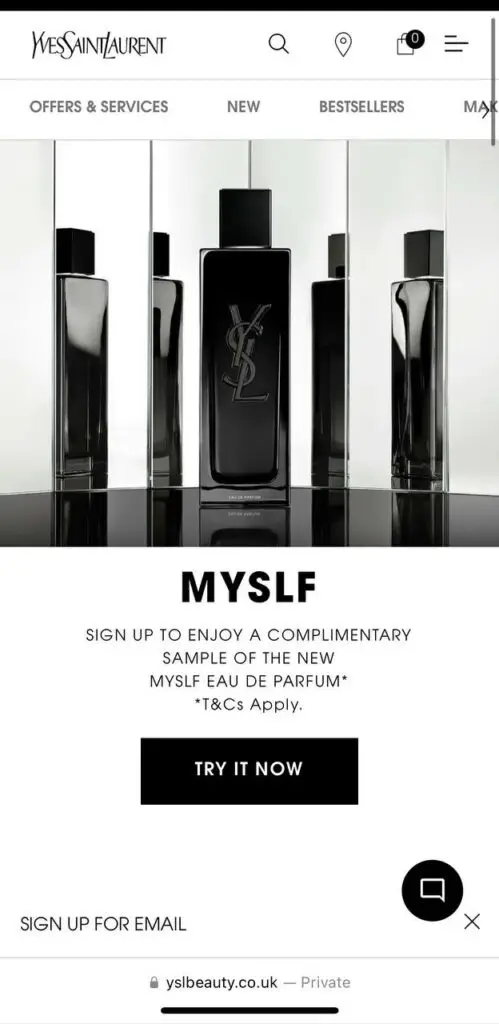 Click on it, and complete the brief form with your name, mailing address, and other requested information. Click the submit button, and your free sample will be on its way.
NOTE: The campaign is paused frequently, so if it says so, make sure to retry in a couple of minutes or later. And it's a matter of access to the link, you can try a different browser or private mode. I will update you regarding any easier methods or so along the way, so make sure you are subscribed to notifications and emails.
Supplies may be limited, so don't delay in securing your sample and immersing yourself in this exceptional fragrance.
This offer is available for a limited time only or while supplies last.
Open to residents of the UK.
From YSL Newsletter – EXPIRED
Another method you can get this freebie is by signing up to the Yves Saint Laurent emailing list. They are sending emails to subscribers to claim this freebie before anyone else. So, if you are already in their list, check your email inbox, if not you can sign up and keep an eye out on your emails for the link.
That's about it. This is a new fragrance, so there will be tons of ways to sample it. Make sure to follow us on Social Media and subscribe to emails and push notifications. This way, you will be the first to know as soon as this freebie is available for you to claim without hassle.
Discover the Sensation of YSL MYSLF
Whether you're a long-time aficionado of YSL fragrances or new to the world of high-end perfumes, this free sample provides an extraordinary opportunity to experience a fragrance that's both classic and contemporary.
The YSL MYSLF Eau de Parfum transcends ordinary scents. Its masterful blend captivates and intrigues, making it a perfect accessory for those special occasions or simply as a daily reminder of one's unique essence.
In a world where mass-produced fragrances often fail to resonate, the YSL MYSLF Aftershave emerges as a symbol of individuality and refinement. Its complex and inviting aroma speaks to those who aren't afraid to be themselves.
Take advantage of this unique offer and request your free sample today. It's a small gesture that could lead to a delightful new discovery in your olfactory journey. Allow YSL MYSLF to become a part of your self-expression and elegance.
Enjoy the indulgence!
Be the first to get the latest freebies in your inbox