Last Updated on December 7, 2021
Been looking to try Thameen perfume and luxury fragrances? Now you can. For a limited time, the brand is offering free Thameen perfume samples to UK residents.
Be quick to snag a free Thameen Cullinan Diamond perfume sample while supplies last. The Cullinan Diamond Fragrance is the newest addition to their arsenal.
It's a delightful mix of luxuriously blended notes that will create a style-signature scent. The beginning notes of this perfume are reminiscent of a Rose bouquet, with top notes being Black Pepper and Vanilla. The middle notes have hints of Rose. The base has a lasting, endearing scent of Musk.
The new fragrance is as radiant as the modern souls who wear it, with a warm and inviting nature. Thameen itself means "precious" in another language.
How to get free Thameen Cullinan Diamond perfume samples in the UK?
To get your free Thameen Cullinan Diamond perfume sample in the UK, just follow the instructions below as shared by the brand.
This is an in-store freebie. Which means you need to go to go over to a participating location near you and request the sample.
Participating locations are:
Selfridges London,
Selfridges Manchester Exchange,
Harrods London.
Screenshot the snapshot below or go to their Instagram page to find the post. Once in store, simply show it to a Thameen Fragrance Consultant to get a 2ml sample.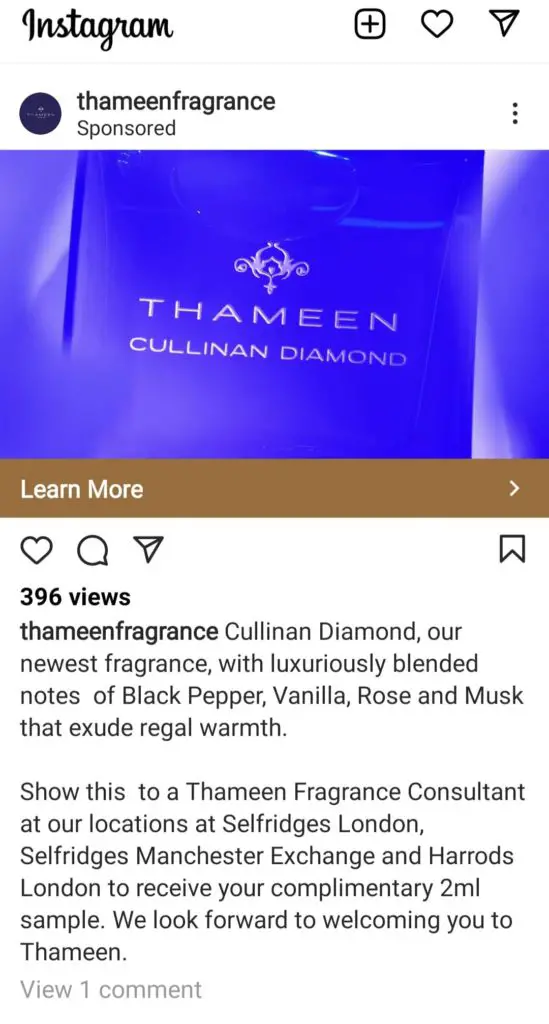 Available to residents of the UK only.
Valid for a short period of time or whilst supplies last at participating stores.
Be the first to get the latest freebies in your inbox