Last Updated on August 9, 2023
Sunnamusk, renowned for its captivating and exotic fragrances, is offering a special treat that you won't want to miss. For a limited time, you can request a free sample of their best-seller fragrances, including Golden Dust or ABID Ambre. This incredible opportunity is available exclusively through sponsored posts on Facebook and Instagram. So, interested in ordering a free Sunnamusk Fragrance sample? Read on to find out how.
How to claim a free sample of Sunnamusk Fragrance?
Getting your hands on a free sample of Sunnamusk Best selling fragrances is a simple and straightforward process. Since this is available on Facebook and Instagram, then you will have to follow the process explained below to make the advert pop up in your feed.
Like Sunnamusk Facebook Page and/or Instagram account
Take a moment to browse through their posts and engage with the content by liking, sharing, or leaving a comment
Pop "Sunnamusk Fragrance" into the search bar on Facebook, Instagram, or even their website. This will alert the social media algorithms to your interest, making it more likely for the sponsored ad to pop up in your feed.
After that, keep an eye on your Facebook and Instagram feeds for the sponsored post promoting the free Golden Dust or ABID Ambre sample from Sunnamusk. Here is what the post looks like.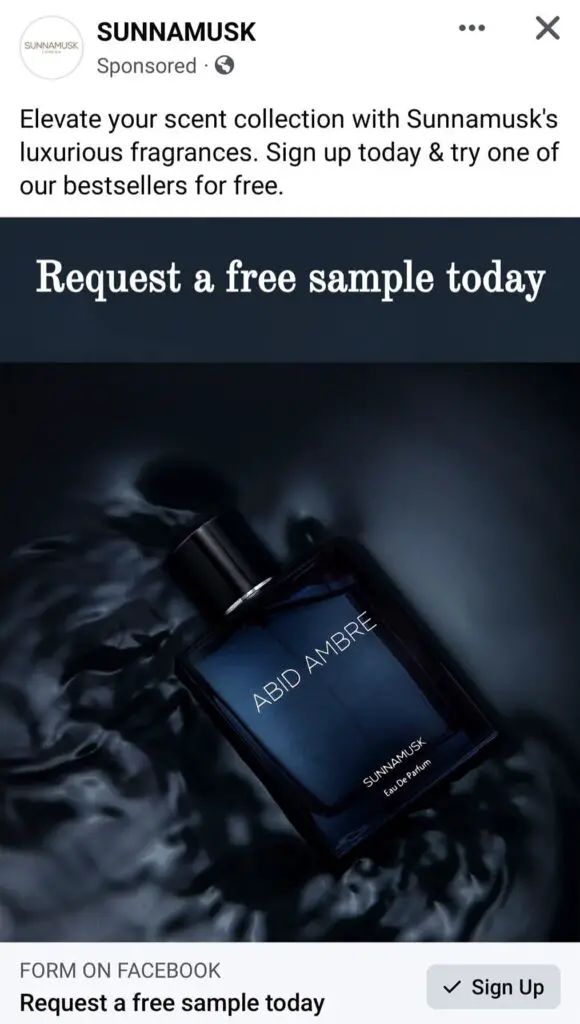 Once you see it, click on the button and fill out the form to receive your sample.
Please note that this offer is available only to residents of the UK.
Sunnamusk Luxurious Fragrance sample presents an exclusive opportunity to explore a world of scents that is rich, layered, and utterly mesmerizing. By aligning traditional aromas with modern elegance, their perfumes stands as a testament to Sunnamusk's mastery in fragrance creation.
Don't miss this golden opportunity! Keep an eye on your social media feeds and claim your free sample of Golden Dust today. Let it take you on a journey that celebrates the essence of luxury, elegance, and timeless beauty.
About Sunnamusk Fragrances
ABID Ambre offers a scent that lingers, telling a story that's uniquely yours. Whether you're attending a gala or simply enjoying a night out with friends, this fragrance stands out. It's an excellent opportunity to sample a premium fragrance without any cost. Whether you're a fragrance connoisseur or simply curious, ABID Ambre by Sunnamusk offers a chance to explore and enjoy a masterfully crafted perfume. Whereas Golden Dust is more than just a perfume; it's an experience. A part of Sunnamusk's luxurious range of fragrances, Golden Dust captivates with its rich, mysterious blend that transcends the ordinary.
With its fusion of oriental and western notes, the fragrance is designed for both men and women who want to make a bold statement. It opens with a tantalizing blend of spices, followed by a heart of floral notes, all resting on a base of deep, resonant woods and musk. It's an exotic dance of scents that invites intrigue and admiration. So don't miss out on this chance to sample it gratis.
Be the first to get the latest freebies in your inbox