Last Updated on August 1, 2023
The quest for the perfect skincare product that caters to all your needs might just be coming to an exciting pause. Introducing the Hydra-fusion Daily Defence SPF30 from Studio 10 – a product that promises not just to be an ordinary part of your skincare regimen, but an exceptional experience altogether. And the best news is you can now claim a free Studio 10 Hydra Fusion Daily Defence sample without spending a cent.
Imagine a skin care product that addresses five of your primary concerns in one application. The Studio 10 Hydra-fusion Daily Defence SPF30 is a remarkable 5-in-1 formula designed to nourish, perfect, protect, restore, and prime your skin. Every morning becomes a delightful skincare ritual with this product on your shelf. So read on to find out how you can receive a sample to try..
How to claim a free sample of Studio 10 Hydra Fusion Daily Defence SPF 30?
NEW! From Facebook / Instagram – AVAILABLE
For those based in the United Kingdom, the joy comes wrapped in a sponsored post on Facebook. But here's the thing – it's available to select users. But luckily, there are tips and tricks to help you out get the sponsored post to pop up in your social feed.
Visit Studio 10's Official Page: Liking or following the Studio 10 official Facebook page can increase the likelihood of the sponsored post appearing on your feed.
Search for the Product: Manually typing and searching for "Studio 10 Hydra-fusion Daily Defence SPF30" might alert Facebook's algorithm about your interest. You can use the Facebook search bar or the internet, or both!
Once you're done, simply keep your eyes peeled on sponsored posts showing up in your feed. The one you should find is from Studio 10 and it looks like the picture below: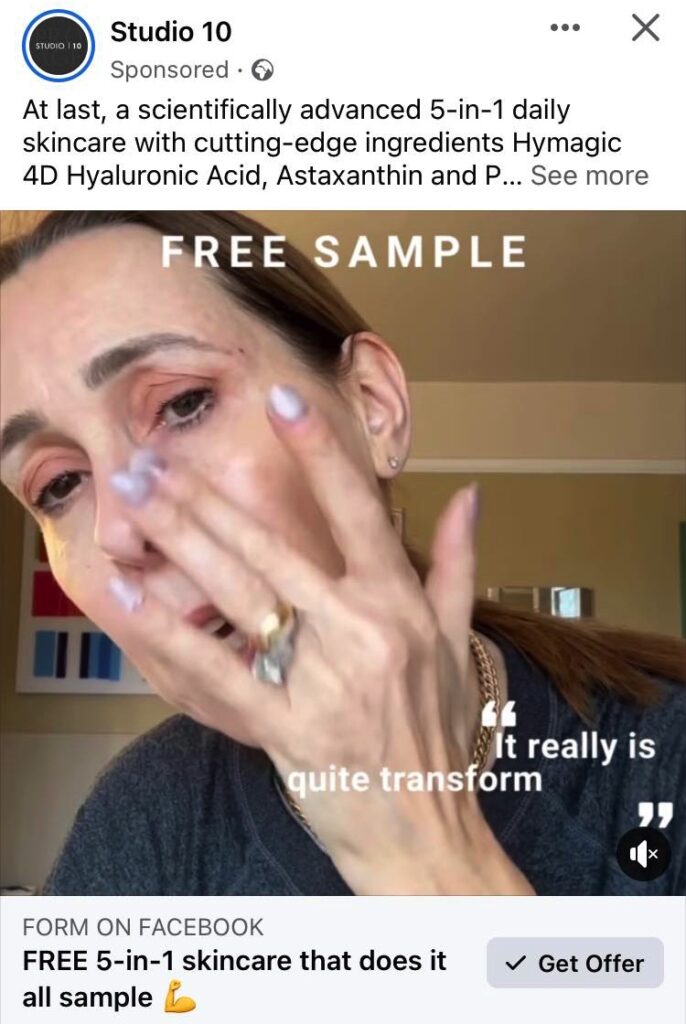 Once you find it, click on the 'GET OFFER' button and fill out the form.
Currently showing up to select UK users on Facebook (I'm not sure about Instagram but you can give it a shot if you prefer it to Facebook.)
If you've been looking for a product to simplify and elevate your skincare routine, this might be your golden ticket. Stay active, engage, and keep your eyes peeled on your feed. The future of skincare could be just a click away.
Good luck to everyone!
Be the first to get the latest freebies in your inbox