Last Updated on September 7, 2023
In the ever-evolving world of beauty, few things are as exciting as stumbling upon a product that promises to be a game-changer. Paco Rabanne brings its newest creation to the forefront: the Fresh Touch Foundation. And guess what? UK beauty enthusiasts have an exclusive chance to try it for free. Yes, that's right, you can now claim a free Rabanne Fresh Touch Foundation sample to try before the product hits the shelves. Here is how.
How to claim a free sample of Paco Rabanne Fresh Touch Foundation?
NEW! On Facebook / Instagram – AVAILABLE
Heads up to all! This freebie is now available to claim through sponsored posts on Facebook and Instagram. Follow the instructions below to increase your chances of seeing the ad to claim your sample:
Make sure you follow Paco Rabanne's page on Facebook and/or Instagram
Engage with their content (Like recent posts, watch videos or stories, etc…) This is important because the algorithms on Facebook and Instagram prioritize content based on user engagement.
Use the Facebook or Instagram search bar to look up the Rabanne Fresh Touch Foundation
Here is a screenshot of what the advert looks like, along with the targeting criteria.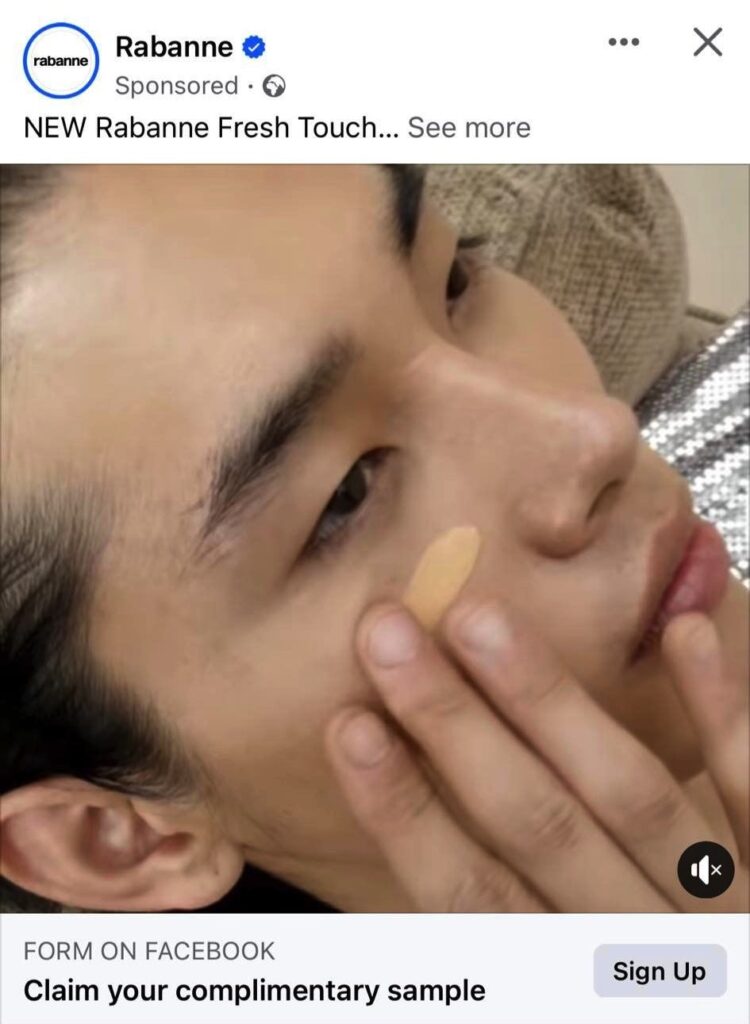 Once you see it, click on the 'SIGN UP' button to access the SoPost request form. Fill it out and check for the confirmation email. I received mine straightaway.
Now, for the ad I came across, the targeting criteria is as follow:
Female residents of the United Kingdom,
Age between 18 and 34 years old
Interested in Beauty and Entertainment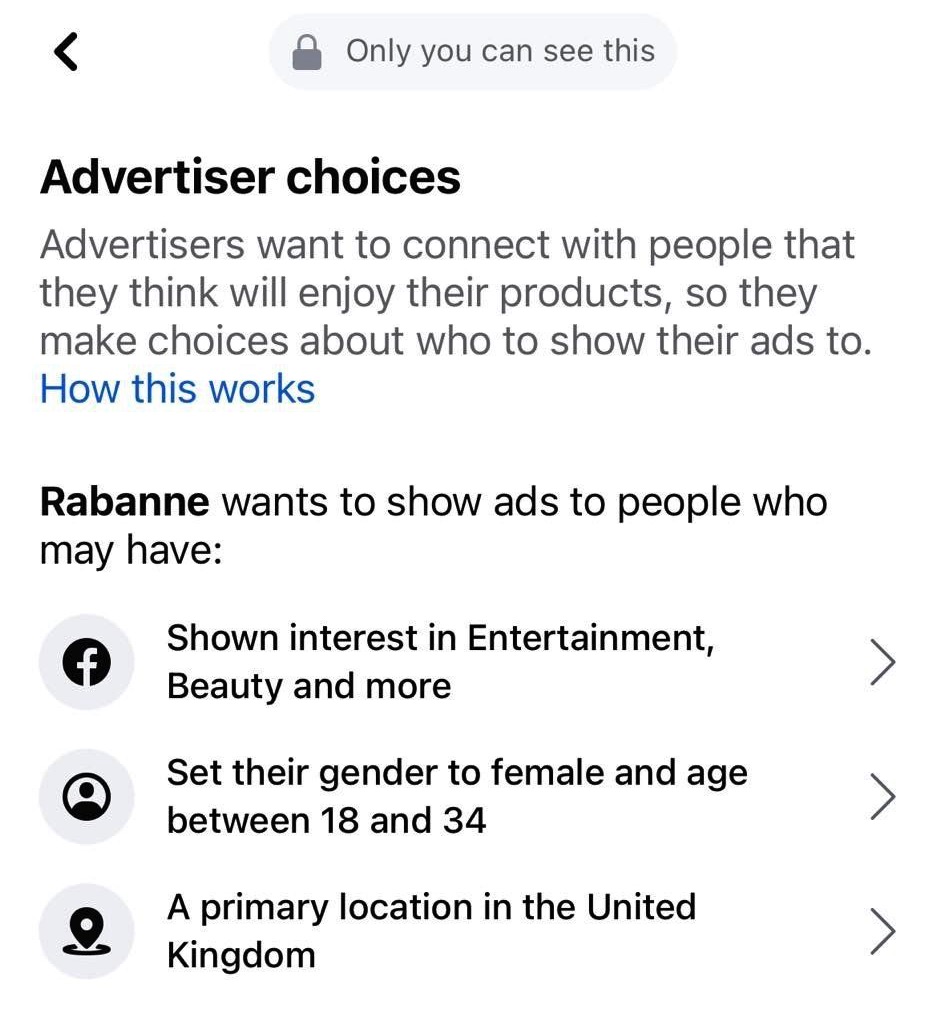 On TikTok
Paco Rabanne's generosity shines as they offer UK residents a chance to sample their new Fresh Touch Foundation on TikTok. But how exactly can you get this offer to pop up on your TikTok feed? It's quite simple, follow the tips below:
Follow Rabanne: Head over to TikTok and hit that 'follow' button on Rabanne's official page. By doing so, you're not only increasing your chances of viewing their promotions but also staying updated with their latest launches and beauty trends.
Engage with Their Content: Every like, comment, and share tells TikTok's algorithm that you're interested in the brand's content. Engaging frequently ensures that promotions, including the free sample offer, appear on your For You Page.
Use TikTok's Search Bar: Regularly search for terms related to Paco Rabanne, like "Paco Rabanne makeup" or "Fresh Touch Foundation." This proactive approach nudges the algorithm to recognize your keen interest.
Stay Active and Patient: TikTok's algorithm is ever-evolving. Sometimes, it might take a while before the desired ad pops up. Don't get disheartened! Continue your engagement, and soon, the Fresh Touch Foundation sample offer will grace your feed.
Here is a screenshot of what it looks like, so you can recognize it easily.
Once you find it, click on the sign up button and fill out the form to receive your freebie by post.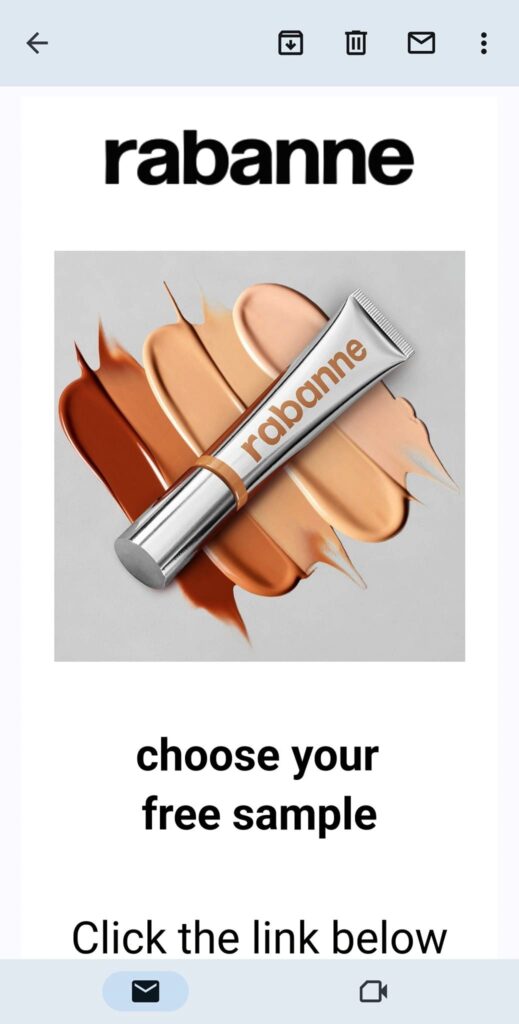 The world of social media, especially platforms like TikTok, continues to redefine how we discover and interact with our favourite brands. Don't miss out on this exclusive opportunity to experience a touch of luxury with Paco Rabanne's Fresh Touch Foundation. Engage, explore, and immerse yourself in the beauty universe of TikTok, and let the magic unfold!
The Fresh Touch Revolution
Gone are the days of cakey, uneven foundation. The Fresh Touch Foundation promises a flawless finish, effortlessly merging with your skin to provide a breathable, radiant look. Its innovative formula ensures longevity and adaptability, catering to a myriad of skin tones and types. It's not just a foundation; it's an experience.
Paco Rabanne's Fresh Touch Foundation is more than just a makeup product. It's a testament to the brand's commitment to quality, innovation, and luxury. If you've ever wished for a foundation that feels like a second skin while offering perfect coverage, this might be your dream come true. And the best part? You get to try it before making a commitment.
Be the first to get the latest freebies in your inbox