Last Updated on August 31, 2021
Do you suffer from split ends? Philip Kingsley has a new haircare line to help you get rid of split ends. For a limited time, you can get free Philip Kingsley Bond Builder Treatment samples to try.
Discover the new range right now and try it for free with this new sampling campaign. The Philip Kingsley Bond Builder line is the perfect split end remedy. Besides, it promises to make your hair up to three time more resistant. Why don't you try it for yourself?
How to get free Philip Kingsley Bond Builder Hair Treatment samples?
For a chance to receive free samples of Philip Kingsley Bond Builder Hair Treatment, I suggest you follow the guide below.
First of all, Philip Kingsley is giving away these freebie thru a sponsored advert on Facebook and Instagram. This means that I do not currently have a direct link to form. However, what you can do is complete these actions and keep an eye out on your social feed.
Start by liking the Philip Kingsley page on Facebook and following them on Instagram. Then, engage with the brand by liking recent posts or watching a recent video.
You might also want to search the new Bond Builder restructuring Hair Treatment on the internet. The idea here is to position yourself as a potential target for this post.
After this, just stay alert while scrolling your social media feed and going through stories and such. Here is the post :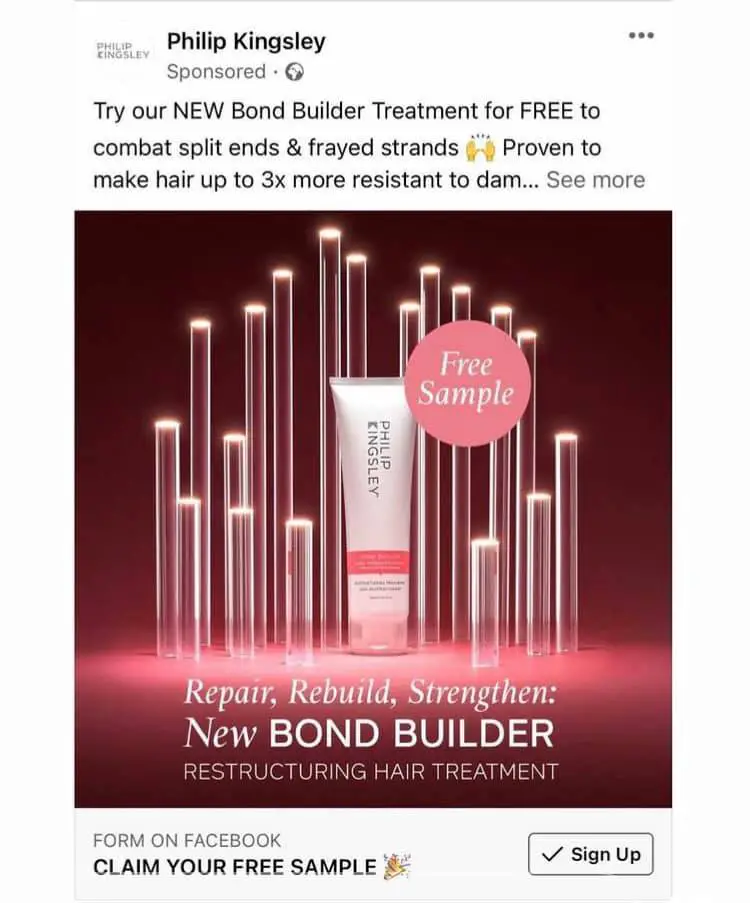 Once you spot it, just hit sign up to see a SoPost form appear. Fill it out and check your inbox for a confirmation email.
Also, you can subscribe to our push notifications or join our Newsletter. This way, I can tip you off the moment a SoPost link is available for this freebie, or other ones.
Be the first to get the latest freebies in your inbox