Last Updated on September 19, 2022
Don't miss out on this new possibility to get a free MZ Skin Serum sample in the UK.
Right now, MZ Skin is giving away free samples of their serums to residents of the United Kingdom. Find out below the most recent offers and how you can get a sample by post.
How to get free MZ Skin Serum samples in the UK?
NEW! Thru Facebook / Instagram – AVAILABLE
You can grab a free sample of the new MZ Skin Hyaluronic Acid Hydrating Serum and try it out for free. The MZ Skin Hyaluronic Acid Hydrating Serum is perfect for plump and smooth fine lines, and deeper wrinkles. Giving your skin its youth and glow back. Try it for yourself.
This freebie is currently available through a sponsored advert on Facebook and Instagram. Which means there is no direct link to it. It's popping up to select UK residents on Facebook.
What you can do is
Follow and like MZ Skin page on Facebook and Instagram,
Engage with the brand as usual by liking recent posts, leaving comments, or watching a recent video.
You can also view the product sampled on their website.
After that, just keep an eye out while scrolling your social media feed. Here is the post you should be on the lookout for:
Once you spot this post, click on the 'GET OFFER' button to access the SoPost form. As simple as that.
Please note that according to the targeting criteria set by MZ Skin, this advert is showing up to select female residents of the UK who :
Have shown interest in Luxury Goods, Aesthetics
Are frequent travelers (domestic or international travel)
Are 21 years old or above
Are Engaged Shoppers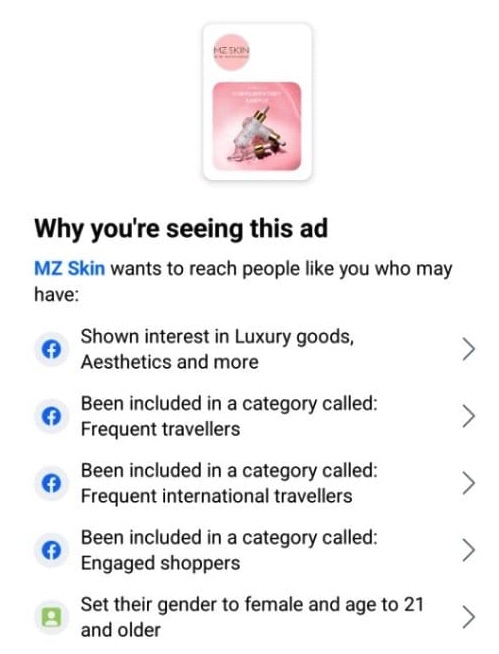 Stay tuned for updates or a possible direct link to the SoPost form.
Good luck.
About the MZ Skin Bright & Perfect Vitamin C Serum
The MZ Skin Bright & Perfect Vitamin C Serum is perfect for those who are suffering from pigmentation and brown spots. Thanks to its potent formula, this serum will get rid of all the dark spots and offer you a more radiant complexion. You can try a sample of it for free by following the steps below.
Be the first to get the latest freebies in your inbox