Last Updated on August 25, 2023
Glowing, healthy skin is something we all desire, and the secret to achieving it may be in the unique blend of antioxidants and nourishing oils. If you're curious to experience the effects of a specially formulated facial oil, you're in luck! You can claim a free MZ Skin Reviving Facial Oil sample while supplies last.
This unique facial oil is crafted to breathe new life into dull, dry, and irritated complexions. Rich in antioxidants, it's designed to nourish, strengthen, and revitalize your skin, giving it the glow and softness you've always wanted. Here's what you need to do to claim a sample to try for yourself.
How to order a free sample of MZ Skin Reviving Antioxidant Facial Oil?
NEW! Direct Link – AVAILABLE
You can now claim this sample more easily since I found a direct link for you. CLICK HERE to go to the form and fill it out with the required details. That's it. You should receive your confirmation email and your sample shortly after.
Did you manage to get one? We're also over on social media if that's more of your thing. Check out our pages on Facebook, Instagram or TikTok to be the first to know whenever a sample is available.
Good luck.
From Facebook / Instagram
MZ Skin is offering a complimentary sample of their new Reviving Antioxidant Facial Oil through Facebook and Instagram ads to select users. There is no direct link, but you can follow the instructions below to increase your odds of seeing the sponsored post in your feed.
Go to the MZ Skin page on Facebook and/or Instagram and follow them if you haven't done so already
Browse through their posts, give a few likes, or leave some comments. This interaction can potentially trigger Facebook's algorithm, increasing your chances of having the sample offer appear on your newsfeed.
Use the Facebook or Instagram search bar and look up the new MZ Skin Facial Oil
Visit the brand's website and check out the product there as well
That's it, after that keep an eye on the sponsored posts on your social feed. Here is a screenshot of the one you should spot to claim this sample.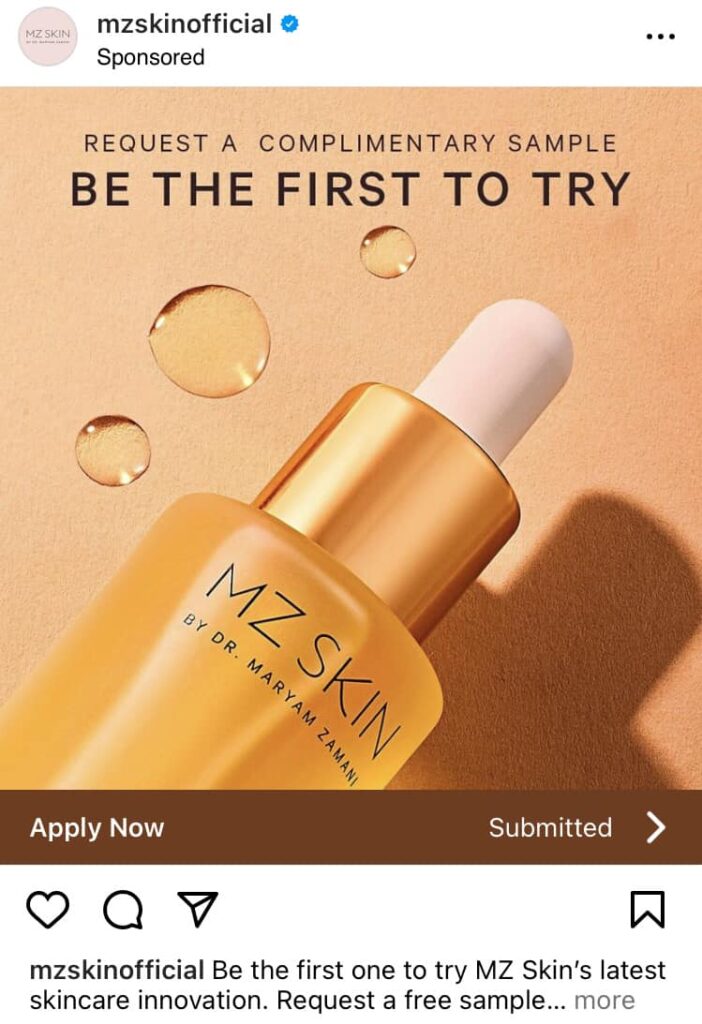 Once the offer appears, click on it and fill in your shipping information in the Sampl form to receive your sample by post.
This exclusive offer from MZ Skin is a golden opportunity to experience a high-end skincare product without any financial commitment. If nourished, revitalized, and glowing skin is on your wishlist, then you know what to do.
This offer is available for a limited time only or while supplies last.
Currently showing up to select users on Facebook and Instagram, who are residents of the United Kingdom.
Be the first to get the latest freebies in your inbox