Last Updated on September 7, 2023
This season, in a delightful partnership with Marie Claire Beauty Drawer, Mecca Cosmetica is offering select users:
A free Mecca Sunscreen sample.
The sun can be unforgiving, and while we all love a bit of Vitamin D, it's crucial to protect our skin from its harsh effects. And what better products than Mecca Cosmetica To Save Face SPF50+? A sunscreen that has garnered rave reviews and a loyal following among skincare aficionados…
Beyond just protection from harmful UV rays, Mecca To Save Face SPF50+ Sunscreen offers hydration with a matte finish. This makes it an excellent base for makeup. Other than its high SPF, this Sunscreen is also a favorite because of its lightweight formula, pleasant scent, and non-greasy texture.
Here's everything you need to know about this golden opportunity and how to claim a sample.
How to claim a free sample of Mecca To Save Face SPF50+ Sunscreen?
If you're a registered user of Marie Claire Beauty Drawer, you might just be in luck:
Log In & Check: Log into your Marie Claire Beauty Drawer account to check if you've been selected for the exclusive sample offer. Or check your email.
Claim & Fill: If you find the Mecca Cosmetica To Save Face SPF50+ Sunscreen sample offer in your account, claim it and ensure your shipping details are up to date.
Unbox & Indulge: In a short while, a luxe sample will be at your doorstep, ready for you to incorporate into your skincare routine.
Here is a screenshot of the email I received from Marie Claire Beauty Drawer: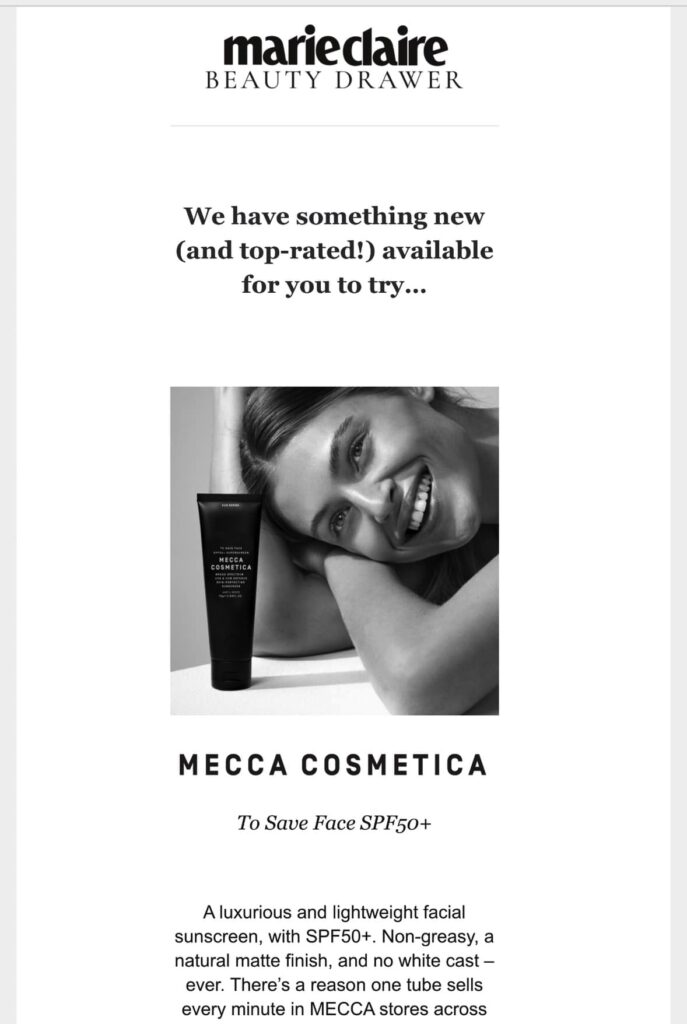 Available to select UK residents who are members of Marie Claire Beauty Drawer.
Good luck.
Marie Claire's Beauty Drawer offers users the chance to test and review the latest beauty products on the market. By registering, users get a tailored experience, receiving samples that align with their beauty preferences.
Be the first to get the latest freebies in your inbox