Last Updated on November 30, 2023
Who's ready for a fresh and fabulous laundry day? SuperSavvyMe is back at it with an offer that will make your clothes smell like a dream!
Get ready to experience the magic of clean with a Free Laundry Sample Pack from the superb range of products of Lenor and Bold, including:
Lenor Spring Awakening Scent Booster,
Lenor Unstoppables Fresh Scent Booster,
Lenor Spring Awakening Tumble Dryer Sheet,
Bold Spring Awakening Washing Liquid Capsule.
Whether you're a fan of the classic floral embrace or the bold touch of freshness, there's a sample for you!
Let's dive into how you can get this freebie while supplies last.
How to claim your free Laundry sample pack from SuperSavvyme?
From Facebook / Instagram – AVAILABLE
To claim your free sample package of Laundry products, you need to find the sponsored post on your Facebook or Instagram feed.
If you're 18 or older and based in the UK, you're in luck! That's their target audience.
Here are some tips and tricks to help you increase your chances of seeing it:
Interact with SuperSavvyMe: Make sure to show some love to SuperSavvyMe page on Facebook/Instagram.
Also, engage with their content (Like, follow, comment, etc..)
Search to find: Use the search feature on Facebook or Instagram to lookup related content
Here is a screenshot of what the advert looks like: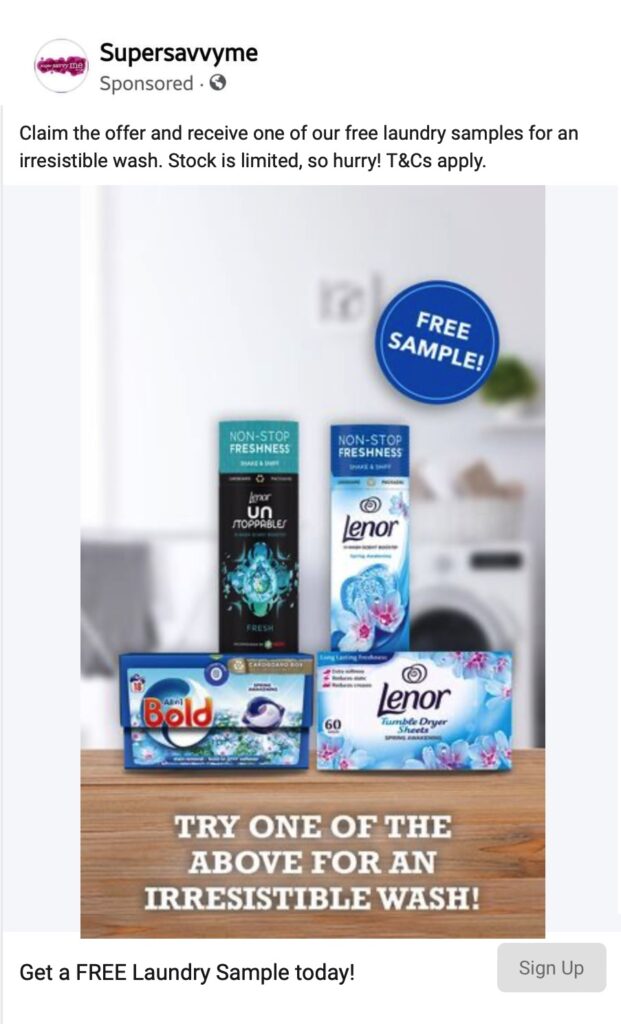 Once you see this ad for a free laundry sample from Supersavvyme, be quick to sign up!
Click the ad, and fill out the form.
And you're all set!
This offer is only while supplies last.
After you've claimed the offer, sit back and wait for that irresistible wash freshness to arrive at your doorstep.
Good luck.
Be the first to get the latest freebies in your inbox