Last Updated on November 20, 2023
Skin care is a deeply personal journey, filled with trials and errors, ups and downs. Finding the perfect skincare routine tailored to your unique skin needs is often a challenge. But what if you had a personalized guide to understanding your skin's specific concerns and how to address them? Discover Kiehl's Instant Skin Reader and achieve just that… As a bonus, you will also get a box of personalized free Kiehl's Skin Care Products samples.
Residents of the United Kingdom are in for a treat!
Kiehl's has launched an exciting new campaign that not only helps you understand your skin but also lets you try products specially tailored for your skin type… All for free!
Here is everything you need to know about this offer and how to claim your freebies.
How to use Kiehl's Instant Skin Reader and get free product samples?
Kiehl's innovative approach makes use of cutting-edge technology to analyze your skin's unique strengths and areas for improvement.
Here's how it works:
Go to the Kiehl's Instant Skin Reader page using the Go to Offer button
Upload a selfie, and the instant Skin Reader technology scans your skin. In a matter of seconds, you'll have insights into your skin's condition.
This sophisticated tool provides a detailed skin analysis that reveals specific concerns like lines and wrinkles, dullness, acne, enlarged pores, and uneven tone.
Based on the unique analysis, you'll receive a customized recommendation to achieve healthier, younger-looking skin.
Receive a four-step sample routine, including some of Kiehl's Fine Apothecary Skincare products tailored to your skin needs.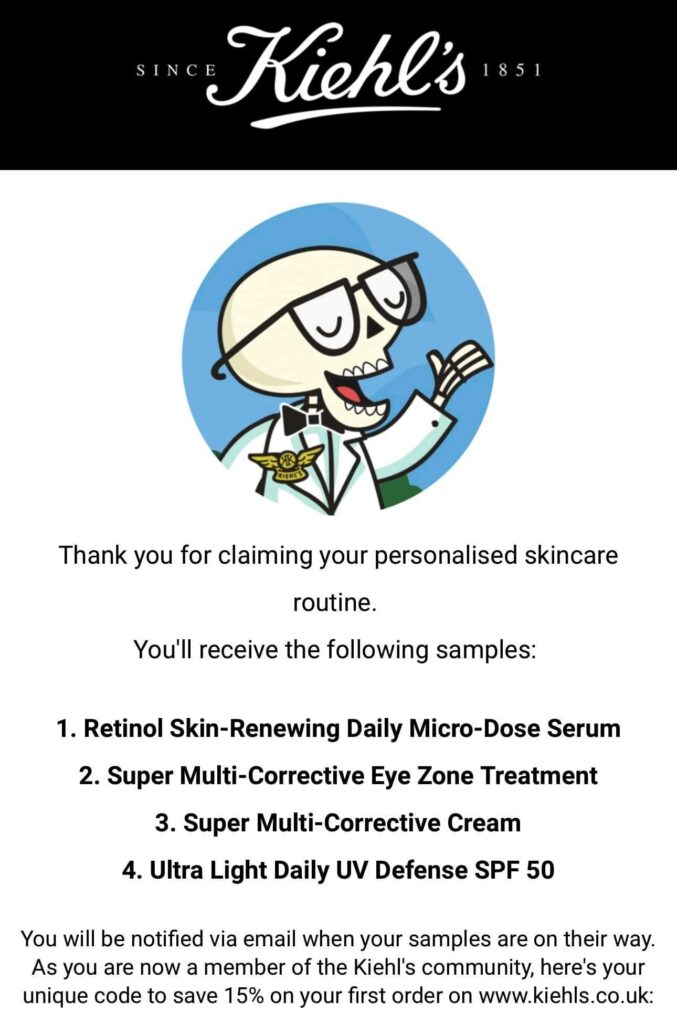 So why wait? Snap a photo, let Kiehl's technology do its magic, and dive into a world of personalized skincare. Experience the luxury of Kiehl's products and take the first step towards a glowing, healthy complexion today!
NOTE: If you get a message saying that the campaign is finished, it means those samples have temporarily run out. I recommend you change the skin concerns, age, and other criteria so it'll suggest samples for you.
Why Participate in the Kiehl's Campaign?
This initiative by Kiehl's is a game-changer in the skincare industry. It's not just about free samples; it's about empowering you to understand your skin better and make informed decisions. Here's why you should participate:
Personalized Care: Get skincare products that are specially selected to match your individual skin concerns.
Expert Technology: Benefit from cutting-edge skin reader technology that provides accurate insights.
High-Quality Products: Discover Kiehl's Fine Apothecary Skincare, known for its efficacy and quality.
Completely Free: There's no catch; it's an opportunity to try premium skincare products at no cost.
Kiehl's new campaign is more than an offer for free samples; it's an invitation to embark on a journey toward understanding and nourishing your skin. By embracing technology and delivering personalized care.
Be the first to get the latest freebies in your inbox