Last Updated on September 18, 2023
Ever felt the allure of luxury haircare but hesitated due to its price point? Well, this might be your moment to try one of the luxurious hair care products for free… Yes, you can now claim a free Kérastase Genesis sample pack.
The Kérastase Genesis collection is specially designed to combat hair-fall due to breakage. Infused with potent ingredients, the Shampoo, conditioner and serum not only strengthens weak hair but also promotes a healthier scalp environment. The result? Strong, lustrous locks that withstand daily wear and tear. So here is how you can get your hands on this freebie.
How to claim a free sample pack of Kérastase Genesis Collection?
NEW! On TikTok – AVAILABLE
Kérastase is offering these samples through a sponsored post doing the rounds on TikTok. So, there is no direct link but here are some tips to help you find the sponsored post and apply for the sample pack:
Follow Kerastase on TikTok: Seek out the official Kerastase TikTok account and hit 'Follow'. This increases the likelihood of their ads showing up on your feed.
Engage with their content: Scroll, like, comment, and share Kerastase content on TikTok. This signals to the algorithm about your interest in such products, making it more likely for the Kerastase ad to be displayed to you.
Use the Search Feature: Search for terms like "Kerastase", and / or "Kerastase Genesis", on TikTok. Engaging with content related to these search terms might nudge the algorithm to present you with the Kerastase sample ad.
That's it, now all you need to do is keep your eyes peeled while scrolling through your social feed. You never know when the golden opportunity to snag that Kerastase sample might pop up.
To help you identify it quickly, refer to the screenshot below: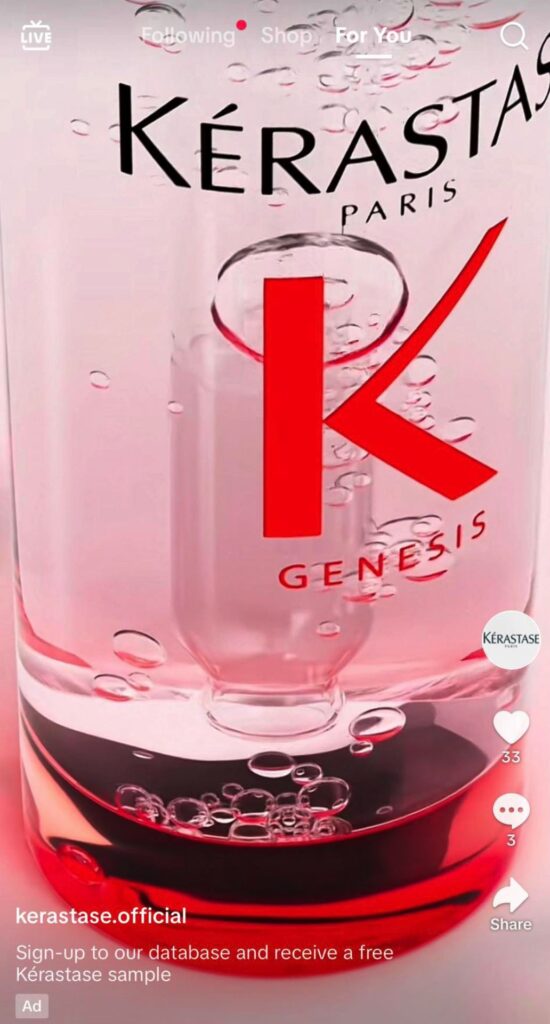 Now, as soon as you spot the ad, tap on it and follow the instructions to claim your freebie.
This offer is available to select UK residents.
Be the first to get the latest freebies in your inbox