Last Updated on November 20, 2023
Marie Claire Beauty Drawer is treating its followers to an exquisite fragrance experience. Check your inbox or Beauty Drawer dashboard for a special invitation to claim a free Karl Lagerfeld Fleur de Pêcher sample.
The fabulous Fleur de Pêcher Eau de Parfum by Karl Lagerfeld is a scent that captures the essence of dry woods with fresh and fruity notes.
Here is what you can do to see if you qualify for this freebie.
How to claim a free sample of Karl Lagerfeld Fleur de Pêcher fragrance?
The Karl Lagerfeld Fleur de Pêcher fragrance sample is available to select members of Marie Claire Beauty Drawer.
So, first you should check your eligibility by following the instructions below:
Existing Members: Look for an email from Marie Claire Beauty Drawer or log in to your dashboard.
New to Beauty Drawer?: Sign up for free to join a community that enjoys year-round freebies.
Act Fast:
This offer is a race against time! Availability is limited, so verify your eligibility and claim your freebie before it's all snapped up.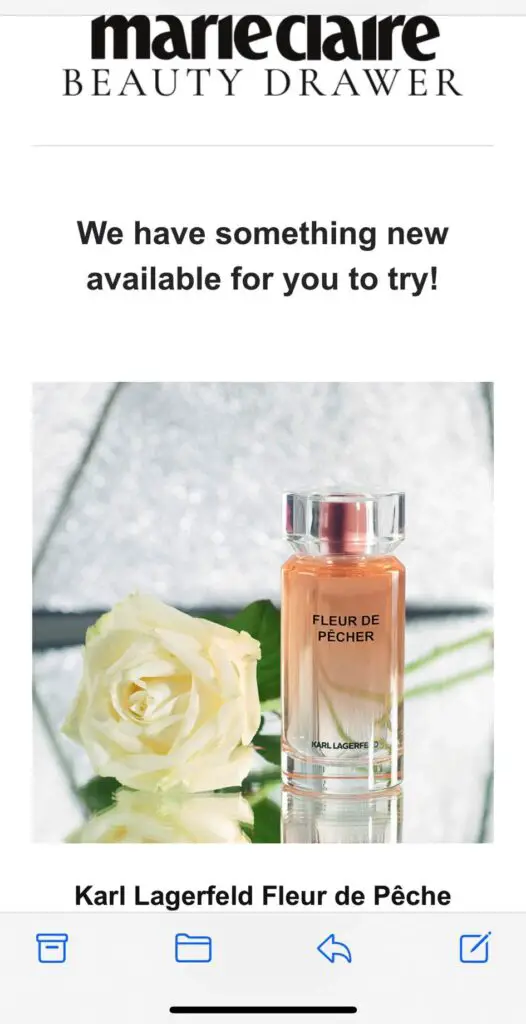 Join the Community
Not yet a member? Don't miss out on future offers. Sign up at Marie Claire Beauty Drawer for free and get ready to receive an array of delightful products throughout the year.
Start your journey with Marie Claire Beauty Drawer and immerse yourself in the world of beauty and fragrance today!
Go to beautydrawer.marieclaire.co.uk
Be the first to get the latest freebies in your inbox