Last Updated on November 21, 2023
Ever dreamt of enveloping yourself in a fragrance that speaks volumes of style without uttering a single word? Here's your chance! You can now request a free Karl Lagerfeld Bois de Vetiver sample.
The Karl Legerfeld Bois de Vetiver Eau de Parfum opens with the zesty brightness of orange, offering a fresh and invigorating top note that captures the senses. Then, Vetiver takes center stage. Complementing the vetiver are notes of patchouli, which bring an earthy, sweet, and spicy aroma, adding to the overall mystique and allure of the fragrance.
Together, these elements combine to create a fragrance that is both refreshing and profound, ideal for those who appreciate a fragrance with a solid aromatic foundation yet fresh enough for everyday wear.
And now you can sample it for free. Here is everything ou need to know about this freebie and how to get it.
How to order a free sample of Karl Lagerfeld Bois de Vetiver Fragrance sample?
NEW! From Facebook / Instagram – AVAILABLE
Interparfums is giving away free samples of Karl Lagerfeld Bois de Vetiver perfume through sponsored ads on Facebook and Instagram.
To get your hands on a sample, you need to spot the ad and fill out the form.
Follow the tips below to increase your chances of seeing the ad in your social feed:
Like the Interparfums page on Facebook and/or on Instagram if you haven't done so already
Engage with the page (Like recent posts, leave a comment or watch a recent story/video)
Lookup the Karl Lagerfeld Bois de Vetiver on Interparfums website
Use the Facebook/Instagram search bar to search for related keywords, such as 'Karl Lagerfeld Fragrance'
Now, all you have left to do is kep an eye out for the Interparfums sponsored post on your Facebook or Instagram.
It's the one with the chic bottle of Bois de Vetiver against a backdrop of stylish monochrome and a hint of artistic flair as you can see in the picture below.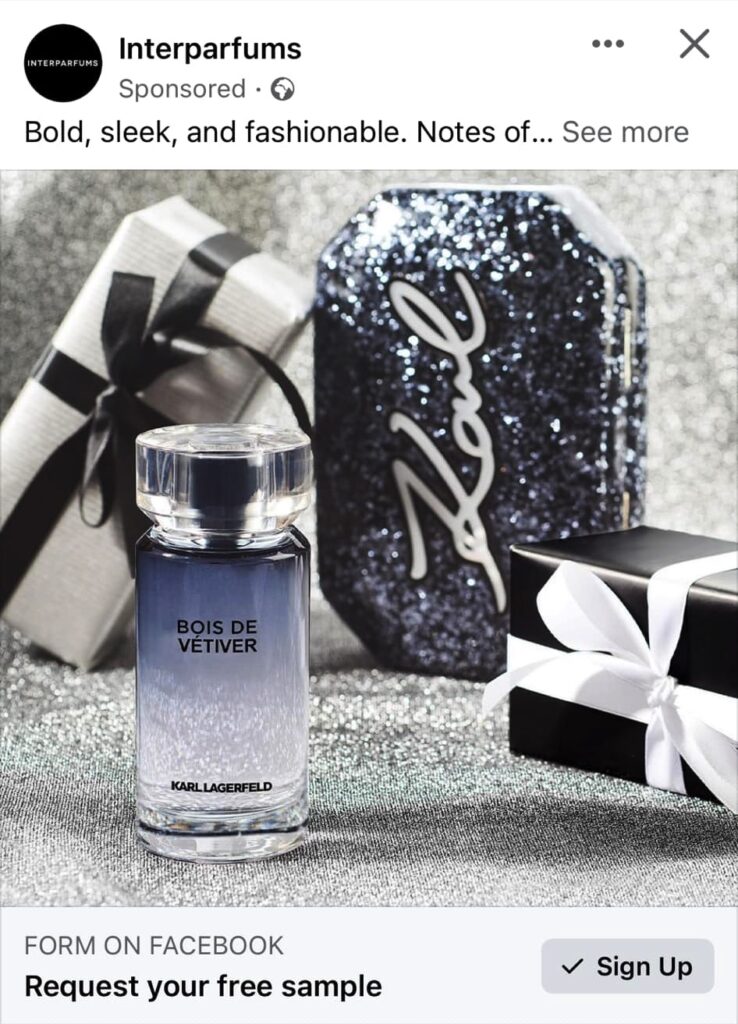 Once it lands in your hands, spritz and enjoy the sophisticated notes of orange, vetiver, and patchouli that define this iconic scent.
Remember, this offer is as exclusive as the fragrance itself so make sure you hurry up.
It's not every day you get to own a piece of luxury for absolutely nothing.
Be the first to get the latest freebies in your inbox