Last Updated on September 27, 2023
Securing top-notch haircare products without breaking the bank is no longer just wishful thinking. For those who adore keeping their tresses radiant and healthy, this is an opportunity you wouldn't want to miss! You can now get a free John Frieda Pro Colour Revive sample exclusively from Marie Claire Beauty Drawer.
Introducing: The John Frieda Pro Colour Revive Collection
This meticulously crafted collection by John Frieda promises to rejuvenate and sustain the vibrancy of your colored hair, ensuring it remains luminous for longer.
The Pro Colour Revive collection includes:
Pro Colour Revive Protecting Shampoo
And Pro Colour Revive Protecting Conditioner
Pro Colour Revive Restoring Mask
Want to try it without spending a penny? Let's dive into how you can do exactly that.
How to secure a free sample of John Frieda Pro Colour Revive Collection?
Marie Claire Beauty Drawer, known for its fabulous beauty giveaways, is the exclusive distributor for this free sample offer.
To get your hands on these luxurious haircare products, simply check your inbox to see if you received your invitation to claim this freebie from Marie Claire.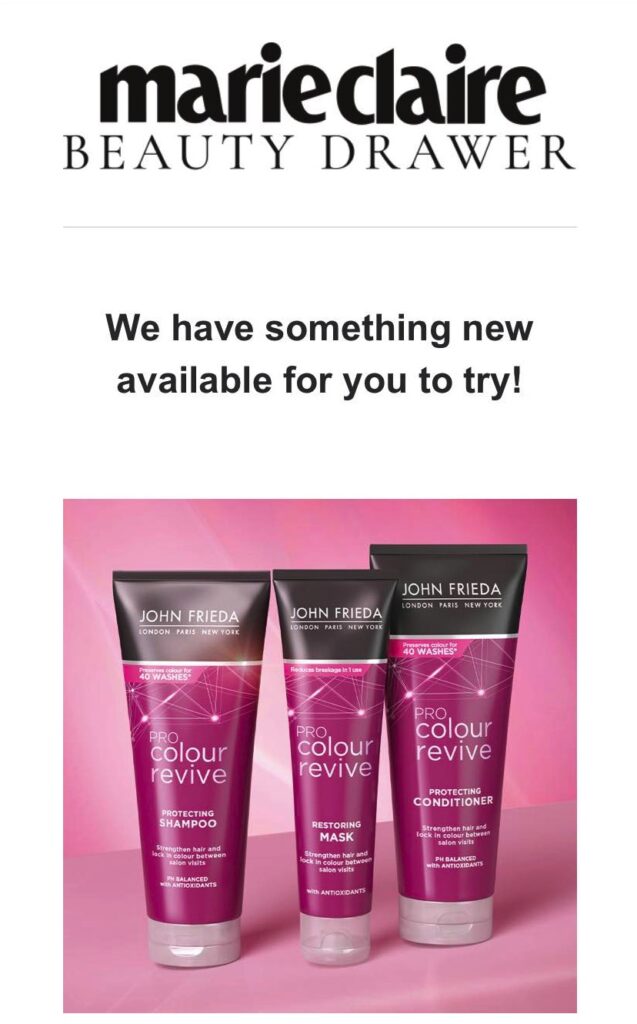 If you didn't, fret not! You can still match with amazing freebies in the future.
Not a member yet? Sign up and build your beauty profile to get started with receiving amazing freebies to try in exchange for your honest review.
To keep abreast of such enticing offers and delve into the world of beauty, consider subscribing to push notifications. This ensures you're in the loop and among the first to know when top-tier beauty samples become available.
This offer is available for a limited time only or while supplies last.
Open to select UK residents, who are members of Marie Claire Beauty Drawer.
Check out all Marie Claire Beauty Drawers Freebies.
Best of luck!
Be the first to get the latest freebies in your inbox