Last Updated on September 25, 2023
If you've been on the hunt for that perfect day cream that quenches the skin's thirst and offers a revitalising glow, look no further than this offer. In fact. you can now claim a free Grown Alchemist Hydra Repair Cream sample.
Renowned for blending natural ingredients with cutting-edge scientific advancements, Grown Alchemist products are synonymous with luxury, efficacy, and purity. Their Hydra Repair Day Cream is no exception.
The Hydra Repair Cream is packed with a potent mix of botanical extracts, it promises to provide the skin with optimal hydration without leaving any greasy residue. A dream for all skin types!
You could be one of the lucky recipients of a free sample. Read on to find out how.
How to receive a free sample of Grown Alchemist Hydra Repair Day Cream?
The brand has turned to the power of social media, making the sample available through its official channels on Facebook and Instagram. So, to get it, I invite you to follow the steps below:
Visit their Official Page: Head to the Grown Alchemist UK official Facebook or Instagram profile and follow them
Engage with their content: Interact with Grown Alchemist recent posts and videos on Social media. You can like, or leave comments, etc…
Search to find: You can use the Facebook or Instagram search bar to look up the Hydra Repair Day Cream by Grown Alchemist to increase your chances of seeing the pop up in your feed.
Once you finish, simply keep both eyes open while scrolling your social feed.
Here is what the sponsored pop up looks like: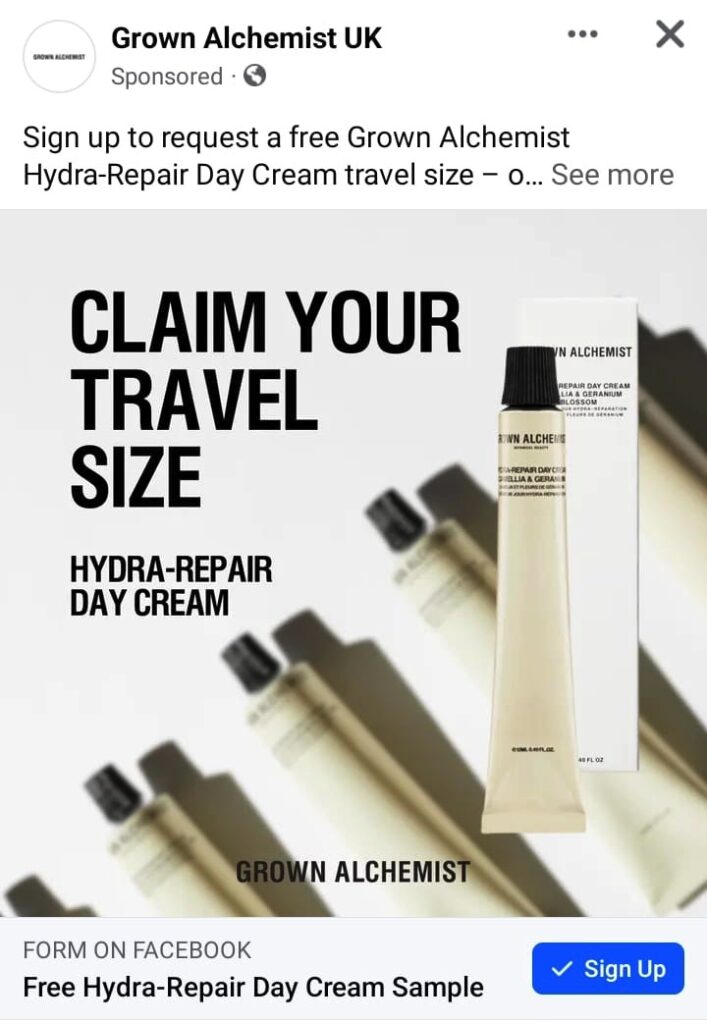 When you spot it, click on it and you will be directed to a form or landing page where you can submit your UK mailing address.
It's important to note that this exclusive offer is available solely to residents of the UK.
Click here to go to the Grown Alchemist UK page on Facebook
This is a golden opportunity to experience the opulence of Grown Alchemist's Hydra Repair Day Cream.
Whether you're a skincare newbie or a seasoned beauty expert, this sample is a gem that promises to be a delightful addition to your skincare routine.
Grab yours today, and let the natural alchemy of Grown Alchemist work wonders on your skin!
Best of luck to everyone!
Be the first to get the latest freebies in your inbox