Last Updated on October 2, 2023

Discover the Elegance of Givenchy La Collection Particulière with an exclusive sample offer courtesy of Marie Claire Beauty Drawer.
This exquisite collection draws inspiration from the iconic vision of Hubert de Givenchy. It encompasses 13 unparalleled unisex fragrances. Each scent is meticulously crafted, representing the epitome of haute couture in the world of perfumery.
Additionnaly, Givenchy crafted each of the 13 fragrances using two superior quality raw ingredients, resulting in perfumes that are both timeless and avant-garde.
Whether worn individually or layered to create a bespoke scent, each fragrance from La Collection Particulière is designed to enchant and captivate.
And now, select users have an exclusive opportunity to experience the magic of three of these exceptional fragrances, courtesy of Marie Claire Beauty Drawer.
Read on to learn how to get your hands on this high-value freebie.
How to get your hands on a free sample of La Collection Particulière de Givenchy Fragrance Collection?
For those who have been handpicked based on their profile, Marie Claire Beauty Drawer presents an opportunity like no other.
Here's how you can get your hands on this coveted sample:
Visit Marie Claire Beauty Drawer: If you're among the select users who qualify, navigate to the Marie Claire Beauty Drawer website using the button below.
Claim Your Sample: Look out for the exclusive offer to claim your Givenchy La Collection Particulière samples.
Indulge in Givenchy's Best: Experience the luxury and elegance that is synonymous with Givenchy once your sample arrives. You will be required to write a thorough review to submit as soon as your samples arrive.
As you can see below, this is the email users who qualify received.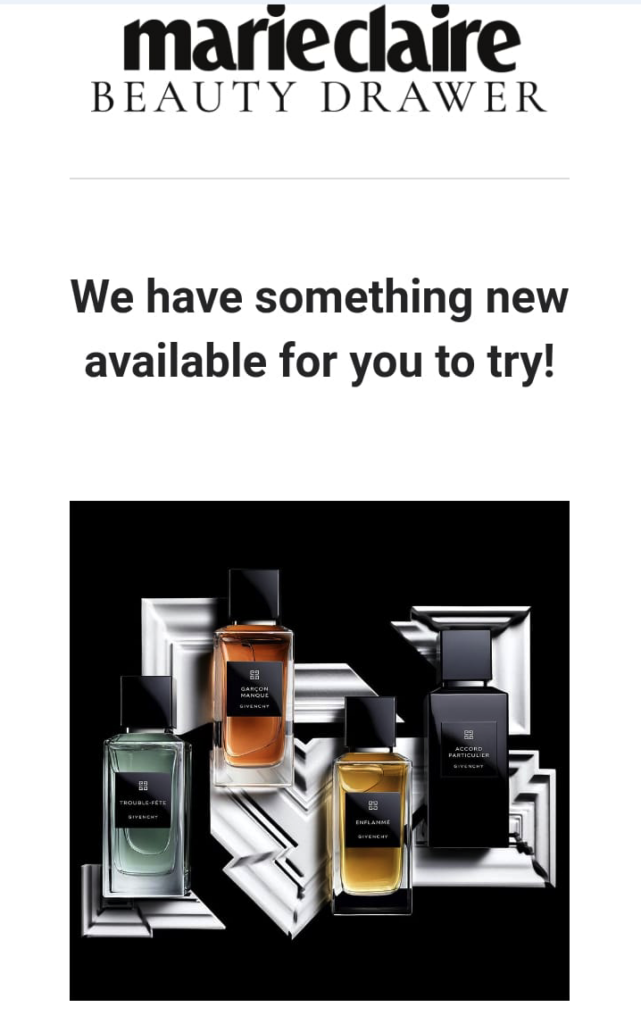 The world of fragrances is vast and varied, but few collections can claim the legacy and allure of Givenchy's La Collection Particulière.
With this unique offer from Marie Claire Beauty Drawer, a few fortunate individuals will be able to immerse themselves in the captivating world of Givenchy perfumery.
So don't wait a second more. Check your email inbox or Marie Claire Dashboard to see if you qualify for this freebie. Order your sample today, and let the magic of Givenchy envelop you.
Once you fill out the form, you will receive the confirmation email straight away.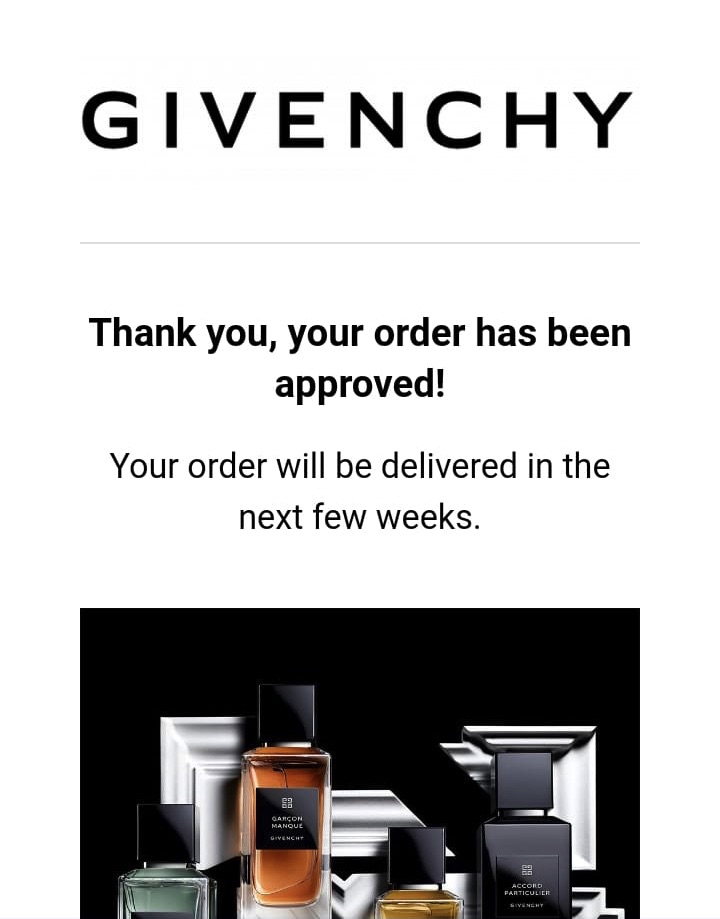 This offer is available for a limited time only or while supplies last.
Open to residents of the United Kingdom, who are members of Marie Claire Beauty Drawer. (Not everyone will qualify!)
Not a member yet? you can sign up right now so you won't miss out on future offers. And who knows, you could get these too.
Best of luck to everyone.
The Fragrance Spectrum of La Collection Particulière by Givenchy
Givenchy has meticulously crafted each fragrance within the collection, ensuring that every scent presents a unique olfactory experience. The collection is categorized into distinct olfactory families, each representing a different facet of the vast perfume world:
WOODY

MMW: A classic Eau de Parfum priced at £220.00, embodying the timeless essence of wood.
Accord Particulier: An exclusive fragrance starting from £220.00, with a medium intensity that harmoniously blends woody elements.
Discovery Set: For those keen to experience a variety, this set, priced at £68.50, offers three distinct 10ml perfumes.

FLORAL FRESH

Trouble Fête: An Eau de Parfum priced from £220.00, capturing the refreshing floral notes.

FLORAL

Désinvolte: Currently unavailable online, this scent has a higher intensity with a more profound floral essence.
Oiseau Rare and TÉMÉRAIRE: Both priced at £220.00, these fragrances offer a deep dive into floral splendor with an intensity of 75%.

AMBER

Garçon Manqué, Enflammé, and Sans Merci: All these scents range from £220.00 and exhibit the full richness of amber with an intensity of 100%.

OUD

Faux Semblant, Équivoque, Foudroyant, and Noctambule: These fragrances, with prices ranging from £260.00, explore the deep and mesmerizing world of Oud. Each Eau de Parfum Intense captures the scent's enigmatic charm with an unmatched intensity of 100%.
So, with all these details, you have only one thing left to do: give them a try!
Be the first to get the latest freebies in your inbox