Last Updated on July 24, 2023
For a limited time only, Yves Saint Laurent is offering free YSL Black Opium perfume samples on a simple request. The YSL perfume samples are to be received by mail.
The Black Opium Eau de Parfum by Yves Saint Laurent is a devilishly sweet fragrance, perfect for the cold season.
If you want to give it a shot for free, we invite you to follow our step-by-step guide below.
How to get free Yves Saint Laurent Black Opium Perfume samples by mail?
NEW! Odore form
There is a new Odore form for a free sample of YSL Black Opium and YSL Libre, to get one while supplies last, CLICK HERE to go to the form and fill it out. Or you can try to copy paste the link directly onto your browser:

https://app.odore.com/api/v1/link/campaign/7ef6a698-d61b-4fdd-8e3a-9740bfaf7843/ui/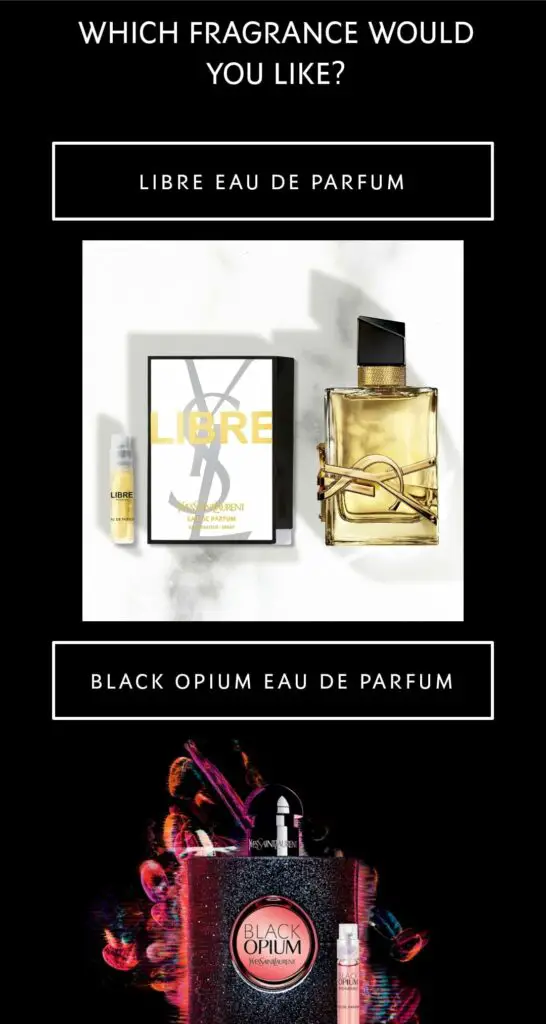 Be quick because these seem to go out of stock quickly. If it's sold out, you can try to get it through Facebook and Instagram ads following the method explained in the section below.
On Facebook / Instagram – AVAILABLE
YSL unveiled a new variety of their iconic Black Opium Perfume. Be among the first to try it out while the supplies last.
Yves Saint Laurent is giving away free samples of Black Opium perfume through a sponsored post on Facebook and Instagram. To get one, you need to make the post pop up in your social feed. Here is how.
Like and follow the official page of YSL Beauty on Facebook and/or Instagram if you haven't done so already.
Like one or two of their posts to show interest in the brand
Search the YSL Black Opium Illicit Green Perfume and visit the YSL Beauty UK official website and check the perfume page there.
Just keep scrolling your feed while keeping an eye on this advert to show (see picture below). Once it does, click on it to see the request form appear.
Expired? Stay tuned for more updates here whenever the sample reshows!
On TikTok
There is a new sponsored ad from YSL on TikTok. Spot it to score a free sample of Black Opium Eau de Parfum by post. Here is how:
Follow the YSL account on TikTok, and Sophie Floyd
View and like their recent videos (2 or more)
Lookup the YSL Black Opium perfume on the TikTok Search bar or the internet
After that, just keep scrolling your TikTok feed until the advert shows up. Below is a screenshot of what it looks like.
Please note that there is also a sponsored ad on TikTok from YSL for a free sample of their All Hours Foundation. You can get either one of them or both. Good luck.
IMPORTANT: I have joined TikTok to spot as many freebies and free samples to share with you. You can follow me on TikTok now to stay up-to-date and informed about the latest offers
Previous updates on the YSL Black Opium Perfume sample
Thru YSL Game – SOLD OUT!
To get this the new YSL Black Opium Le Parfum to try thru the YSL Game, I invite you to go to the page at https://game.yslbeauty.co.uk/, accept all cookies and allow the motion sensors if you are on your mobile phone. Follow the flow to the end of the game. Then you will be asked for the secret code to unlock your sample.
The code is BL4CK OP1UM.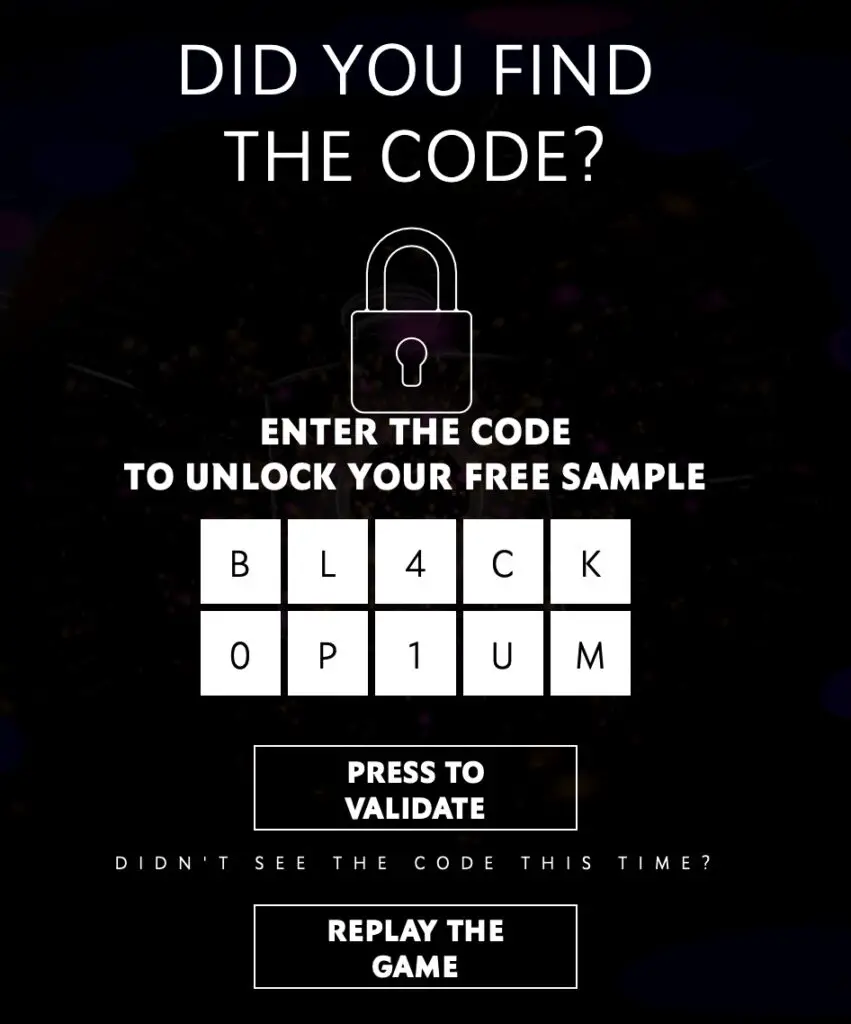 If it didn't work out for you, then you need to spot the advert on Facebook to access the game and be among the selected customers. Good luck.
Amid page on Magazine – SOLD OUT
There is a new sponsored ad amid a specific Goodhousekeeping Magazine page offering free samples of Black Opium by YSL. CLICK HERE to go to the page. Just keep scrolling the page until you see it. If it doesn't show, try opening the link in incognito mode or another browser than your usual one.
At your Local Boots on November 13 & 14, 2021 – Expired!
This week end ONLY (13 & 14 of November 2021), you can head to your local Boots store and to the YSL counter to claim free samples of their best selling fragrances, including Black Opium, Libre or Y for men.
No voucher or purchase required. Just ask and you will get your free bag of YSL perfume samples. You can screenshot the email below in case you need to show it.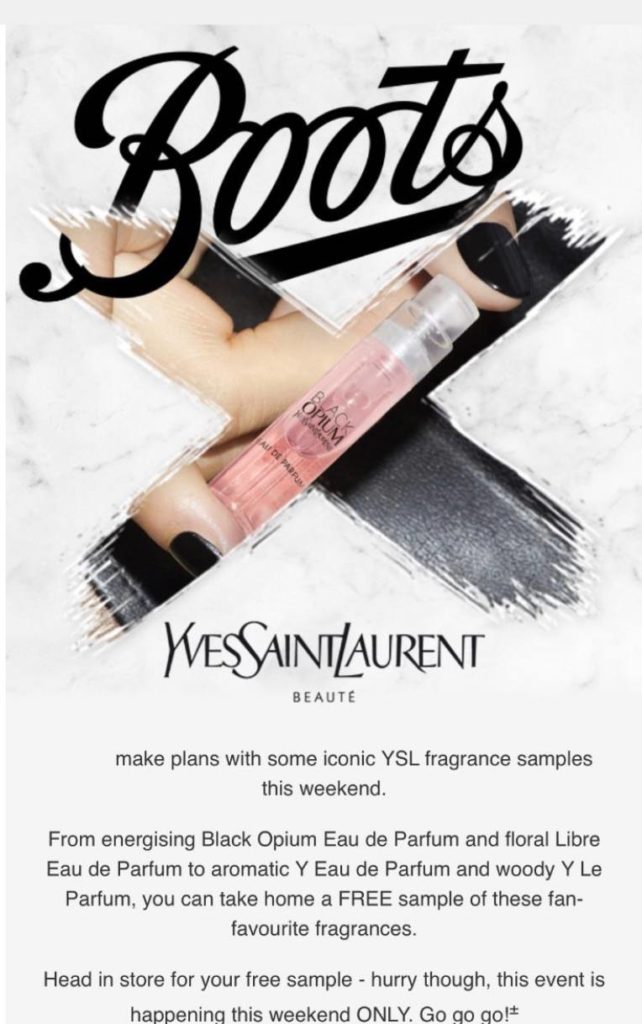 Thru SoPost – Expired!
You can get free Yves Saint Laurent Black Opium samples by following the link here to the SoPost. Confirm your phone number and pop up your shipping info to get the sample. Be as quick as you can because since it's a direct form it won't last for long.
With Boots Sampling – Expired!
Update 14th February 2021: Boots is giving away free samples of YSL Black Opium fragrance. Good news! We have a direct link for you. Follow the link here to Boots Sampling. Order yours while supplies last!
Be the first to get the latest freebies in your inbox