Last Updated on November 11, 2021
Hurry up. Get your hands on this new possible free Valentino Voce Viva sample while supplies last.
Valentino unveiled a new version of the Voce Viva fragrance and you can get it for free. Discover the new Valentino Voce Viva Intensa perfume with a free sample. Here is how.
How to get a free Valentino Voce Viva perfume sample?
Voce Viva Intensa on Facebook / Instagram – AVAILABLE
As of November 8, 2021, a new sample of this fragrance is available as a sponsored advert on Facebook and Instagram. To possibly get it, you need to be on the list of people that the brand is trying to reach out.
The brand is reaching out to females (aged 18 and above), who watched a video on the Valentino Beauty Facebook page. You know what to do. Follow these steps:
Like and follow the Valentino Beauty page on Facebook

Like one or two of their posts to engage with the brand

Look for a recent video they shared and watch it
Visit the Valentino official website and check the new fragrance there too
Once through with the steps, keep an eye out for this sponsored post to show up on your Facebook feed or Instagram stories and posts.
Here is what the sponsored post doing rounds on Facebook and Instagram looks like, and also the profile of people the brand is trying to reach = the people who can see the ad.
Once you see it, click the sign up button and send away for free Valentino Voce Viva Intensa perfume sample.
The form is powered by SoPost. So there could be a direct link to form in the coming hours or days. Stay in the loop.
UPDATE: There's another one going and this time, the post is showing up to females living in the UK, aged 18 to 39, and who are interested in Fashion, online shopping…
NEW! Direct link to SoPost form – SOLD OUT
Hurry up to claim a free sample of the NEW Voce Viva INTENSA Eau de Parfum thru a direct link to a SoPost form. Follow this link to the form and fill it out. Check your inbox for a conformation email.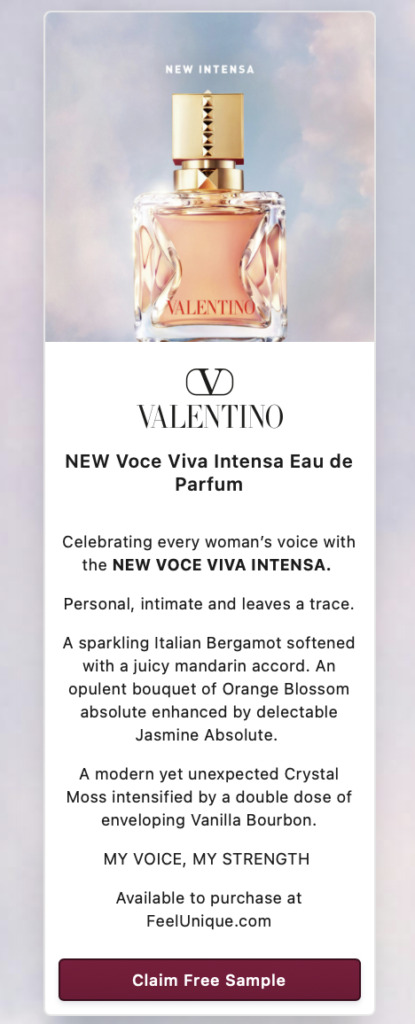 Available while supplies last.
Thru Cosmopolitan or Harper's Bazaar Magazine
Available as a popup on a specific Cosmopolitan Magazine page. Go to this page and scroll up and down until you find the form to fill out.
Not sure if it shows to everyone tho. Below is the popup you should look for.
UPDATE: The SoPost form now shows sold out. But stay in the loop for further updates and a new link. In the meantime, you can try getting it using the method below.
Read more below on what to do to increase your odds of getting this post to popup in your social feed. Good luck.
Thru an ad on ELLE Magazine – EXPIRED!
As of 25th Feb, a new pop was spotted on an Elle Magazine page. Follow this link and scroll down to see if you can get the SoPost form to show up for you. (See snap below)
Looking for more Valentino samples? Check this listing. Or this one for SoPost freebies.
Be the first to get the latest freebies in your inbox