Last Updated on November 17, 2023
Hurry up to score a free Lancôme Teint Idole Foundation sample while supplies last.
Choosing the proper foundation for you among the hundreds of shades, textures, formats, and brands isn't an easy task.
It is more difficult to find what you look for in foundation as our skin's shade changes along the seasons. But, to help you find the right foundation for you and your skin needs, we invite you today to seize an amazing sampling opportunity.
How to get free samples of Lancôme Teint Idole Ultra Wear Foundation?
NEW! In-store at Lancôme counters – AVAILABLE
Lancôme is offering you FREE Samples of Lancôme Teint Idole Ultra Wear Foundation or the new Ultra Wear Care & Glow Foundation in-store.
First, I would like to clarify that these free foundation samples from Lancôme are in-store freebie. This means you need to request a voucher and take the said voucher to a Lancôme counter to claim your 10-Day free sample kit of Lancôme Foundation with a voucher.
Click on the button below to download your Voucher or take a screenshot of it to show at their counter.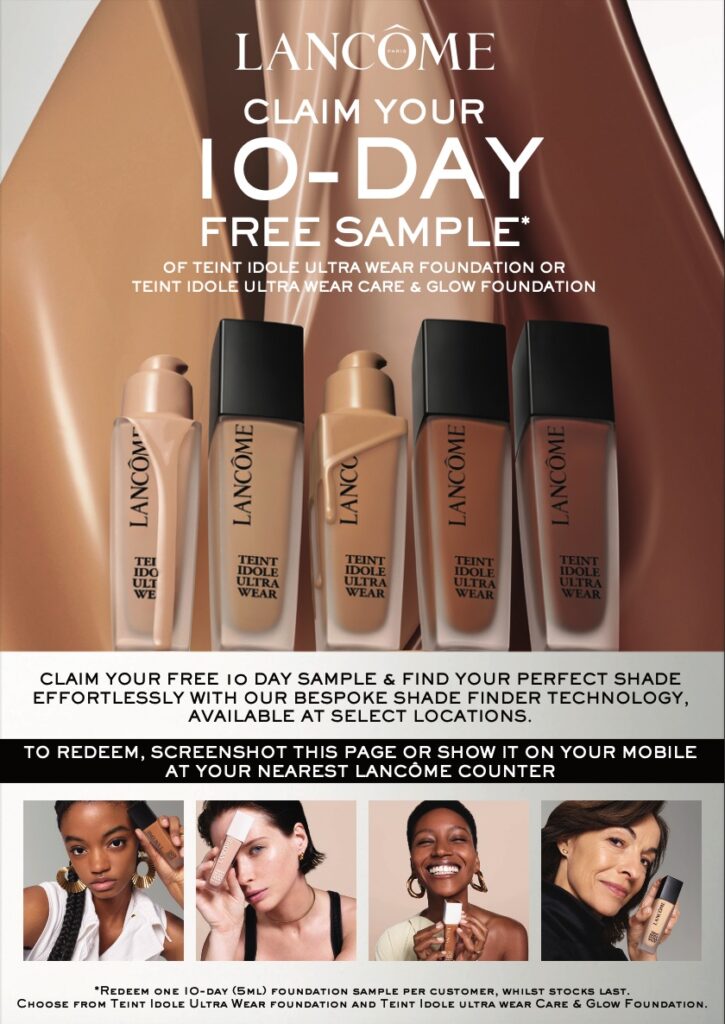 This foundation is a full-coverage foundation that offers a 24 hours wear. Also, it has around 40 shades.
In order to get your hands on these free foundation samples, and try the Lancôme Teint Idole Ultra Wear Foundation gratis, simply head over to your nearest Lancôme counter and ask for your sample goodie bag.
On TikTok
The fun and innovation don't stop in-store, folks! Lancôme has made their sampling opportunities even more accessible by launching this freebie offer on the popular social media platform, TikTok. That's right – you can now get your free Lancôme Teint Idole Ultra Wear Foundation sample through TikTok. Here is what the advert looks like:
This new availability brings a new level of convenience to the sampling game. It's as simple as following Lancôme's official TikTok account and keeping an eye out for their posts announcing the sample giveaways. This unique sampling strategy is a testament to Lancôme's commitment to reaching out to its community in engaging and modern ways.
Plus, this method provides a great opportunity to interact with the brand, join a community of fellow beauty enthusiasts, and see exclusive content from Lancôme. You may also discover tips, tricks, and tutorials related to the Lancôme Teint Idole Ultra Wear Foundation, making your sampling experience a more enriching one.
So, if you're a TikTok user, don't miss out on this exciting way to try Lancôme's Teint Idole Ultra Wear Foundation for free. If you aren't yet on TikTok, this is the perfect reason to join the platform and take advantage of this opportunity. Happy TikToking and sampling!
Who can get FREE samples of Lancôme Teint Idole Ultra Wear Foundation?
This sampling opportunity is only valid in Lancôme stores and counters in the UK. So, if you are above the age of 18 years old and live in the UK, then you should be eligible for this offer.
You could also share this offer with your friends and family so they can get their freebies as well.
Subscribe to our newsletter for more free samples in the UK.
Be the first to get the latest freebies in your inbox