Last Updated on August 7, 2023
Craving a delicious snack that's also meat-free? Richmond Foods, the nation's favourite when it comes to sausages, is back with a new offering that will tantalize your tastebuds… They are giving away coupons each good for one free Richmond Meat-free Mini Sausages, and it's available for free through a special offer on Facebook.
This new product is simply a meat-free version of their iconic sausages. Perfect for vegetarians or those looking to cut down on their meat intake. Besides, these snacking sausages are ready to eat, making them the perfect snack for those on-the-go moments or when you just need a quick bite. So read on to find out how to claim your coupon and get this freebie at your nearest ASDA.
How to claim a free Free Richmond Meat-free Mini Sausages pack?
Richmond is excited for you to try their new product, and what's better than trying it for free? The free product coupon is available through Facebook and Instagram ads. So I suggest you follow the tips below to help you find it promptly:
Go to the Richmond Foods page on Facebook or Instagram and follow them if you haven't done so already
Interact with the brand's content: like, comment or watch recent videos or publications
Use the Facebook or Instagram search bar to look up the Richmond Meat-Free Minis
Visit their website and check out this new product in there
After that, keep an eye out on your Facebook feed for the sponsored post about Richmond's Meat-Free Mini Snacking Sausages. Once you see the sponsored post, click on the "Get Offer" button to claim your coupon. You can see a picture below of what it looks like to help you identify it quickly.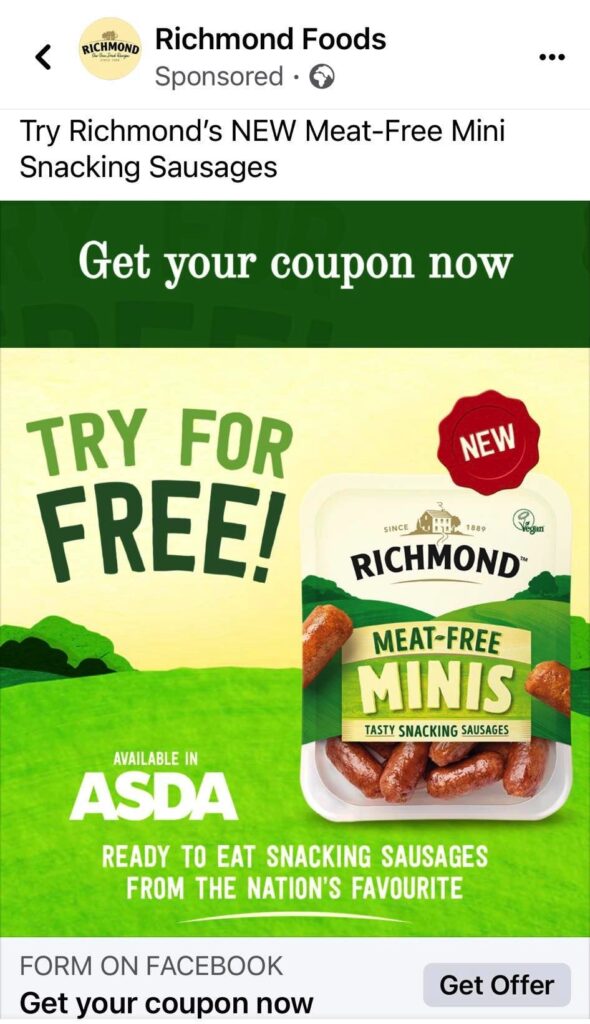 Once you claim your coupon, simply head over to your nearest ASDA store to redeem your coupon and enjoy your free pack of Richmond Meat-Free Minis.
Share the good news with your friends and family so they too can indulge in this mouthwatering treat. And don't forget to give your feedback.
Be the first to get the latest freebies in your inbox