Last Updated on April 24, 2023
Be as quick as a flash to order your FREE Lancôme La Vie Est Belle perfume Sample and receive it by mail.
Find below all the available offers and how you can get each one of them.
How to receive free Lancôme La Vie Est Belle Perfume samples by mail?
NEW! From Odore Form – AVAILABLE
HOT! There is a new Odore form to order a free sample of the Lancome La Vie Est Belle perfume. You can choose between the Original or Iris Absolu. Without further ado, to get yours simply follow this link to the form. Fill it out and follow the instructions.
NOTE: If it says you do not have access to this link, simply copy paste the link below directly onto your browser:
https://app.odore.com/api/v1/link/campaign/ca4ff41d-8282-4d3c-a4a4-aff1dbd50956/ui/
Hurry up.
Amid Magazine page – SOLD OUT
For a limited time, you can also get a free sample of Lancôme La Vie Est Belle Iris Absolu Fragrance on a page on Elle Magazine. Simply head over here. Accept cookies, and scroll up and down until you see the advert. Click on it and claim it.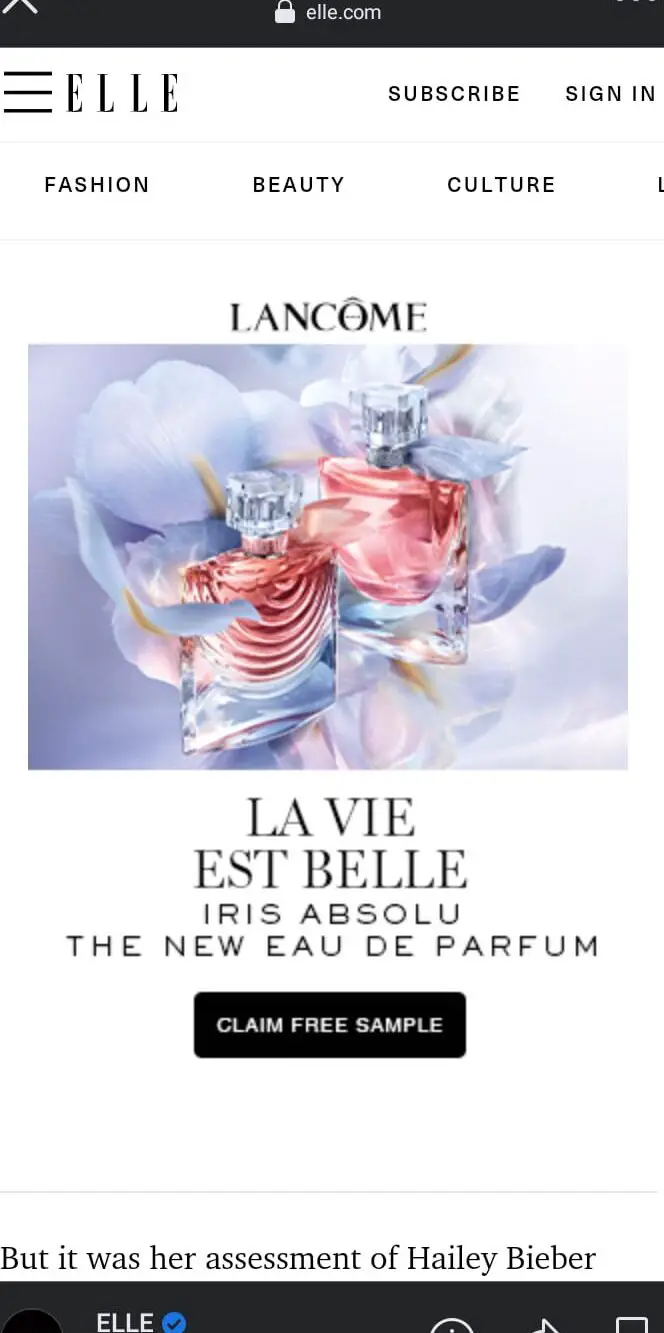 Please note that you could also get a Lancôme Serum sample or YSL Libre Fragrance instead of La Vie Est Belle perfume.
Thru Facebook / Instagram – SOLD OUT!
Lancôme has launched a new version of its iconic La Vie Est Belle Perfume. The good news is, they are currently giving away free samples of it for UK residents. Want to give it a try for free? Of course, you do!
Right now, you can score a free sample of the NEW Lancôme Oui La Vie Est Belle perfume to try out gratis.
To receive your free Lancôme La Vie Est Belle perfume sample by mail, you can follow our easy step-by-step guide.
First of all, these Lancôme samples are being offered through a sponsored SoPost link on the Lancôme UK Facebook and Instagram pages. This means we do not have a direct link to it. However, there are a few actions you can complete to make the advert pop up in your social media feed, and thus claim your samples.
The actions we recommend you to complete are :
Like and follow the official handles of Lancôme UK on social media (especially their Facebook page and/or Instagram account)
Like one or two of their posts or engage with the brand on social media
Google the new La Vie Est Belle Eau de Parfum being offered here
Visit the Lancôme UK official website and check the new fragrance there too
Keep an eye on the ads showing in your social media feed to spot the one offering samples. It looks like this (see picture below)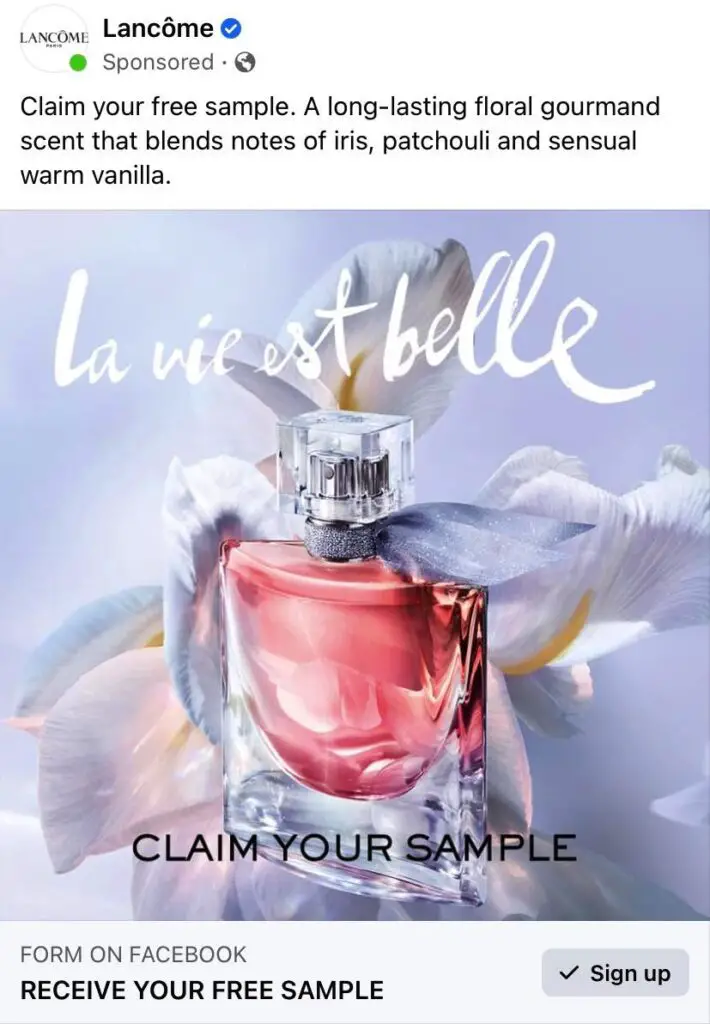 The samples are for UK residents ONLY.
Be the first to get the latest freebies in your inbox