Last Updated on September 13, 2023
Jo Malone London is giving away free samples of their fragrances. Be as quick as a flash to get your hands on a Jo Malone Cologne sample. This a great fragrance freebie to add to your collection of free perfume samples.
The Jo Malone Cologne samples will be sent to you by post within the UK.
This article is updated whenever a new Jo Malone freebie is available in the UK. So keep an eye out for it for updates.
How to receive a free Jo Malone Cologne sample by post?
Jo Malone English Pear & Freesia sample – AVAILABLE
Please note that since this freebie is offered through a sponsored Facebook / Instagram advert, we do not have a direct link for it to provide you with. However, we suggest you complete the actions listed below to make the ad naturally pop up in your social media feed.
The actions are :
Like and follow the official handles of Jo Malone London Facebook page and/or Instagram account
Like one or two of their posts and watch a recent video to engage with the brand and show interest on social media
Visit JoMalone.co.uk and check out the new fragrance there.
After completing these actions, just keep scrolling your social media feed as usual while keeping an eye on the advert offering the samples. It looks like this (see picture below)
Here is the post you should keep an eye out for.
I'll keep you posted regarding the direct SoPost link to the form when available.
UPDATE: Other than Facebook and Instagram, this sample is also available on TikTok as a sponsored post. So follow the same instructions as you would usually.
Previous updates on Free Jo Malone Cologne samples
Jo Malone sample from SoPost – SOLD OUT
I managed to find the direct link to SoPost from the Jo Malone Cologne sample advert. CLICK HERE to access the SoPost form. Fill out the form and submit it to receive your sample by post.
Jo Malone Rose Cologne samples
If you want to get your free Jo Malone fragrance sample by post, you can follow this simple step-by-step guide below.
This one is for the latest Jo Malone Rose Collection
Try a sample of the NEW range of Rose fragrances by Jo Malone London. Currently, Jo Malone is giving away free samples of Rose cologne through a sponsored advert on Facebook and Instagram.
Through this sampling campaign, you can choose one of three Jo Malone Cologne samples. Including:
Velvet Rose & Oud
Red Roses
Rose & Magnolia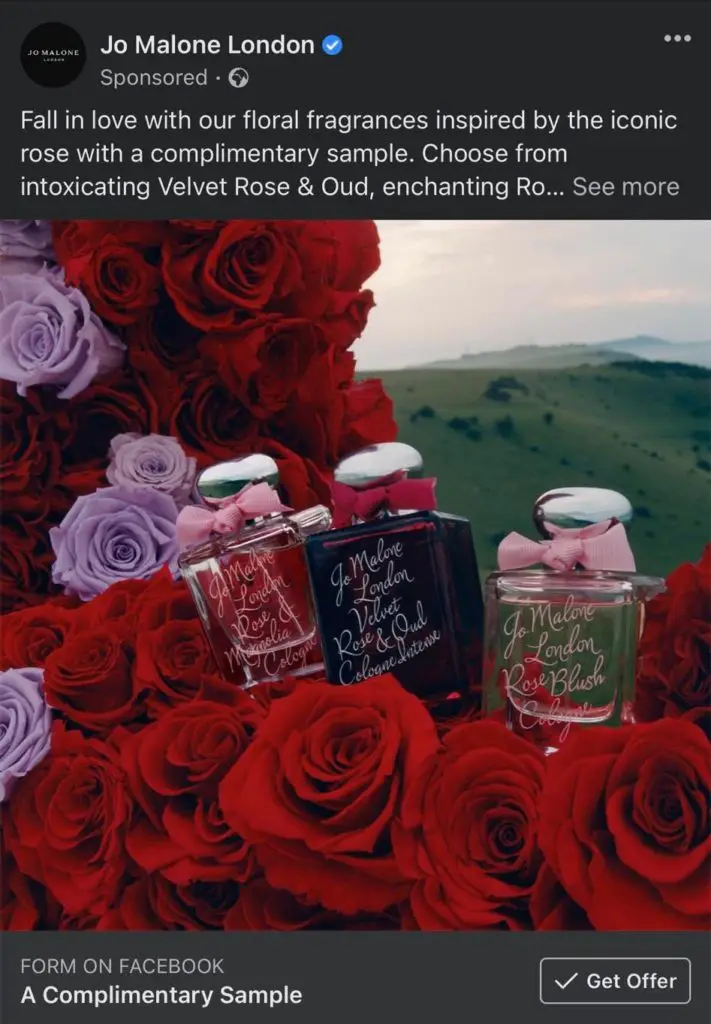 We hope you get this one! Stay in the loop for future updates or a possible direct SoPost link.
For UK residents ONLY.
Thru a pop-up on Cosmopolitan Magazine – EXPIRED!
August 8, 2021: the pop was spotted at this page amid a Cosmopolitan magazine Keep scrolling until you spot it. Good luck.
Scroll down and up the page until you see a pop-up offering you Jo Malone Perfume samples. The pop-up looks like the picture below.
IMPORTANT: This time the advert is not showing up to everyone. Also, if you do find it and it says invalid email address, try using a new one or adding a point '.' anywhere In your email address. Example my email is [email protected], I can either take off the point or put it somewhere else and the email would still be the same. Like [email protected] or [email protected]
Let me know in the comments below if you managed to get this!
July 23, 2021, a new sampling campaign is LIVE. You can get a free Jo Malone Perfume sample while scrolling a specific Cosmopolitan magazine page. Click here to go to the samples page, and order one. It's powered by SoPost.
July 20, 2021 a new sampling offer amid a Cosmopolitan article is available. Click here to go to the samples page, look for it to order a complimentary sample.
The pop-up you should be on the lookout for is resembling this snapshot: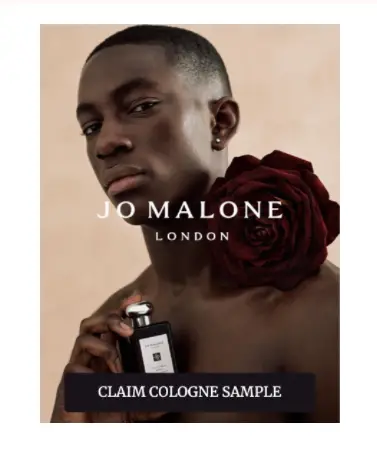 It doesn't look great but I checked and it's the SoPost website. You will also get a confirmation code by email from [email protected], which is the actual company email of SoPost. So it's 100% safe.
And after confirming, you get the confirmation email. See picture below :
Thru Women's Health Mag – EXPIRED!
On July 15th, a new page on Women's Health Mag has a sponsored SoPost advert with free Jo Malone Cologne samples. Be quick to get one while supplies last.
Here's what you need to do:
Let it charge for a bit and scroll down like you're reading the article
Keep an eye out for sponsored posts until you spot the Jo Malone one
Here's what it looks like :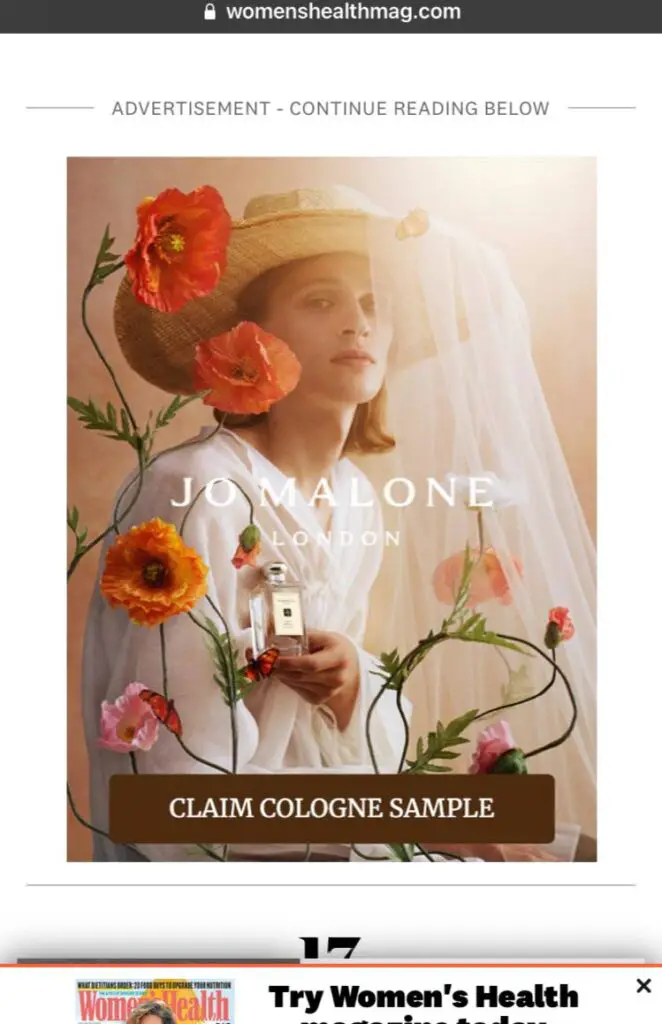 If it doesn't show up, you can try to click on their competitions and look on these pages too. If nothing at all, you can just retry the other day because they look like they have a limited number of samples per day.
Be the first to get the latest freebies in your inbox