Last Updated on March 13, 2023
You can grab a free Gillette ProGlide Razor sample whilst the supplies last.
Gillette ProGlide Razor is a top notch shaving tool. It's the only razor that's available with FlexBall technology, five anti-friction blades, and a precision edging blade on the front of the handle. Plus an enhanced lubrastrip.
The five blades help cut hair as close as possible to your skin without irritation or bumps thanks to an enhanced Lubrastrip. You can order a free sample to try without spending a penny. Find out how below.
How to get a free Gillette ProGlide Razor sample by post?
NEW! On TikTok – AVAILABLE
Gillette has a new advert doing the rounds on TikTok for a free sample of Gillette ProGlide FlexBall Razor. To get it, you need to scroll through your TikTok Feed until you find it to be able to claim. Here are a few tips and tricks to help you with that.
Watch and like some of their recent publications
Use the internet to lookup the Gillette ProGlide FlexBall Razor
After that, keep your eyes open on any sponsored reels showing up in your feed. Below is a screenshot of the one you should find to get your freebie by post.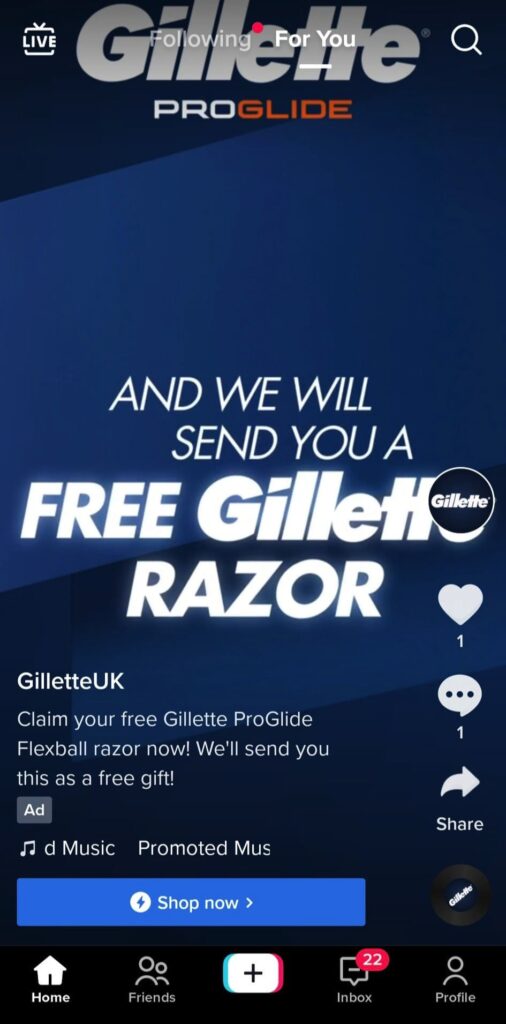 TIP: Here are some other ongoing TikTok freebies offer to optimize your time by looking for them at once.
From SuperSavvyMe – SOLD OUT!
A greatly timed freebie from SuperSavvyMe is LIVE. The platform is giving away free samples of Gillette Fusion Proglide Razor to UK residents, on a simple request. Run to snag one while the offer is ongoing.
To order a Free Gilette Fusion Proglide Razor and get it by post within the UK with SuperSavvyMe, I invite you to go over to their sampling platform. Just follow this link and click on request sample. You will be asked to login with your SuperSavvyMe account to get this sample. If you don't have an account yet, you can just create one, it's free and has tons of benefits and freebies on a weekly basis.
The sun is out so it's about time we show these legs to get some sun. So let's go!
This freebie is for residents of the UK only. It's only available for a short period of time or whilst the supplies last.
Be the first to get the latest freebies in your inbox