Last Updated on December 6, 2023
Hey there, dear community! I'm about to share something delightful for all of you who love to keep your spaces smelling as fresh as a daisy.
Have you been on the lookout for the perfect fragrance to upgrade your living space? Well, we might have just the thing for you – a free Febreze Air Mist or Air Freshener.
SuperSavvyMe is generously giving away free samples of this refreshing fragrance. What's the catch? Absolutely nothing!
All you need is to sign up for the offer, and they'll send you a Co-op £3 off Febreze coupon so you can pick up a free Febreze Air Mist or Febreze Air Freshener at participating stores. It's that simple!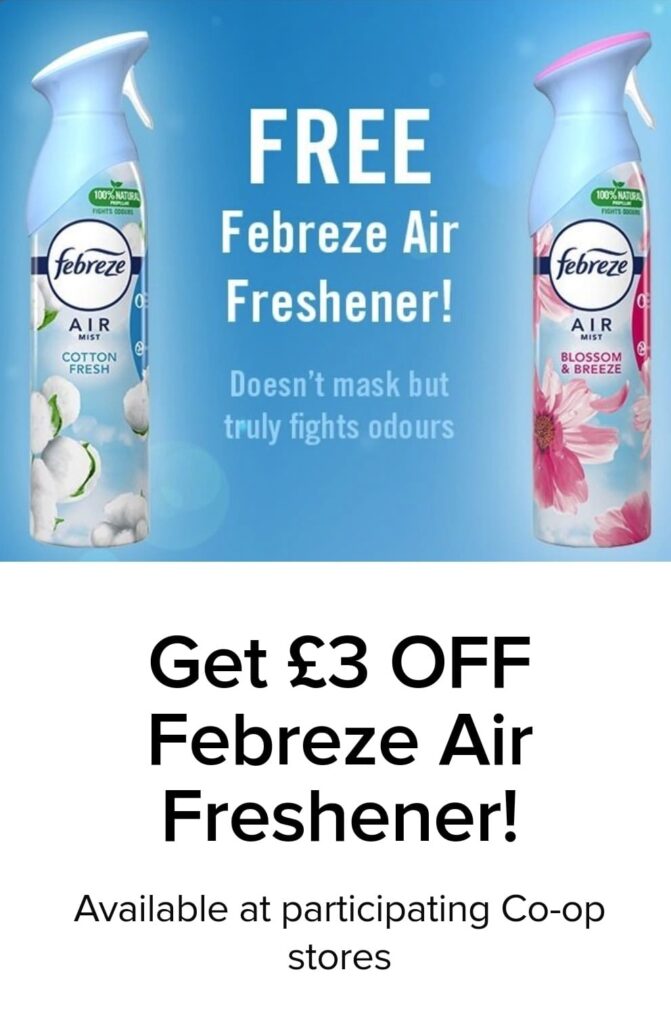 We know, it's like a breath of fresh air (pun intended!).
Read on to find out how to claim this freebie and everything you need to know.
How to get your hands on a free Febreze Air Mist or Air Freshener?
SuperSavvyMe is giving away these Febreze coupons through a sponsored post on Facebook and Instagram. So, there is no direct link to the form. But, fret not! There are a few things to do to increase your chances of finding the popup and claim this freebie.
Ready to transform your space into a fragrant haven? Follow the guide below:
Follow SuperSavvyMe on Social Media: Like and follow SuperSavvyMe accounts on Facebook and/ or Instagram to show interest in the brand
Engage, Engage, Engage: Make sure to show them some love by liking their recent posts, leaving a comment, etc… This will signal to algorithms your interest in their products, and updates… Thus increasing your chances of seeing the advert.
Search to find: Use the Facebook or Instagram Search feature to look up related keywords, including: "Febreze Air Mist", "Febreze Air Freshener", etc…
Once done with the instructions above, keep both eyes open while scrolling your social feed. The pop-up might show up after a couple of minutes, hours, or days!
Here is what it looks like to help you identify it quickly.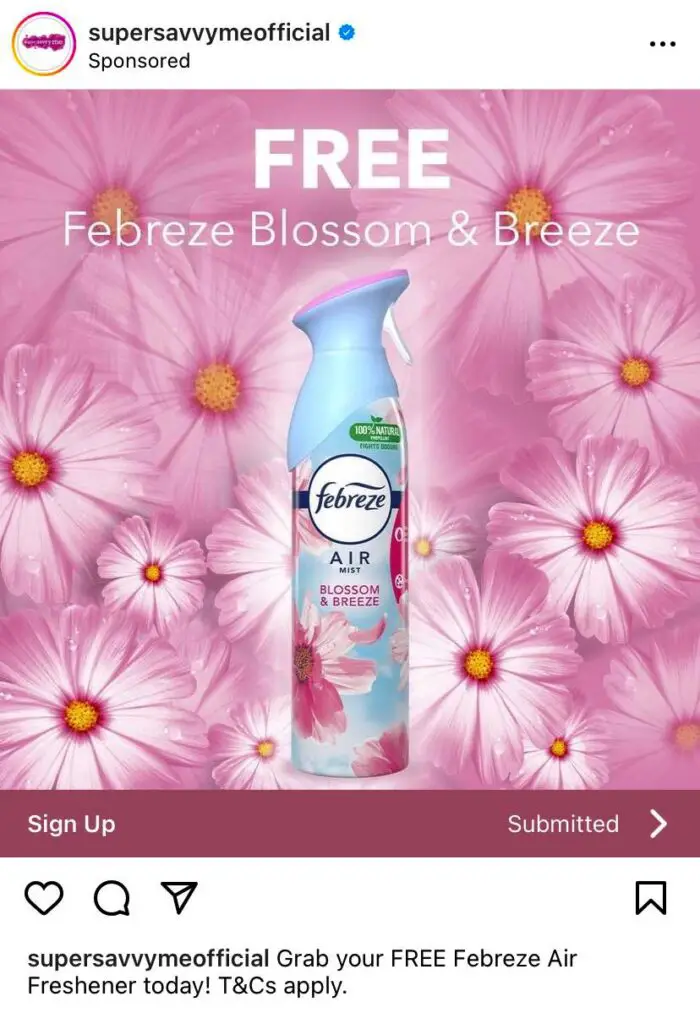 Once you spot it, click on the 'SIGN UP' button to sign up for your £3 off Febreze coupon.
Now all you have left to do is pick up this freebie on your next grocery trip to a CO-OP Store near you.
Open to residents of the United Kingdom only.
Whether you're trying to mask that lingering pet odor or just want to create a welcoming ambiance in your home, this air mist does it all! So don't miss out on this offer.
This offer is available for a limited time or until they run out of supplies.
Stay fresh, and see you soon with more fabulous finds!
Join Our Community
If you love such fragrant freebies, and let's be real—who doesn't?—then stick with us!
Remember to follow us on our social media channels and subscribe to our emails. Why? Because we're more than just a community; we're friends on the hunt for the best offers, together!
Be the first to get the latest freebies in your inbox