Last Updated on June 6, 2022
Here's your chance to order free Dior foundation samples. YES! Dior's newest foundation is out and you can get samples in the UK. Here is how below.
Keep an eye out on this article for updates and new offers whenever available.
The new Dior Forever 24h wear foundation is a natural and floral extract-enriched skincare to make skin smoother while it gives perfect cover. It has a total range of 67 shade finishes, 36 in matte, and 31 in the glow range.
How to get a free samples of Dior Foundation in the UK?
NEW! Dior Forever Skin Glow Foundation sample from John Lewis – AVAILABLE
Hurry up to score a free sample of the new Dior Forever Skin Glow Foundation from John Lewis. To get a sample, CLICK HERE to go to the offer page on John Lewis website. Choose your shade then, click on the 'REQUEST SAMPLE' button and follow the instructions so they know where to send it to you.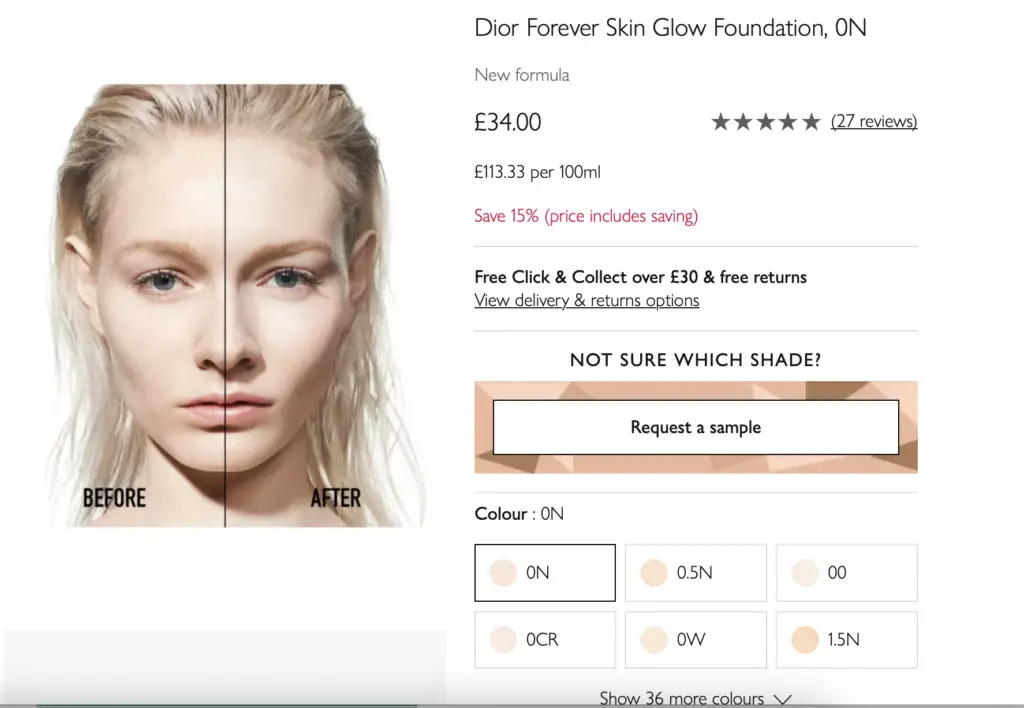 Available for UK residents for a limited time or while supplies last only.
Free Full-Size Dior Forever Foundation with Marie Claire Beauty Drawer – SOLD OUT!
Marie Claire Beauty Drawer has an astonishing new freebie. Select registred members will be receiving a free FULL-SIZE Dior Forever Foundation in the mail to try out and review.
This freebie is available for select members whose beauty profile matches this product. If you are already a member of the Marie Claire Beauty Drawer Club, I invite you to check your email and your dashbord to see if you qualified for this offer. If so, you can find the link there to claim it.
Below is a snapshot of the email they sent out to selected members.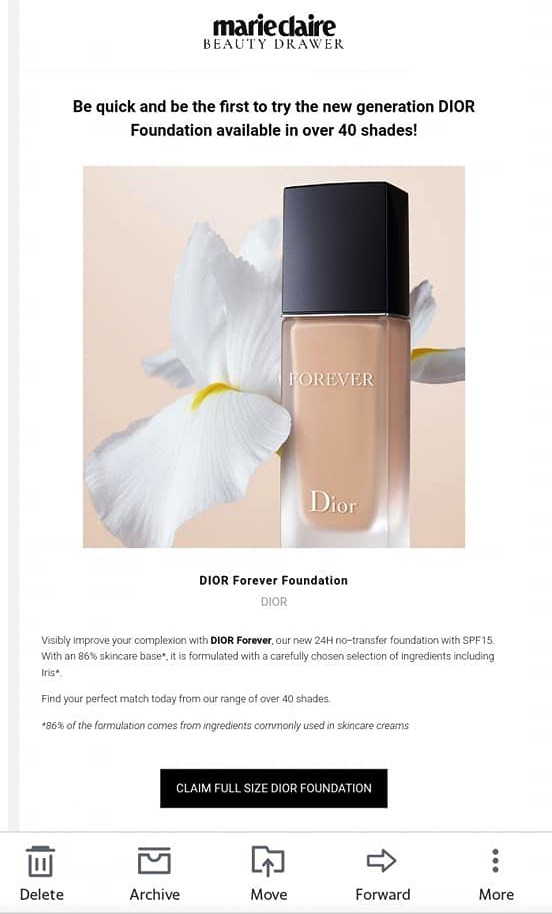 Not a member yet? You can sign up with them for free and start receiving amazing sampling offers like this one. To join, visit beautydrawer.marieclaire.co.uk and follow the instructions to build your beauty profile.
Check this list for all Marie Claire free samples and freebies available.
10-Day sample kit of Dior Forever 24h Wear Foundation – SOLD OUT!
You can now get shade matched and receive your free 10-Day sample kit of Dior Forever Foundation while the offer lasts.
To get this great value freebie, just go over to the nearest Dior counter and request it as seen on the Dior page on Facebook. You can hit the "Get this free sample" to get more info and check the samples post.
Limit one per customer, subject to availability.
Go go go!
UK residents ONLY.
Be the first to get the latest freebies in your inbox