Last Updated on December 1, 2023
Quick! Get going to claim your Free CeraVe Cleanser samples while supplies last.
CeraVe products need no reviews. They are very well known and have proven themselves to be great.
Check out the available samples in the UK and follow the instructions on how to get yours shipped by post.
How to get free samples of CeraVe Cleansers in the UK?
Facebook / Instagram – AVAILABLE
Now you can claim a free sample of CeraVe Hydrating Cleanser from adverts on Facebook and Instagram.
Here is the foolproof method to make the ads pop up in your feed, and be able to request a sample:
Follow the CeraVe Skincare page on Facebook or Instagram if you haven't done so already
Like a bunch of their recent posts, leave a comment or watch a video they shared
Lookup the CeraVe Hydrating Cleanser on the internet and CeraVe website
Below is a snapshot I took of the post you should be on the lookout for to get this freebie.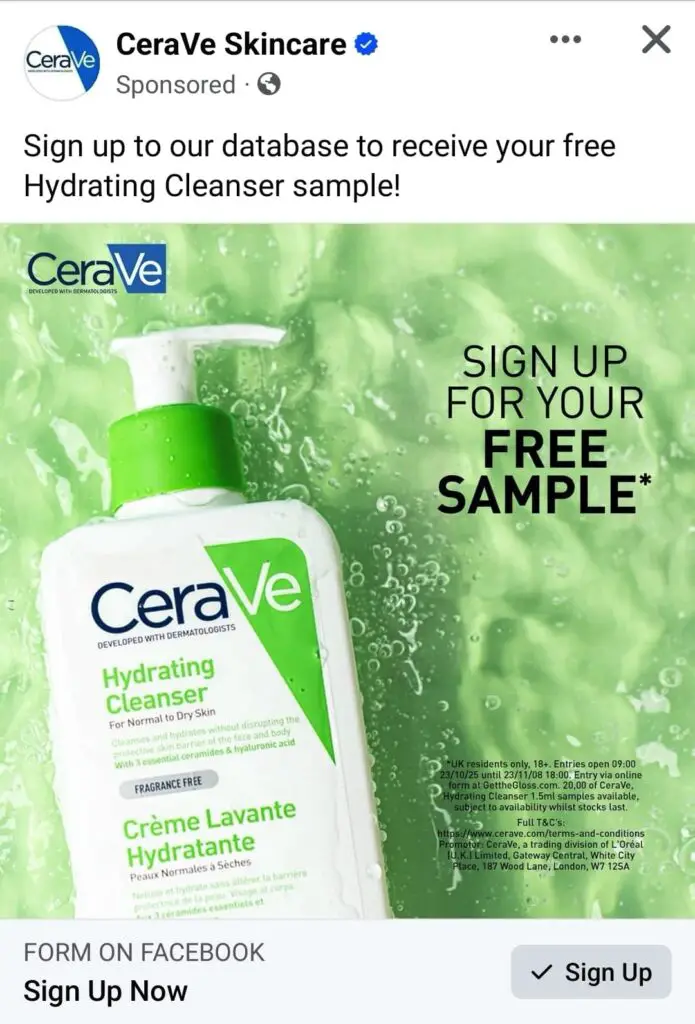 Once you see it, simply hit the 'SIGN UP' button to fill out the request form with the required details.
That's it, now wait for your freebie to be shipped by post.
Good luck.
CeraVe Skincare page on Facebook
On TikTok
There is a new advert on TikTok to get a free sample of CeraVe Blemish Control Cleanser & Gel. To get one, you need to spot the sponsored reel on your TikTok feed. You can follow the steps below to increase your odds of getting it to pop up for you. I suggest:
Follow the CeraVeUKI account on TikTok
Like their recent reels and watch them
Search for the CeraVe Blemish Control Cleanser on the internet
Keep scrolling your feed until you spot the advert to have access to the request form. Here is a snapshot of what it looks like.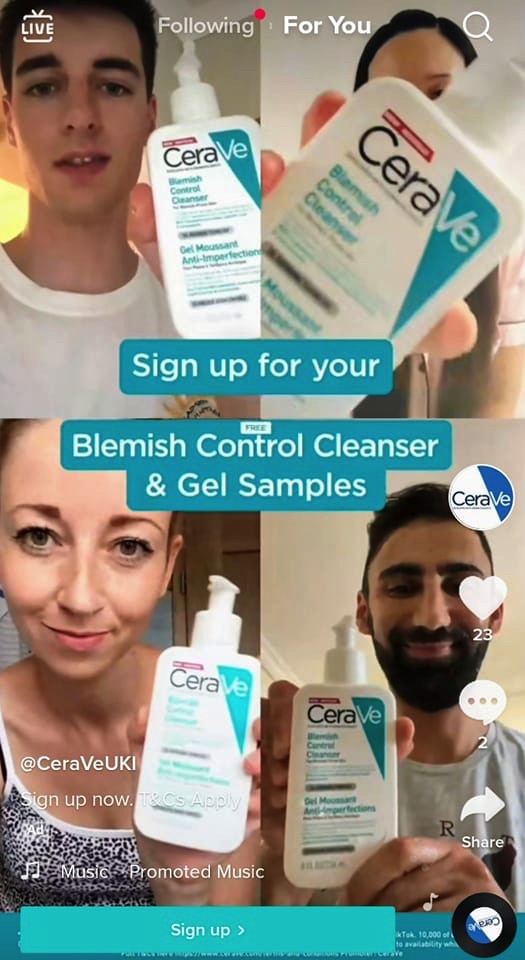 CeraVe's Cleansing Week Sampling campaign
Sign up for CeraVe's Cleansing Week Sampling campaign to receive one of these free samples by mail to test out :
Hydrating Cleanser: Cleanses & Hydrates, for normal to dry skin
Foaming Cleanser: Cleanses & Purifies, for oily to combination skin
Hydrating Cream-to-Foam Cleanser: Cleanses & Removes makeup, for normal to dry skin
If you want to receive a free sample of the CeraVe Cleansing of your choice by mail within the UK, just follow this link to the form.
If the free CeraVe Cleansing samples are still available, you shall find an online sample request form. Pop up your details in the corresponding fields. Choose the products you would like to try, and send them samples away.
Available for UK & ROI residents only, who are 18+.
Be the first to get the latest freebies in your inbox