Last Updated on November 16, 2023
Are you ready for a scent that truly captures the essence of individuality? Look no further, because Millie Bobby Brown's first-ever fragrance 'Wildly Me' from Florence by Mills is here, and you're invited to try it firsthand!
This offer is buzzing on Social Media, and it's your chance to dive into a world of unique aromas without spending a dime thanks to a free Florence by Mills Wildly Me sample.
Interested? Keep on reading to find out all about this freebie offer.
How do I order a free sample of Florence by Mills Wildly Me Fragrance?
Florence by Mills is giving away this sample through a sponsored post on TikTok.
Here's a simple guide on how to navigate TikTok and claim your free sample of this new perfume:
Open TikTok: Launch the app and make sure you're logged in to your account
Search: Use the search function to look up Florence by Mills or related tags such as Wildly Me Eau de Parfum. Engaging with these topics might trigger the ad to appear.
Engage with Content: Sometimes, interacting with related content can increase the chances of the ad appearing in your feed. Find Florence By Mills account and follow them. Then, Like or comment on a few of their reels.
After that, simply keep an eye out for the sponsored post from Florence by Mills as you scroll through your 'For You' page.
Here is what the ad we are talking about looks like: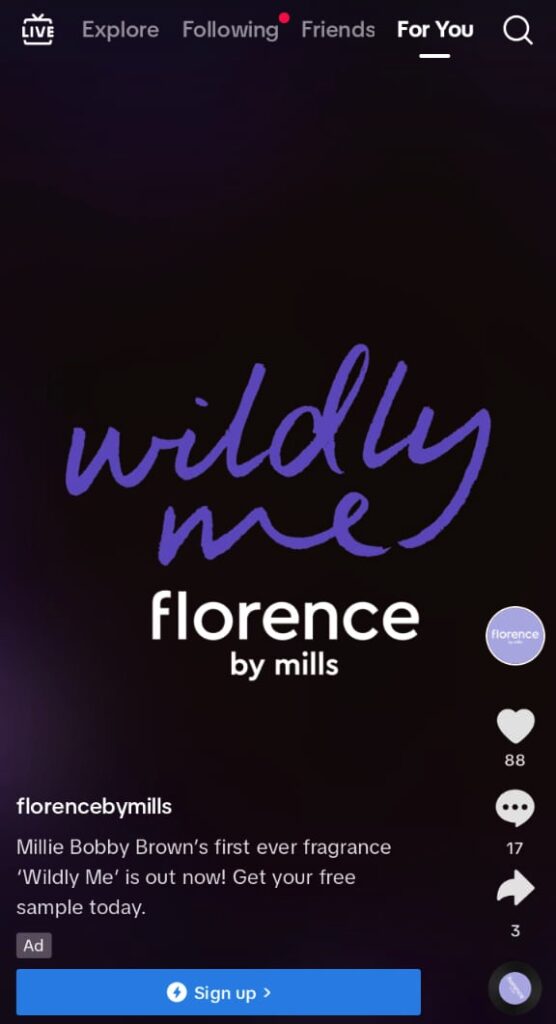 Once you spot the ad, tap the 'Sign Up' button to secure your sample.
Please note that offers like these are often limited, so speed is of the essence.
Currently available to select users on TikTok, who live in the United Kingdom.
Be the first to get the latest freebies in your inbox