Last Updated on August 22, 2023
Here is a unique opportunity for you to get your hands on a free Dettol Laundry Sanitiser sample, a trusted and efficient solution for hygienic cleaning. With the current emphasis on health and cleanliness, this offer is perfect for enhancing your laundry routine.
Dettol Laundry Sanitiser is designed to kill 99.9% of bacteria, even at 20°C. It offers a gentle yet effective way to eliminate odors and ensure hygienically clean laundry. Perfect for use on everything from everyday clothing to bedding and towels… Here's how you can get this exclusive sample while supplies last.
How to claim your free sample of Dettol Laundry Sanitiser?
NEW! From Facebook / Instagram – AVAILABLE
Dettol has chosen to offer free samples of their Laundry Sanitiser through a sponsored ad on Facebook and Instagram. So, you need to find it to be able to access the request form. I suggest you follow the steps below:
Engage with Related Content: META's algorithm is designed to show you content that aligns with your interests. By engaging with Dettol posts, you can signal to the app that you may be interested in this type of offer. So, follow and like the Dettol UK page on Facebook or Instagram, and like their recent posts.
Use the search bar on Facebook or Instagram, and the internet to search for the Dettol Laundry Sanitiser
Visit Dettol's website and view their Laundry Sanitiser there
Now, As you scroll through your feed, keep an eye out for the Dettol Laundry Sanitiser sponsored post. It should appear as you interact with related content. Here is what it looks like.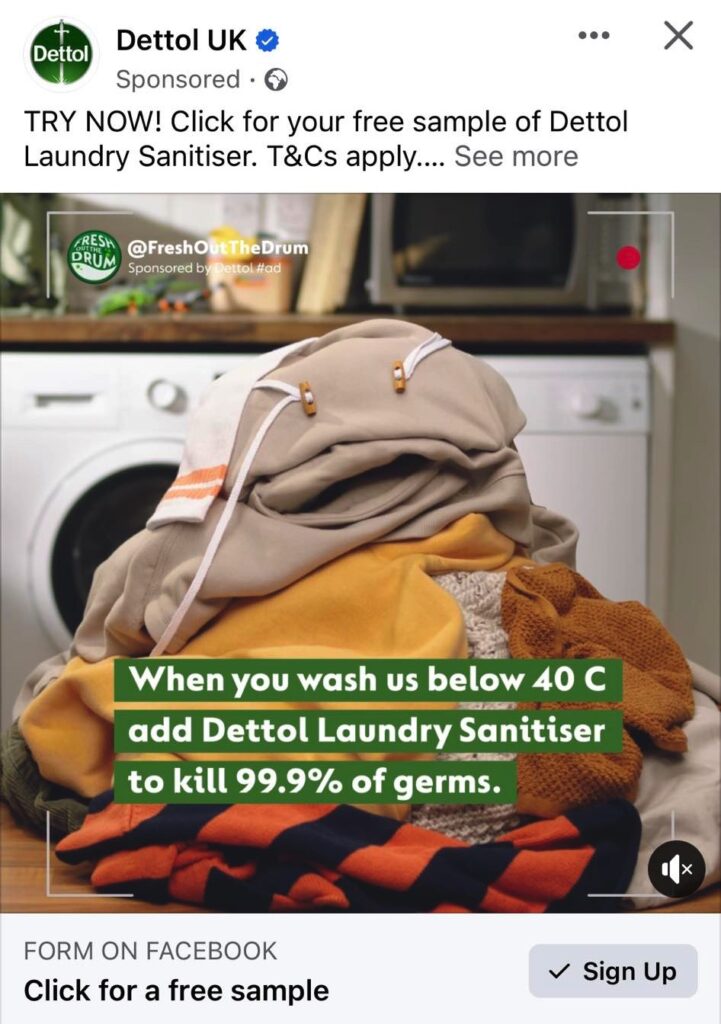 Once you see the post, tap on it and follow the instructions to claim your free sample.
This offer is available through sponsored posts on Facebook and Instagram to select UK residents. It's only available for a short period or until they run out of samples. So act fast to get one.
With the changing times, maintaining a clean and sanitized home is paramount. Dettol Laundry Sanitiser offers a convenient and effective way to keep your laundry free from bacteria and odors.
Happy cleaning!
Be the first to get the latest freebies in your inbox