Last Updated on January 21, 2022
Marie Claire is giving away free Decorté Advanced Repair Serum samples to new members of Marie Claire Beauty Drawer.
The Decorté Liposome Advanced Repair Serum is the brand's latest innovation. Thanks to its rich formula with multilayer bio-liposomes, the product is set to leave your skin looking rejeunevated.
For a chance to be among the selected users to score a free sample of Decorte Liposome Advanced Repair Serum, simply follow the instructions below.
How to score a possible free Decorté Advanced Repair Serum sample with Marie Claire?
To get this freebie from Marie Claire, you need to sign up with them and create your profile. You will start receiving amazing free beauty samples, and full-size products to try and review. As a welcome gift, you will get the Decorté Advanced Repair Serum sample.
You can sign up by following the link here to beautydrawer.marieclaire.co.uk. It's quite simple, just follow the instructions available there.
If you are already a member, then unfortunately you can't claim this sample. However, don't hesitate to check your email and dashboard for possible new offers.
The MCBD shared this opportunity on their Instagram as you can see below.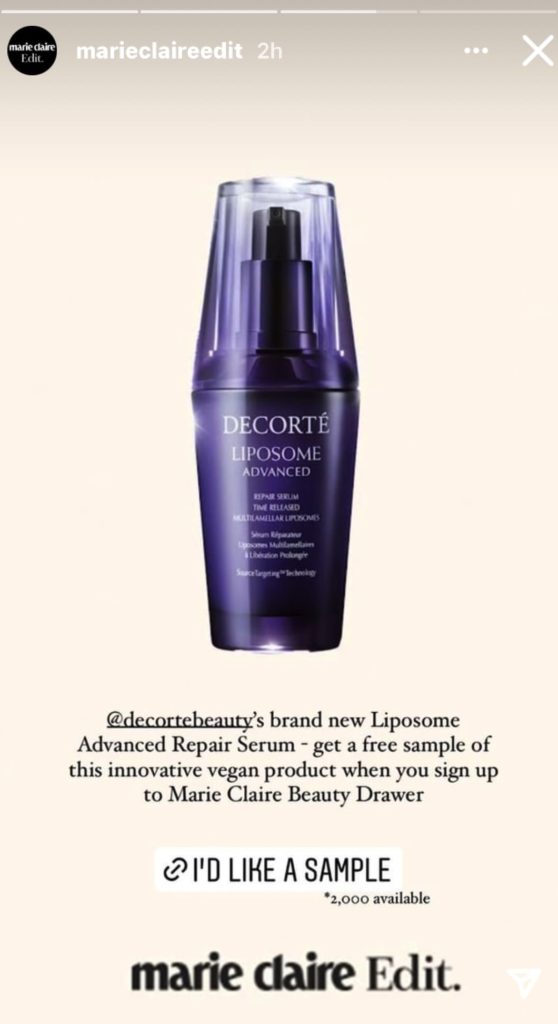 Be the first to get the latest freebies in your inbox