Last Updated on April 13, 2023
Hurry up to get free Decorté Advanced Repair Serum samples by post so you can try them out without spending a penny.
The Decorté Liposome Advanced Repair Serum is the brand's latest innovation. Thanks to its rich formula with multilayer bio-liposomes, the product is set to leave your skin looking rejeunevated.
For a chance to be among the users to score a free sample of Decorte Liposome Advanced Repair Serum, simply follow the instructions below.
How to score a possible free Decorté Advanced Repair Serum sample?
NEW! From Facebook / Instagram – AVAILABLE
There is now a new Decorté sponsored advert doing the rounds on Facebook and Instagram. It's for the Advanced Repair Serum sample so to get your freebie from the sponsored post, start by logging into your accounts on one or both of the platforms. Then:
Follow the Decorté's official page on Facebook or Instagram
Engage with their content by liking, commenting, or sharing their posts.
Increase your interaction with beauty and skincare-related content to signal your interest to the platforms' algorithms.
Use the search function to look up terms like "Decorté Serum"
You can also visit Decorté's official website to browse their products.
By following these steps, you enhance the chances of the sponsored ad for the free Advanced Repair Serum sample appearing in your Facebook and Instagram feeds. Claim your free sample once the ad shows up, and enjoy the rejuvenating benefits of this remarkable serum. Here is what it looks like.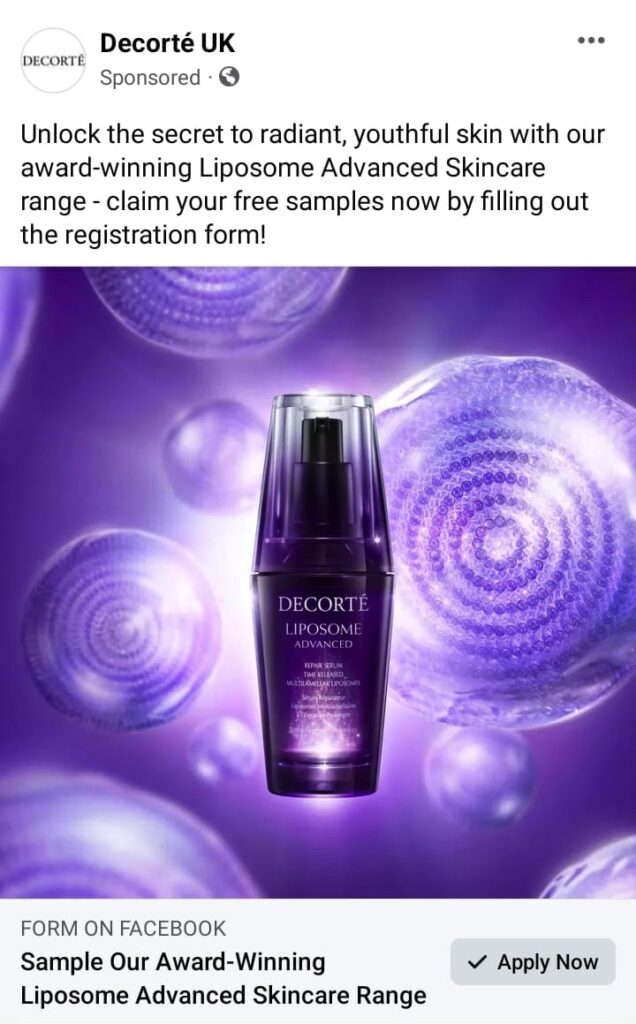 With Marie Claire Beauty Drawer – SOLD OUT
Marie Claire is giving away free Decorté Advanced Repair Serum samples to new members of Marie Claire Beauty Drawer.
To get this freebie from Marie Claire, you need to sign up with them and create your profile. You will start receiving amazing free beauty samples, and full-size products to try and review. As a welcome gift, you will get the Decorté Advanced Repair Serum sample.
You can sign up by following the link here to beautydrawer.marieclaire.co.uk. It's quite simple, just follow the instructions available there.
If you are already a member, then unfortunately you can't claim this sample. However, don't hesitate to check your email and dashboard for possible new offers.
The MCBD shared this opportunity on their Instagram as you can see below.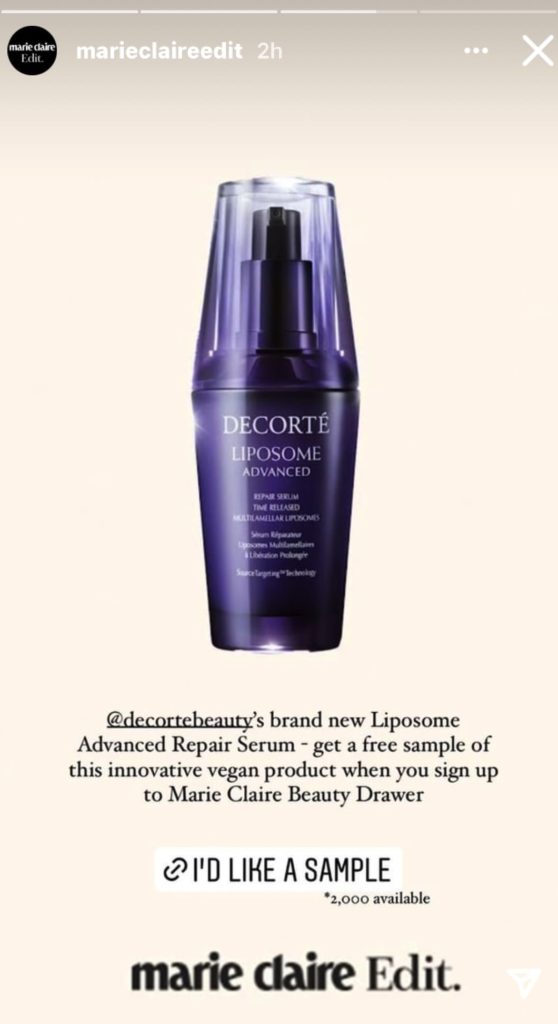 Be the first to get the latest freebies in your inbox