Last Updated on November 30, 2023
Notice to all the fragrance aficionados! Are you ready for an olfactory adventure like no other? Grab a free Creed Aventus fragrance sample while supplies last to indulge in the rich, sophisticated scent without paying a penny.
Creed Aventus is a captivating and unforgettable fragrance, blending fruity and woody notes to create a powerful, long-lasting scent. With top notes of blackcurrant, apple, and bergamot, heart notes of jasmine, rose, and birch, and base notes of ambergris, musk, and oakmoss.
Aventus is a symphony of aromas that exudes confidence and charisma. It's no wonder it has become a modern classic.
Want to get your hands on a free sample of this luxurious fragrance? Keep reading to find out how to grab this fantastic freebie at no cost.
How to order a free sample of Creed Aventus in the UK?
The brand is giving away the samples through a sponsored post currently doing the rounds on Facebook and Instagram. So, to get your hands on this freebie, all you need to do is follow these instructions:
Connect with Creed on social media: Start by liking and following Creed Fragrances UK page on Facebook and Instagram. Engage with their recent posts (like, comment, watch recent videos or reels, etc…). This is important to signal your interest in their products.
Search for Creed Aventus: Pop "Creed Aventus" into the search bar on Facebook, Instagram, or the internet. This will alert the social media algorithms to your interest, making it more likely for the sponsored ad to pop up in your feed.
Patience is key: Keep in mind that the sponsored ad might take a few minutes, hours, or even days to appear in your feed. Stay patient and keep checking your Facebook and Instagram feeds regularly.
Claim your free sample: Once you spot the ad, click on it and follow the instructions to claim your free Creed Aventus sample. Here is what it looks like to help you identify it quickly.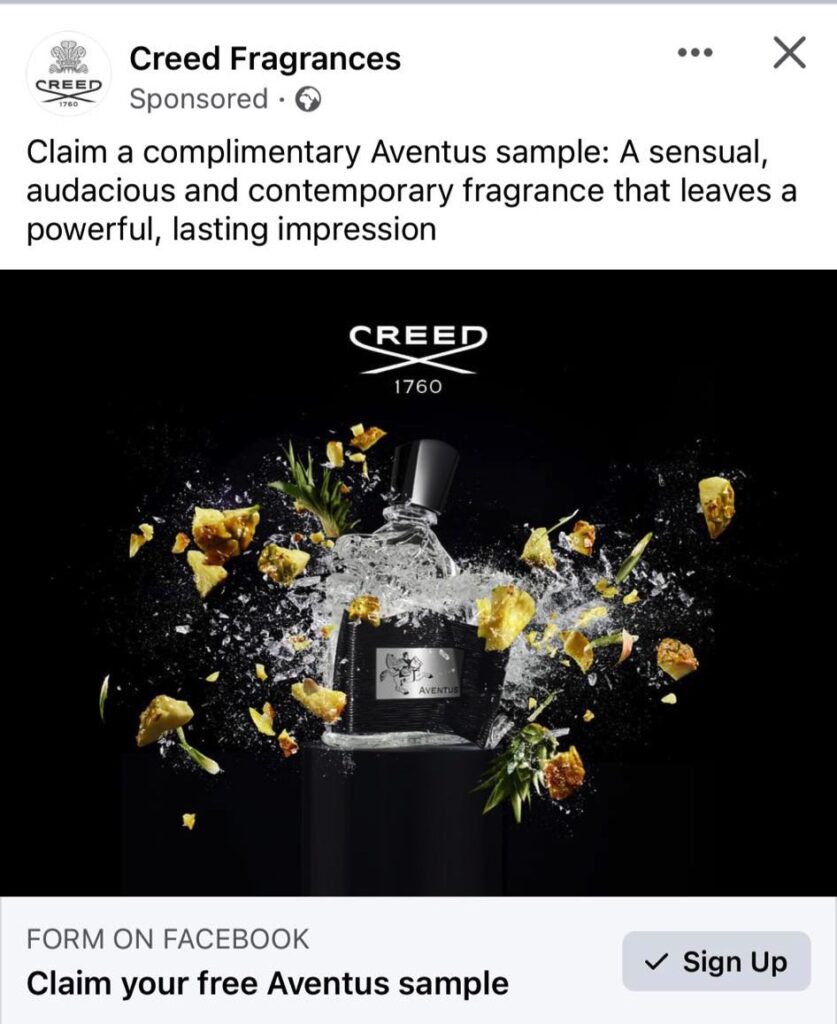 Share the love: Don't forget to let your friends and fellow fragrance lovers in on this sensational offer, so they can experience the magic of Creed Aventus, too!
Remember, this freebie is exclusively for UK residents and is available only while supplies last.
Good luck to everyone.
Be the first to get the latest freebies in your inbox