Last Updated on June 30, 2023
Don't miss out on this new offer to receive a free Naturopathica Moisturizer sample to try out.
Discover the transformative power of Naturopathica's Argan & Peptide Wrinkle Repair Remedy Water Cream moisturizer with this freebie offer. This remarkable water cream is designed to target wrinkles and promote a more youthful complexion. You can put their claims to the test at no cost to you. Read on to find out how to get your sample.
How to order a free sample of Naturopathica Water Cream Moisturizer?
Now, select residents of the United States have the opportunity to order a sample through sponsored ads on Facebook and Instagram. To get your hands on one, you need to make the sponsored post pop up in your feed. Here are some tips and tricks to help you achieve that:
Like and Follow Naturopathica page on both Facebook and/ or Instagram
Show your interest in Naturopathica's skincare products by engaging with the posts they shared on. You can like, comment, or view their recent videos or reels to increase the likelihood of seeing their sponsored ads in your feed.
You can also use the search bar to look up the Naturopathica Moisturizer
Visit the brand's website and check out the product there as well
That's it. Now simply keep your eyes peeled for the sponsored post as shown in the picture below.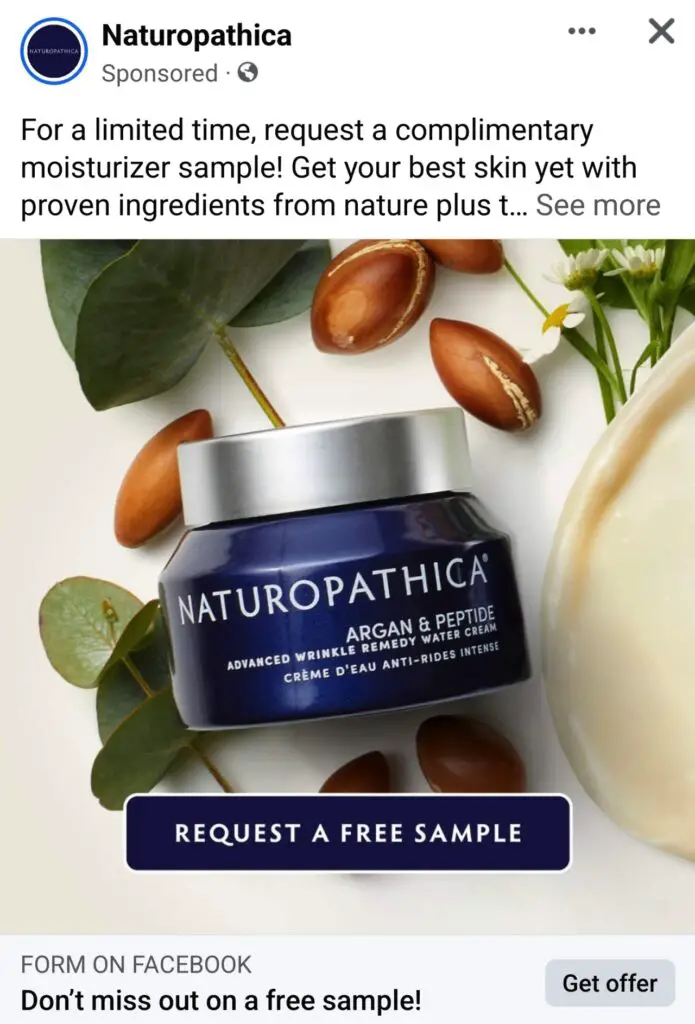 Once you spot it, click on it to fill out the request form and claim your free sample.
Please note that this offer is available for a limited time and only to select residents of the United States.
Don't miss this fantastic opportunity to try Naturopathica's Argan & Peptide Wrinkle Repair Remedy Water Cream. Enhance your skincare routine and embrace a more youthful, radiant complexion with this exceptional freebie.
Good luck.
Be the first to get the latest freebies in your inbox