Last Updated on November 20, 2023
Are you on a never-ending quest for radiant and youthful skin? Look no further! L'Oréal Paris has introduced its newest sensation – the 12% Pure Vitamin C Serum, and lucky for you, they're giving away free samples.
Infused with the powerful antioxidant Vitamin C, this serum promises to give you smoother, brighter, and revitalized skin. Created and validated with dermatologists, it's a dermi-grade serum that promises not only purity but effectiveness too.
Plus, with its complimentary sampling offer currently available, it's the perfect time to test its wonders for yourself.
Read on to find out how to score this freebie.
How to claim a free sample of L'Oréal Pure Vitamin C Serum?
NEW! From SoPost – AVAILABLE
There is a new sampling offer from L'Oréal and this time you ca claim it from SoPost. And, not only you will be getting the L'Oréal Paris 12% Pure Vitamin C sample, but also their Hyaluronic Acid Plumping Serum.
To get your hands on a sample, all you need to do is:
Click on the 'Go to offer' button below to go to the offer page on SoPost
Fill out the form with your details and submit
Wait for your sample pack to be shipped in the mail
Offer available for a limited time only, so hurry up.
From Facebook / Instagram
This special offer is being promoted as a sponsored post on Facebook and Instagram. For select users living in the US, this is your golden ticket to experience the magic of Vitamin C firsthand.
Steps to make the sponsored post appear in your feeds:
Visit L'Oréal's Official Pages: Head over to L'Oréal Paris's official pages on Facebook and Instagram. Follow them and engage with their posts.
Engage with L'Oréal Paris : Increase your interaction with beauty and skincare brands, especially L'Oréal Paris, by liking, and commenting on their posts on Facebook or Instagram.
Search for relevant keywords: Use the Facebook or Instagram search bar to look up the L'Oréal Vitamin C Serum or related keywords
Update Ad Preferences: On Facebook, go to Settings -> Ads -> Ad Preferences. Here, adjust your preferences to show more beauty and skincare-related ads.
By actively showing interest in beauty products and brands, the algorithm is more likely to display relevant sponsored posts, including L'Oréal's free sample offer, in your feeds.
Here is a screenshot of what it looks like: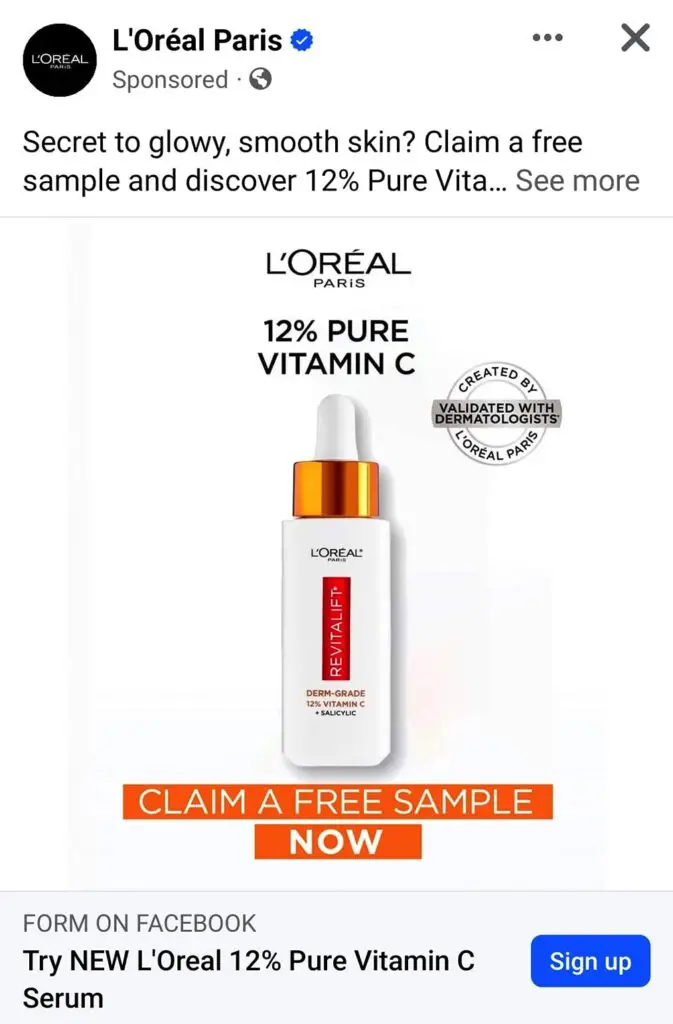 Once you spot the ad, click on the 'SIGN UP' button and fill out the form.
This offer is currently available to select US residents on Facebook and Instagram only.
With a few strategic clicks and interactions, you'll be well on your way to discovering the secret to glowy, smooth skin with L'Oréal's 12% Pure Vitamin C Serum.
Don't miss out on this exclusive opportunity to pamper your skin.
Happy glowing!
Be the first to get the latest freebies in your inbox