Last Updated on June 13, 2023
BOLO for a free Bulgari Allegra perfume sample to receive in the mail within the US.
Embark in a mesmerizing sensory journey with Bvlgari's new range of perfumes: Bulgari Allegra. The line is composed of 5 Eau De Parfum and 5 Essences. Bulgari Allegra offers multiple combinations to create the most personal fragrance possible. From the composition to the bottles inspired by colored stones, this collection of perfumes is as joyful as it is precious. For a limited time, you can be among the lucky ones to claim a free sample to try out for free.
Bvlgari is giving away free Bulgari Allegra perfume samples to select residents of the US. Here is how you can receive yours in the mail.
How to sign up for a free Bulgari Allegra perfume sample?
From Facebook / Instagram – AVAILABLE
The brand is offering Bulgari Allegra samples to select US residents on Facebook and Instagram. So, to sign up for a free sample of Bulgari Allegra Fragrance, you need to spot the sponsored ad with the SoPost request form. Here are a bunch of actions to increase your odds of getting the sponsored ad to pop up in your social feed.
Like and Follow Bulgari page on Facebook
Interact with the brand by liking a couple of recent posts shared on their page, watching a video or leaving a comment
Lookup the Bulgari Allegra perfume range on the internet and/or Bvlgari website
Once done, be on the lookout for the sponsored post as shown in the screenshot below: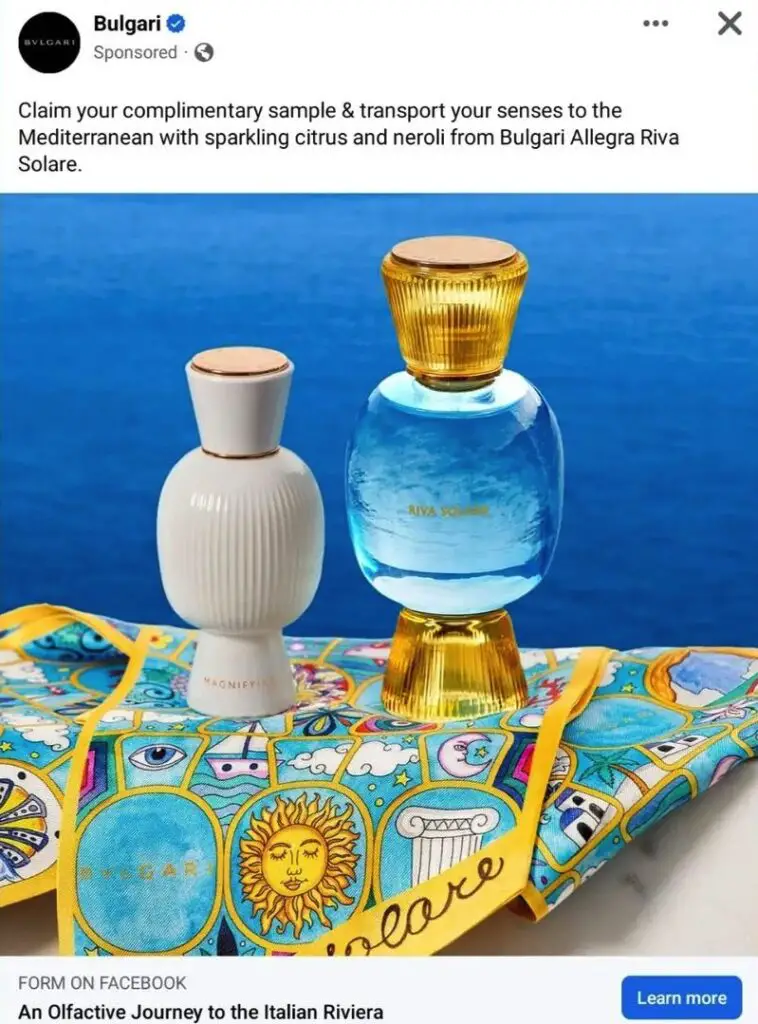 UPDATE: Samples now available for the NEW Bulagri Allegra Riva Solare.
Discover the Bulgari ALLEGRA range
Remember what it's like to fall in love for the first time with Fiori D'Amore. A blend of freshly picked red roses, ripe prelude raspberry, and jasmine. Keep the passion alive all day when you surround yourself with this scent.
Reminisce about your own deeply passionate love affair, like Marc Antony and Cleopatra, with Baciami. An irresistible floral amber fragrance of sensual jasmine and seductive vanilla. No love potion is needed when you wear this fragrance!
For all the free perfume samples you can score in the US, check out this section.
Be the first to get the latest freebies in your inbox