Last Updated on September 13, 2023
L'Oréal Paris USA is giving tons and tons of free samples through sponsored adverts on Facebook and Instagram. For a limited time, you can order a free L'Oreal Revitalift Pure Hyaluronic Acid Serum sample. This freebie will be sent to you by mail within the US.
Seize this hot freebie now. It's not a sample sachet, but a mini size l'Oreal Revitalift Pure Hyaluronic Serum.
How to get a free Revitalift Pure Hyaluronic Acid Serum sample with L'Oreal?
NEW! Thru Direct SoPost link – AVAILABLE
Hurry up to claim a free sample of L'Oreal Revitalift Derm Intensives 1.5% Pure Hyaluronic Acid Serum through a direct SoPost form. To get one, follow this link to the offer page on their website.
Click on the 'CLAIM YOUR SAMPLE' button and fill out the SoPost form.
Open to residents of the 50 US (excluding Puerto Rico) & DC, 16+. Available for a short period of time or whilst supplies last.
Please note that if the SoPost link says Sold Out, you can still follow the Facebook / Instagram method below to get it directly on social media.
Facebook / Instagram
To get your mitts on a free L'Oréal Revitalift Acid Serum sample to test free, we invite you to follow the simple guide below.
There's no direct link for this freebie. The sampling campaign is running thru a sponsored advert on both Facebook and Instagram. So, to get it to show up on your feed, complete these actions :
Follow and like @LOrealParisUSA on social media (Facebook and Instagram)
Engage with the brand on social media by liking one or two of their recent posts, leaving a comment, or sharing
Perfome a quick Search on the L'Oreal products sampled, in this case, search the L'Oreal Revitalift Pure Hyaluronic Acid Serum
Go over to the L'Oreal Paris USA website and check out this product there as well (optional)
After finishing these actions, just keep scrolling your social media feed as usual. This time, keep an eye on sponsored adverts. You should be able to see this one. (see picture below)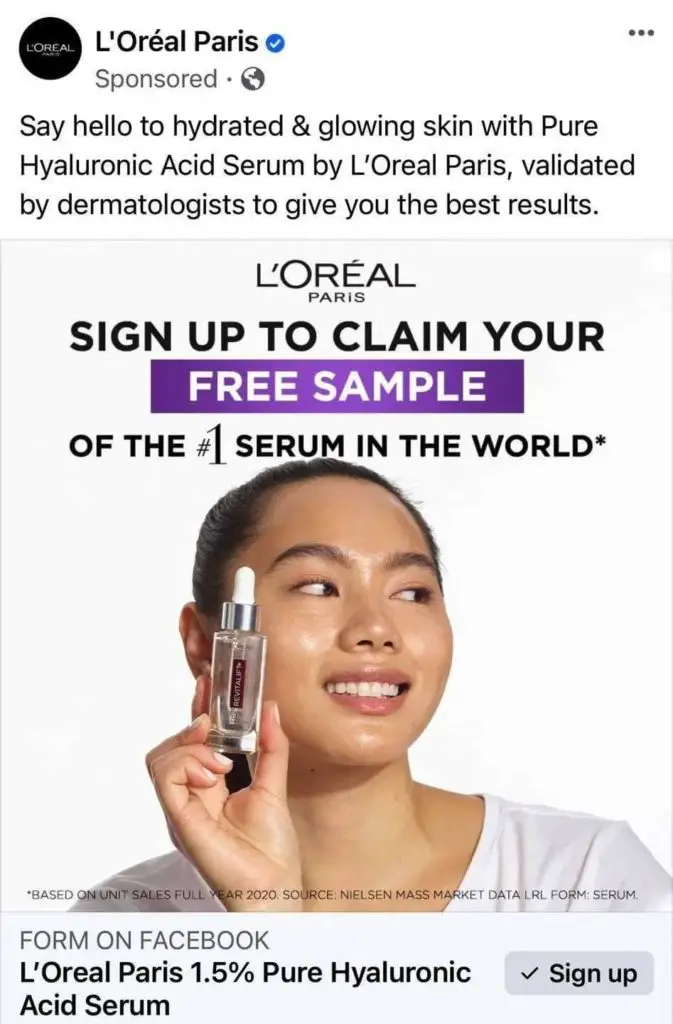 Once you see the ad, click the signup button and give your details or auto-fill them from Facebook or Instagram.
Please note that the picture could be different depending on where you saw the advert (on your feed as a post, or as a story…)
You might get another freebie from l'Oreal altogether since they have at least 3 different samples right now for US residents. All thru sponsored adverts!
Valid for US residents (for now! maybe the advert will be also shared in other countries such as Canada or the UK)
Be the first to get the latest freebies in your inbox