Last Updated on December 18, 2021
Hurry up to seize this great offer. Snag a free NYX Marshmallow Primer sample while the supplies last.
NYX Marshmallow primer is an amazing companion for makeup that improves the wear and longevity of your makeup. The 10-in-1 smoothing super primer is infused with smoothing marshmallow root extract, for 10 outstanding makeup extending benefits. With a soft whipped texture, this primer dries down totally transparently. It works perfectly on all skin types and tones.
NYX Cosmetics is giving away free samples of their Smoothing Marshmellow Root Infused Super Face Primer to US residents. Here is how you can get one.
How to get a free sample of NYX Cosmetics Marshmellow Face Primer?
NYX Professional Makeup is giving away samples of their Marshmallow Primer through a sponsored advert on Facebook and Instagram. There is currently no direct link to the form. However, what you can do is complete a few actions and look for the post on your social feed.
The actions I recommend are :
Hopefully, after completing these actions you will fit their targeting criteria and get the ad to pop up in your social media feed. Here is what it looks like :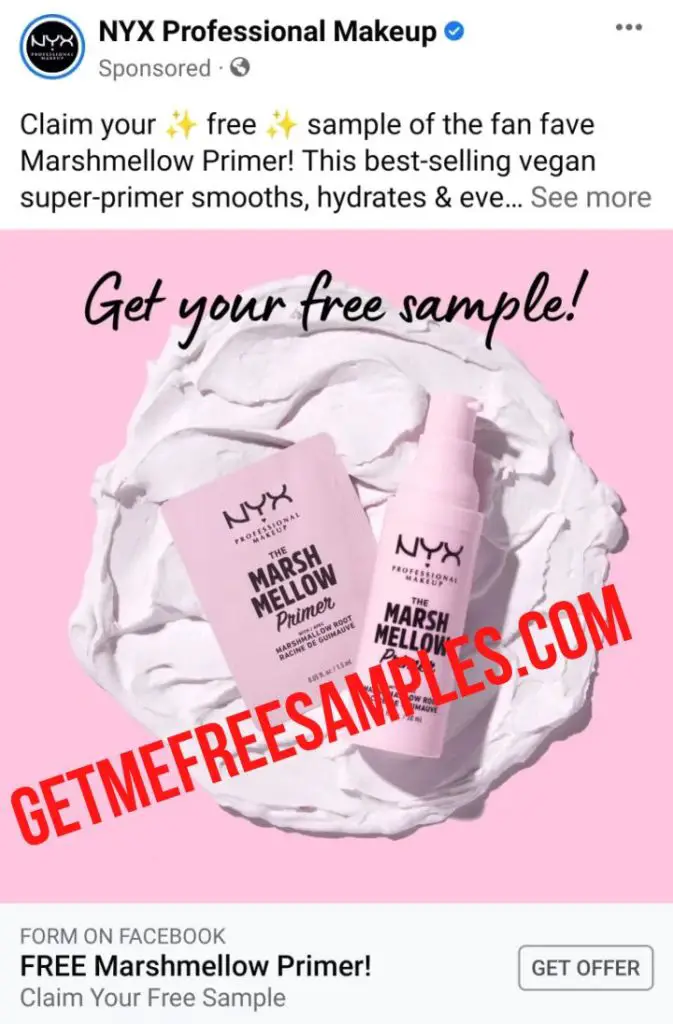 The post is powered by a SoPost form. So stay tuned for a possible direct link.
This advert is currently showing up to select US residents on Facebook and Instagram. Good luck!
Be the first to get the latest freebies in your inbox