Last Updated on November 21, 2022
Grab a free Calvin Klein perfume sample while supplies last. For a limited time, CK is giving away free samples of its newest cologne for men – Defy Eau de Parfum, to residents of the US. Get one to test out for free.
Calvin Klein Defy is a new perfume for men. It's an intense, masculine fragrance that contains notes of bergamot, ginger, grapefruit, peppermint leaves, and cedarwood. It is a contemporary take on masculinity with an unexpected twist—a touch of sensuality. Calvin Klein Defy Eau de Parfum has the audacity to defy convention and offer men something new. Here is how you can get a free sample of the NEW Calvin Klein Defy Fragrance.
How to score a free sample of Calvin Klein Defy Fragrance?
To get your sample of CK Defy in the mail, I invite you to read and follow the instructions below.
Macy's is giving away the samples through a sponsored advert on Facebook. Thus, there is no direct link to it. However, you can complete the steps below and hopefully the post will show up in your social feed. Thus, you will be able to fill out the form and receive the sample.
Let's start. Here are the steps to follow:
Follow Macy's page on Facebook if you haven't already
Like and follow Calvin Klein page on Facebook
Show interest in the brand by liking recent posts, leaving a comment or watching a recent video they have shared on their social media
Visit the Calvin Klein website and check out the new Defy Cologne there
You can also use the Facebook Search bar to look for Calvin Klein Defy perfume
That's about it. After that, just keep an eye out while scrolling through your social feed. The post should show up if your profile line up with the targeting criteria set by Macy's.
Below is a snapshot of the advert you should be on the lookout for: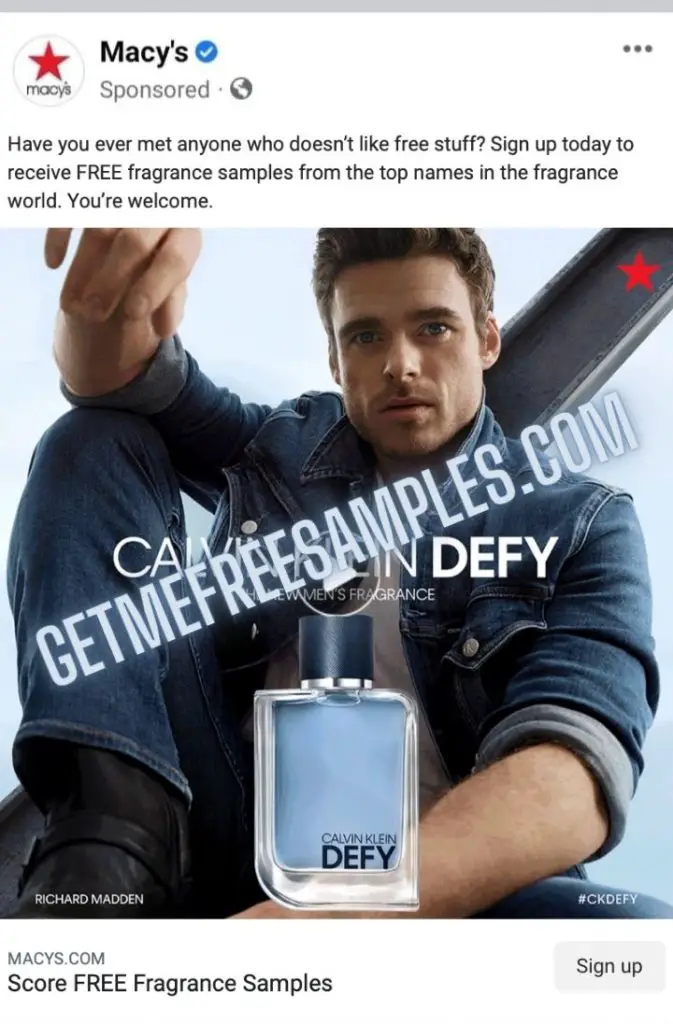 CK Defy Eau de Parfum – is a fragrance that's both unique and surprising. It captures the masculine essence of Calvin Klein's most exciting new men's fragrance, Defy, and adds an unexpected, magical sensuality. Calvin Klein didn't stop there. The smooth, sensuous tone of the fragrance combines with the rich warmth of amber to create the distinct sensation that a modern man has broken through to new levels of confidence and control. With a heart of vetiver.
Check out this list for all the free perfume samples available in the US.
I will update this article with further instructions or a possible SoPost direct link if available.
Good luck!
Be the first to get the latest freebies in your inbox