Last Updated on September 26, 2023
This is your chance to claim a free Aerin Rose De Grasse sample to try this amazing perfume from Estee Lauder without spending a cent.
Estee Lauder is giving away free samples of their AERIN Rose de Grasse Rouge perfume to select users.
Discover a bouquet of distinguished scents with Aerin Rose De Grasse perfume. Discover the floral top notes of Rose Centifolia and Indian Rose Bourboniana with a heart of lush pink, Bergamot, spicy green, and Blackcurrant… Top it off with the earthy base notes of Sandalwood, Turkish Rose, and Benzoin.
Claim a free sample to try it for yourself. Here is how.
How to get a free sample of AERIN Rose De Grasse Perfume?
NEW! On TikTok – AVAILABLE
Estée Lauder is also giving away the AERIN Rose de Grasse Fragrance sample through a sponsored pop up on TikTok. I recommend you follow the tips below to help you find the advert :
Open the TikTok App on your Smartphone
Follow the Estee Lauder account on TikTok
Engage with their content (Like recent publications, share or comment…)
Use the search bar to look up AERIN Rose de Grasse Fragrance or AERIN Rose de Grasse sample and engage with related content as well
Once you're done, keep your eyes peeled on the sponsored posts showing up for you. Here is the one you need to find: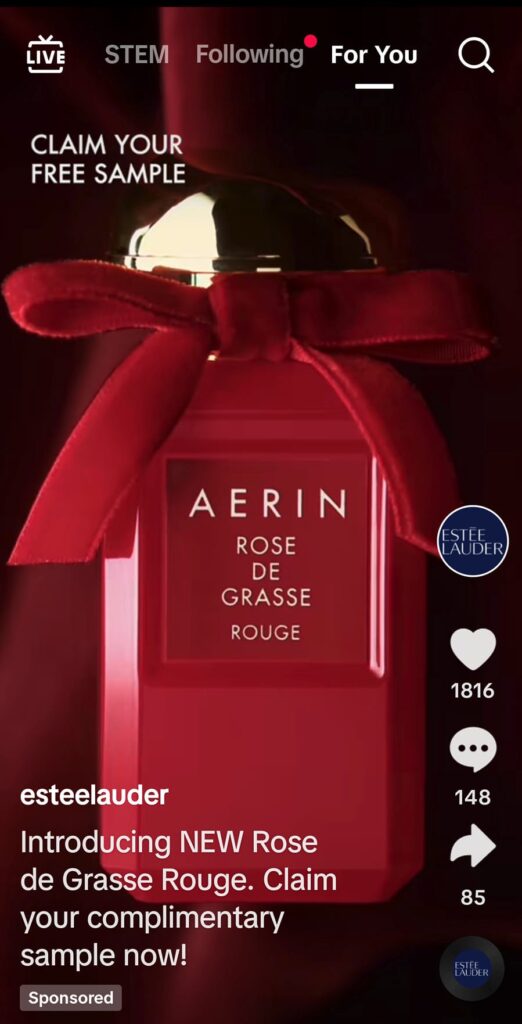 From Facebook / Instagram – AVAILABLE
The AERIN Rose De Grasse Fragrance freebie is available as a sponsored post on Facebook and Instagram. This means there is no direct link to the offer. However, you can apply the instructions below to increase your odds of getting it to pop up on your social media feed. I recommend:
Like and Follow the Estee Lauder page on Facebook
Interact with the brand (Like recent posts, watch videos or stories, etc…)
Search the AERIN Rose De Grasse perfume on the Facebook Search bar, or on the internet… Also, you can check out this fragrance on the Estee Lauder website
After this, simply keep an eye out while scrolling through your Facebook or Instagram feed. Here is the post you should be on the lookout for.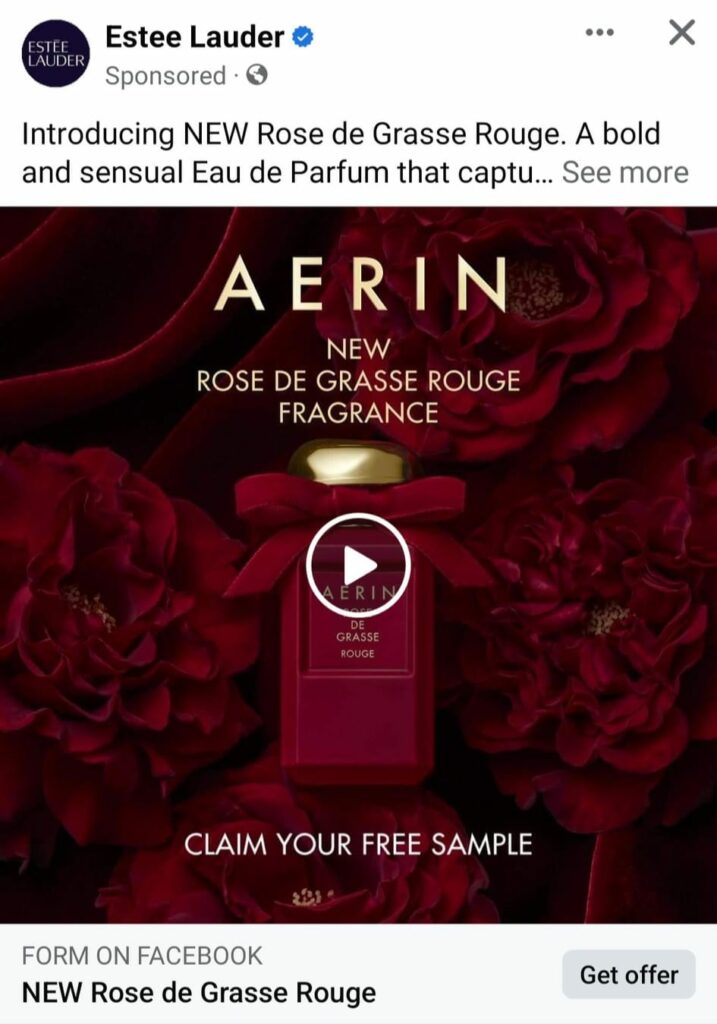 The post is powered by a SoPost form. So there could be a direct link to the form available. I will make sure to update you if I find one so you can use the direct link to the form.
Make sure you are subscribed to push notifications so you won't miss any updates.
Be the first to get the latest freebies in your inbox