Last Updated on July 12, 2021
How would you like to review the new Louboutin Perfume for free?
HOT! Vogue Insiders is giving away the new Loubifunk perfume by Christian Louboutin for select users to review.
There's nothing more exciting than trying something new and being able to have an opinion on it. Besides, it's 100% free.
How to get a possible free Louboutin Perfume with Vogue Insiders?
If you are already a member of the Vogue Insiders Beauty community, simply check your email inbox to see if you have received an email from the Vogue Beauty team announcing that you will be receiving this free Louboutin Eau de Parfum. Here's a snapshot of the email.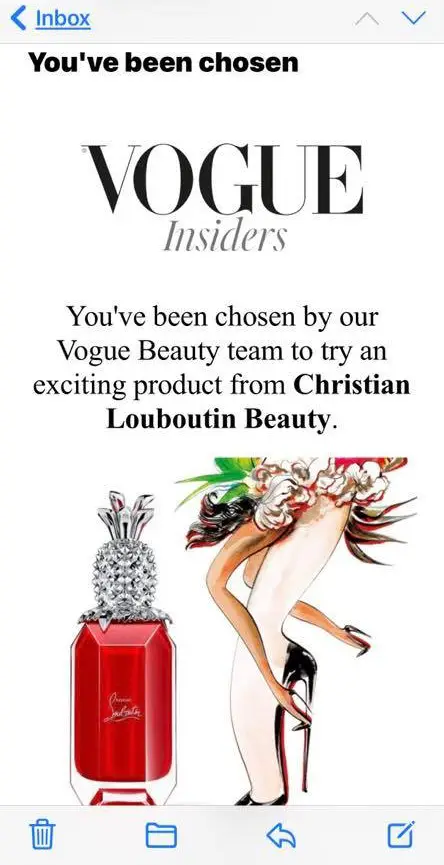 If you are not a member as of yet, I suggest you join the British Vogue Beauty community. This way, you won't miss out on future freebies and great offers like this one. You can read more about it.
Or click here to join the Vogue Insiders Community.
IMPORTANT NOTICE – SCAM
This afternoon, other people received fishing emails from some people impersonating Vogue Insiders. Please, be careful. The fishing email is filled with misspelling mistakes and asks people to update their email and password to get a sample. That's not the case with the actual email on the picture above because this ain't a sample.
Be careful and never put your passwords or sensitive info on forms or websites you are not 100% sure about.
Be the first to get the latest freebies in your inbox