Last Updated on July 21, 2021
Want to try out an Estee Lauder Advanced Night Repair Serum Sample for free? hasten to claim your Skincare freebies now while the supplies last.
Estee Lauder has announced on their Facebook page that they will be offering all residents of the UK a chance to receive FREE Estee Lauder Advanced Night Repair Serum Samples by mail.
The sampling campaign is currently running as a sponsored ad on Facebook and Instagram. Be as quick as a flash to seize this freebie today, while the stocks are up.
Receive a FREE Estee Lauder Advanced Night Repair Serum Sample by mail
NEW! There's a new advert offering free samples of Estee Lauder Firming power Duo for Face & Eyes: the Advanced Night Repair Serum & Eye Matrix.
Proceed as usual or check below for more instructions. Here's what it looks like: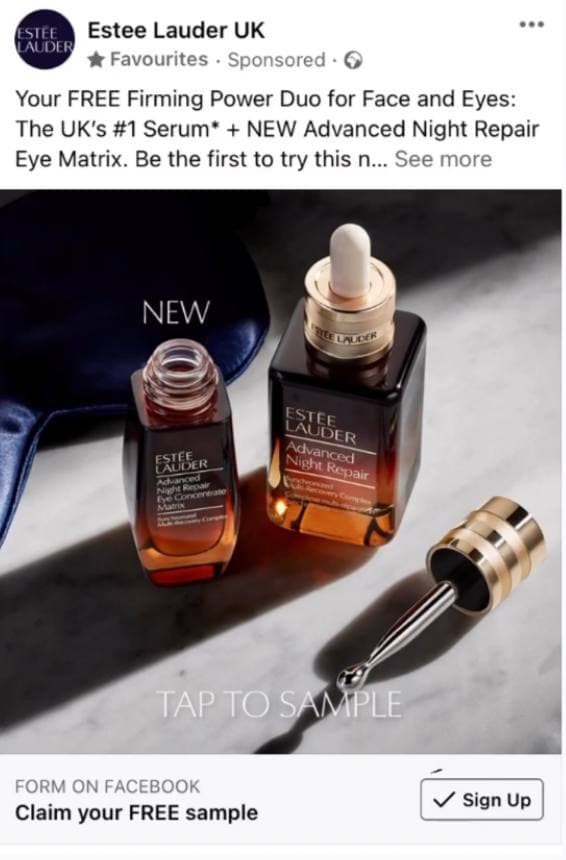 If you want to order your FREE Estee Lauder Advanced Night Repair Serum Sample, and receive it by mail to your home address, I suggest you follow this simple step-by-step guide.
Before we get started, I would like to make it clear that there is no direct link to this offer, unfortunately, since it's being promoted through a Facebook/Instagram ad. However, by completing these simple steps, you could make the ad manifest on your feed, and then claim your samples.
Keep scrolling your Facebook or Instagram feed and keep your eye open for this ad. (see picture below)
Click on the "Get offer" button and complete the request form with your valid shipping details and info to receive this sample by mail.
Want more free samples and skincare freebies to receive by mail in the US or UK? Subscribe to our newsletter to be the first notified of new deals and free stuff.
Have a good day.
Be the first to get the latest freebies in your inbox