Last Updated on November 23, 2023
Order a possible free Jean Paul Gaultier Le Male sample to receive in the mail.
The Jean Paul Gaultier Le Male cologne has top notes that include spicy oriental scents, and cardamom; middle notes of an enticing mix of powdery iris and, lavender; and base notes of Sweet Vanilla, and Oriental woods.
The ingredients come together to create a masculine fragrance that has longevity with maximum impact on the senses.
Jean Paul Gaultier Le Male Le Parfum is perfect for any man who wants to make a bold statement without being too overpowering.
The fragrance is also ideal if you are interested in trying something different than the regular perfumes and colognes on the market today.
JPG is giving away free samples of Le Male Elixir fragrance to select people. Let's dive into how you can claim yours for free.
How to claim a free sample of Jean Paul Gaultier Le Male Elixir?
From Facebook / Instagram
Jean Paul Gaultier is giving away this perfume sample through a sponsored advert on Facebook and Instagram. So to be able to fill out the form, you need to spot the ad first.
To receive this sample in the mail, you need to make the sponsored post pop up in your social media feed. Here is how below:
Follow and like Jean Paul Gaultier page on Facebook and/or Instagram if you haven't done so already
Like a bunch of recent posts or watch a video shared on the page
Visit the their website and view Le Male Elixir fragrance there
Hopefully, after completing these actions you will fit their targeting criteria and get the ad to pop up in your social media feed.
Here is what it looks like :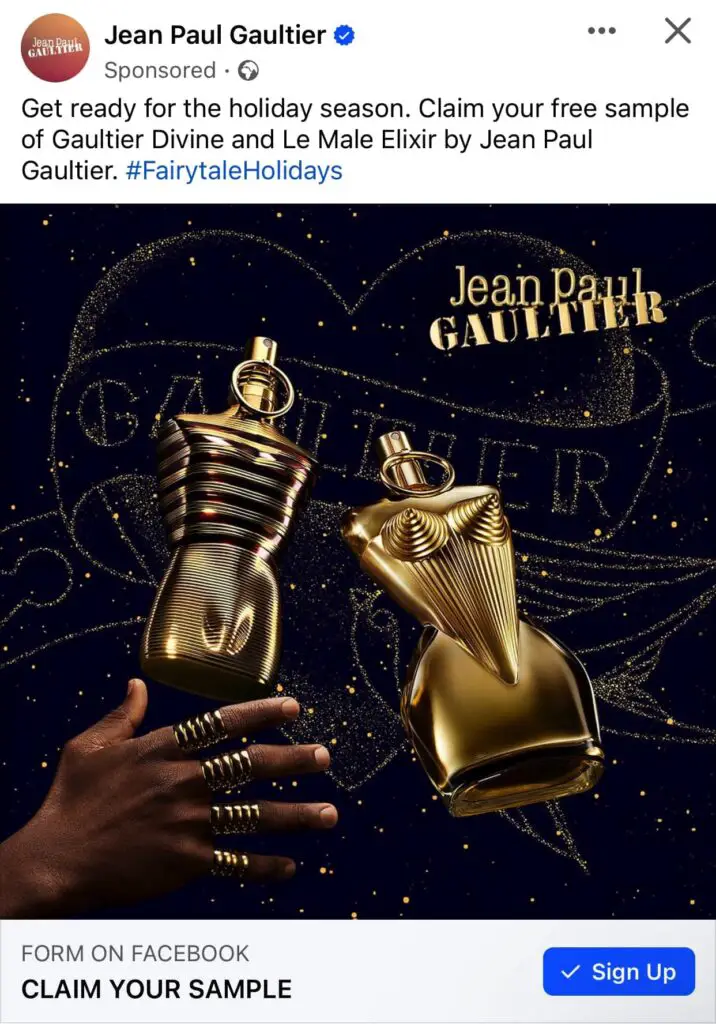 Since SoPost powers this, there could be a direct link to form the coming hours or days.
So please stay in the loop for future updates by subscribing to our push notifications or Newsletter.
Good luck.
On TikTok
Update: this sample is now also available on TikTok as you can see in the picture below. The method to get it remains the same, just apply what we discussed above to TikTok.
Be the first to get the latest freebies in your inbox