Last Updated on September 18, 2023
Sign up for a free Gucci Flora Gorgeous Fragrance sample while supplies last.
Currently, you can get free samples of the new Gucci Flora Gorgeous perfume in the US with a simple request. Check out the available offers below and follow the instructions to claim your freebie.
How to get a free sample of Gucci Flora perfume in the US?
NEW! From Facebook / Instagram
Macy's is giving away the samples through a sponsored advert on Facebook. So there is no direct link to the form. However, you can complete the steps below, and hopefully, the post will show up in your social feed. Then you will be able to fill out the form and receive the Gucci Floral Gardenia sample.
Let's start. Here are the steps to follow:
Follow Macy's page on Facebook if you haven't already
Like and follow Gucci's page on Facebook
Show interest in the brand by liking recent posts, leaving a comment, or watching a recent video they have shared on their social media
Visit the Gucci website and check out the new Floral Gorgeous Gardenia perfume there
You can also use the Facebook search bar to look up the Gucci Floral Gorgeous Gardenia perfume
Below is a snapshot of what the advert you should be on the lookout for looks like: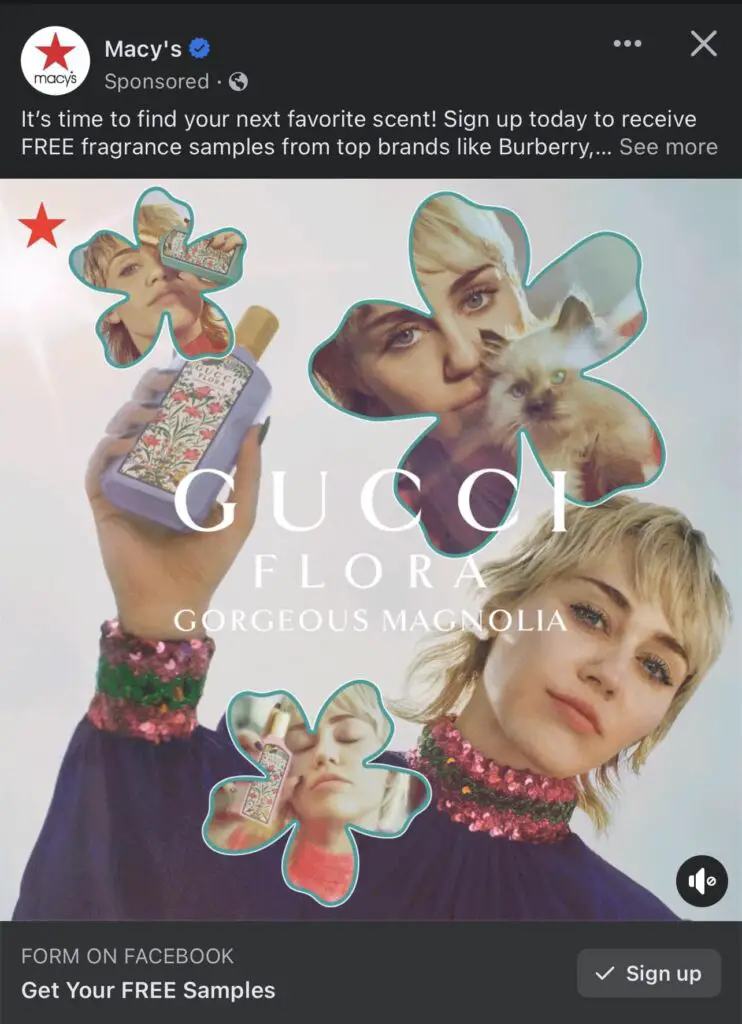 Gucci Floral Gorgeous Gardenia perfume is an absolutely stunning spring fragrance that is perfect for those who love blooming flowers. Especially Gardenia. This fragrance has a light and airy feel to it. It's so iconic, yet modern because it is so versatile. For example, you can wear this scent on a hot day as well as in the evening or any time that you want to feel sexy and feminine. Get a sample for free to try out before you decide to buy.
From Bloomingdales Website or App – EXPIRED!
UPDATE: I managed to find a direct link to the SoPost form. To get your free sample of Gucci Flora Gorgeous Magnolia Fragrance, CLICK HERE and fill out the form.
Alert to all the perfume lovers… Bloomingdale's Mobile App or website has a Gucci Flora Gorgeous Magnolia sample ad. It is under Beauty/ Fragrance/ Perfume category as you can see in the screenshot below. Try USING THIS LINK HERE and see if you can find it. Or just open their website or App and check the Beauty/Fragrance/Perfume section.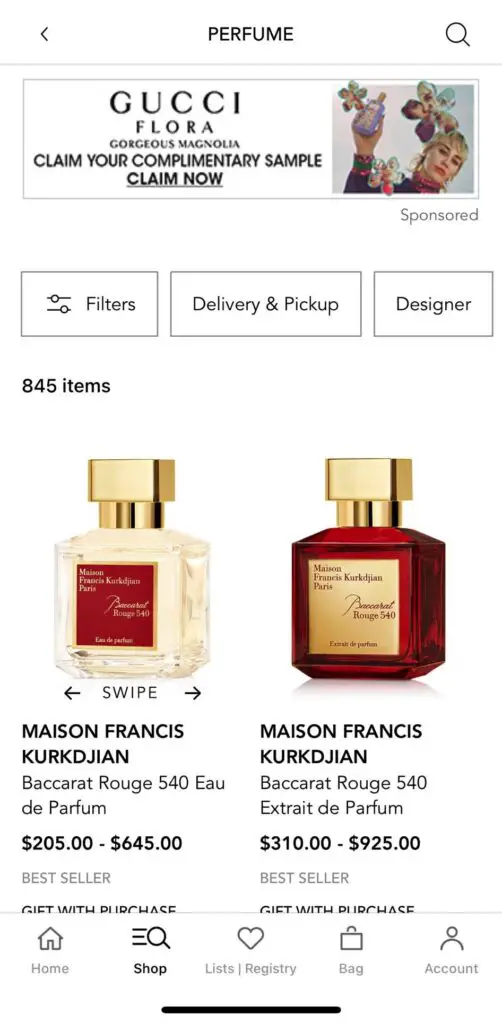 Be the first to get the latest freebies in your inbox