Last Updated on November 5, 2023
Grab a free Giorgio Armani My Way sample to add to your perfume samples collection.
Discover the Giorgio Armani My Way Fragrance, a sparkling floral perfume with notes of Tuberose, enticing Orange Blossom, and Vanilla. Order your sample right now and get it in the mail without paying a cent. Here is how.
How to claim a free sample of Giorgio Armani My Way in the US?
NEW! Facebook / Instagram – AVAILABLE
Macy's is offering the Giorgio Armani My Way perfume samples thru sponsored posts currently doing rounds on Facebook and Instagram. This means that there is no direct link to the form. However, there is a bunch of tasks you can complete to increase your odds of getting it to pop up on your social feed. Here are my suggestions:
Like and Follow Macy's and the Armani Beauty page on Facebook or Instagram
Engage with the brand by liking recent posts, watching stories, leaving a comment or watching a recent video they have shared
Visit the Armani Beauty Website and the Macy's website and check out My Way by Armani there
Lookup the Armani My Way Perfume on the internet and the Facebook Search Bar
After completing these steps, simply keep an eye out for the sponsored posts showing up on your social feed. Below is a screenshot of the post you should be on the lookout for.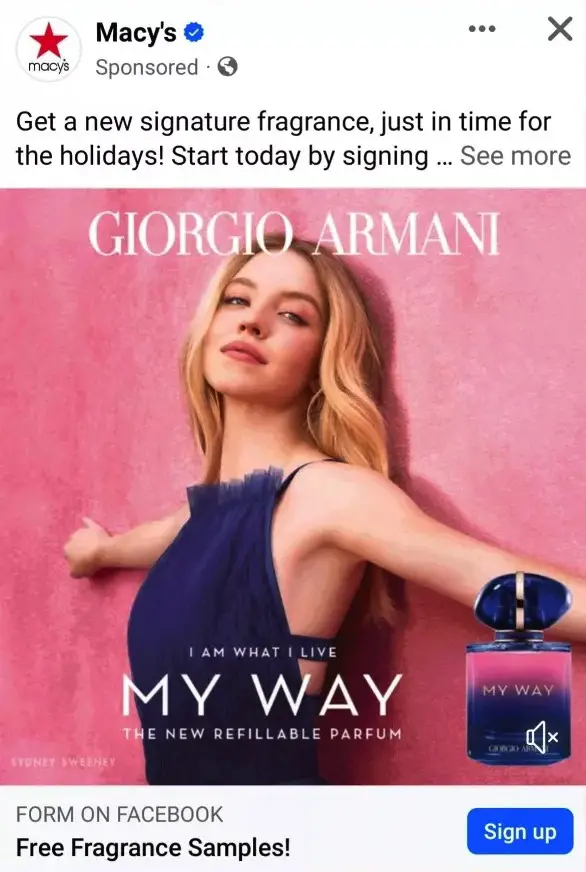 Once you spot the post, click on the 'SIGN UP' button to access the SoPost request form.
Stay tuned for an update or a possible direct link to score this freebie.
On TikTok
Great news for TikTok users! The Giorgio Armani My Way perfume samples are now also available through sponsored posts on TikTok. Armani Beauty is extending its campaign to the popular social media platform to reach more potential customers.
If you're a TikTok user, here's how you can increase your chances of spotting the Armani sponsored ad and claim your free fragrance sample:
Follow the Armani Beauty page on TikTok. If you haven't done so already, simply search for "Armani Beauty" in the search bar and hit the follow button on their page.
Interact with the Armani Beauty TikTok account. Engagement is key to make sponsored ads appear in your feed. Watch their videos, give them a like, or even drop a comment. This tells TikTok's algorithms that you're interested in Armani's content.
Search for the Giorgio Armani My Way perfume on TikTok. Use the search bar at the top of the app and enter the product name. This will further signal your interest in the brand and the specific product to TikTok.
Lastly, be patient. It might take some time for the platform algorithms to process your interactions and deliver the desired ad.
When you finally spot the Armani sponsored ad on your TikTok feed, click on it to access the free sample request form. Fill out your shipping details, submit the form, and await your free sample of the exquisite Giorgio Armani My Way perfume in the mail. Here is what it looks like: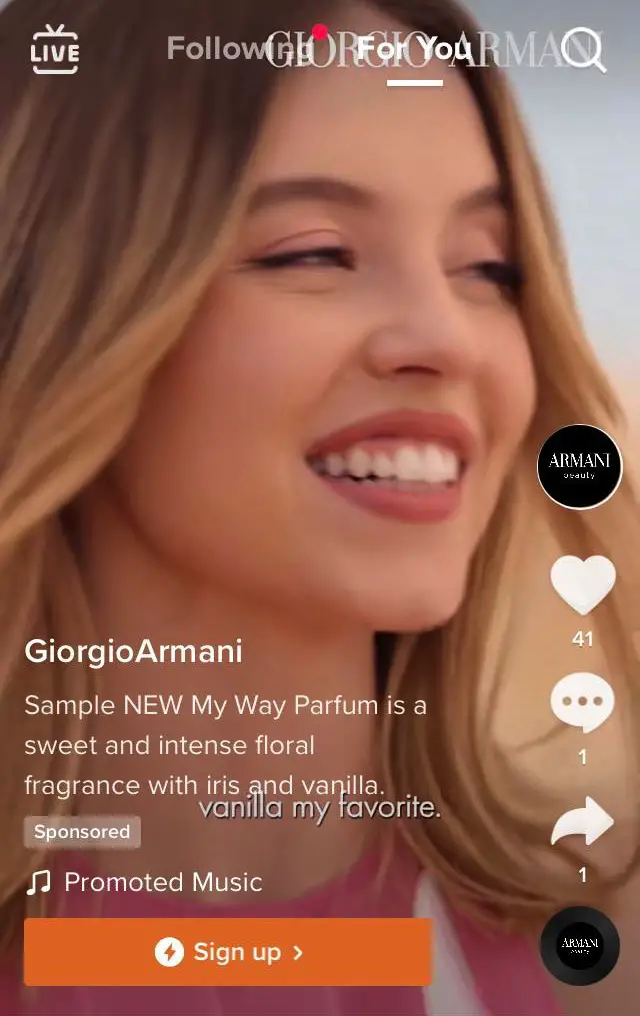 Just remember, offers like this are often limited in quantity and duration, so be sure to act fast once you spot the ad.
Stay tuned to our updates, and enjoy the sophisticated, radiant notes of Armani's My Way perfume!
Be the first to get the latest freebies in your inbox