Last Updated on September 1, 2021
Order the new Estee Lauder Mangolia Fragrance sample and get it in the mail.
Estee Lauder is giving away free samples of Beautiful Mangolia fragrance.
The newest addition to perfumes by Estee Lauder, and an ode to Romance, Femininity and radiance.
How to get possible free Estee Lauder Fragrance sample in the mail
Freebie is offered thru a sponsored advert on Facebook so there is no direct link to the signing up form. However, keep both eyes open for the advert to pop up in your newsfeed. (See snap I took below)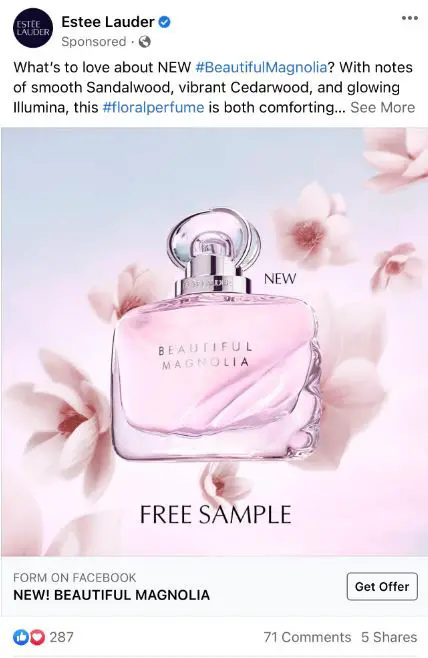 Offer is for select Facebook users only. Which means not everyone will be getting it. Only if you fit the criteria the sponsor picked. It could be on Instagram too but I'm not sure. Focus on Facebook newsfeed.
Valid for short period of time or while supplies last.
Estée Lauder Beautiful Magnolia Eau de Parfum is a hypnotic blend with signature notes of lush Magnolia, solar Gardenia, warm Woods, and luminous Musk.
Be the first to get the latest freebies in your inbox