Last Updated on November 20, 2023
If you're a beauty enthusiast, you're in for a treat! You can grab a free ELF Face Primer sample while supplies last.
E.l.f Cosmetics is currently offering you the chance to try their Power Grip Face Primer.
This offer is available through sponsored posts on Facebook and Instagram, making it easy for you to claim your free sample and experience the magic of this primer.
Read on to find out all about this freebie and how to get it.
How to order a free sample of ELF Cosmetics Power Grip Primer?
Now, you might be wondering how to get the sponsored ad to appear on your Facebook or Instagram feed. Here's a simple guide to help you increase your chances:
Make sure you are logged into your Facebook or Instagram account.
Visit and like ELF Cosmetics page on Facebook and/or Instagram account.
Interact with their posts by liking, commenting, or sharing them.
Use the search function to look up keywords such as "ELF Face primer" or "ELF Power Grip Primer."
Visit ELF Cosmetics' official website and browse their products.
By engaging with ELF Cosmetics content on Facebook and Instagram, you signal to the platform's algorithms that you have an interest in these topics. This increases the likelihood of the sponsored ad for the free Power Grip Face Primer sample appearing in your feed. Here is what it looks like.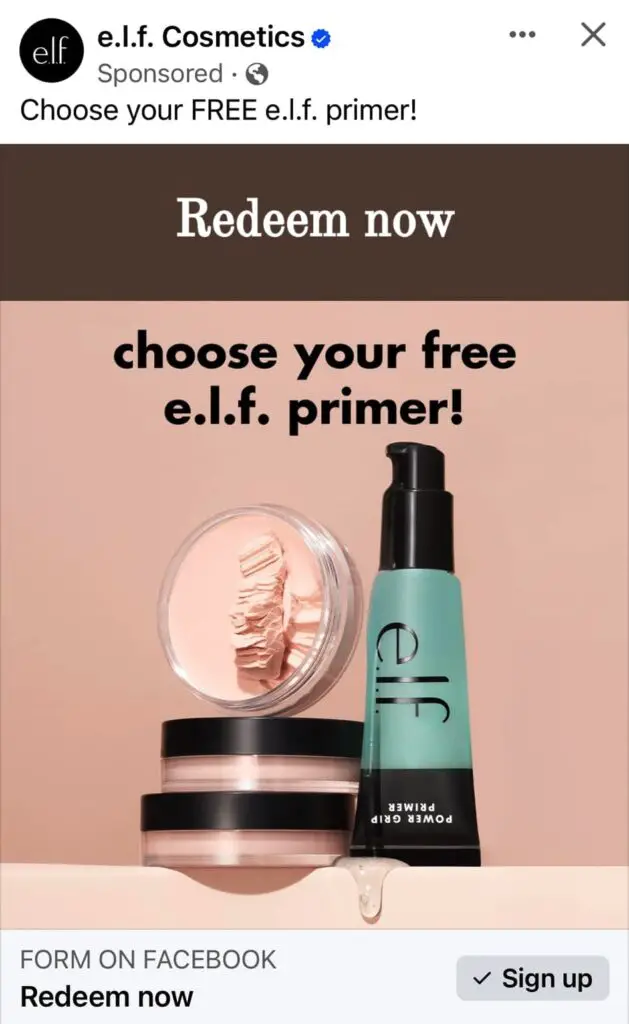 Don't miss out on this fantastic opportunity to try ELF Cosmetics' Power Grip Face Primer for free. Follow the steps above to increase your chances of seeing the sponsored ad in your feed and claim your free sample.
Remember, this offer is available only for a limited time and while supplies last, so act fast and enjoy the flawless finish this primer provides.
About ELF Cosmetics Power Grip Primer
ELF Cosmetics Power Grip Face Primer is designed to create a smooth and flawless base for your makeup application.
The lightweight formula helps to minimize the appearance of pores and fine lines, ensuring your makeup stays put and lasts all day. Ideal for all skin types, this primer is cruelty-free, vegan, and free of parabens, sulfates, and phthalates.
Be the first to get the latest freebies in your inbox