Last Updated on December 7, 2023
This season, Dolce & Gabbana has left no stone unturned in presenting a range that embodies elegance, charm, and sheer opulence: the Devotion Collection.
And guess what? You can experience it firsthand with a free Dolce & Gabbana Devotion Collection sample pack!
Dive into the Dolce & Gabbana Devotion Collection
Unveiled by Dolce & Gabbana Beauty, the Devotion Collection boasts products that are the epitome of grace and class.
With exquisite makeup selections paired with the enticing aroma of the new Eau de Parfum, this collection is designed to captivate your senses and make a statement.
Here's how you can claim this fabulous freebie offer.
How to claim a free sample package of Dolce & Gabbana Devotion Collection?
D&G is offering this freebie through sponsored posts on Facebook and Instagram to select users.
You need to spot the advert on your feed to be able to sign up for it. Don't worry, it's quite simple, all you need to do is follow the steps below:
Stay Active on Facebook and Instagram: The sample offer is primarily popping up for active users on Facebook and Instagram. The more you engage on these platforms, the higher your chances of encountering the advert.
Interact with Dolce & Gabbana: Show interest in Dolce & Gabbana content. Go to their page and follow them. Then, like, share, or comment on their posts. The algorithm is more likely to show you related adverts, including the Dolce & Gabbana sample offer.
Visit the Dolce & Gabbana Website: Sometimes, simply visiting the official website or searching for their products can prompt the algorithms to showcase related ads on your social media feed.
Turn on Ad Personalisation: Ensure you've enabled ad personalisation in your settings. This allows platforms like Facebook and Instagram to show you ads tailored to your interests.
Once done, keep an eye out for the sponsored post!
When the advert graces your feed, tap on the 'Sign Up' button to claim your free sample.
Here is what it looks like for reference purposes.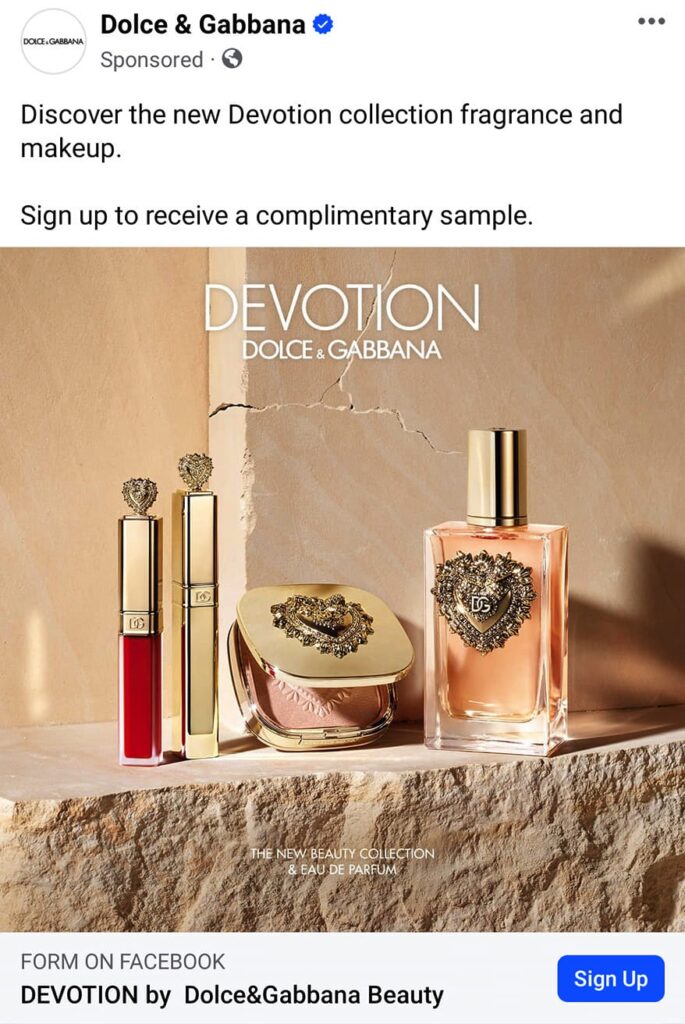 Once you spot the ad, be quick to click on the 'SIGN UP' button to fill out the request form.
Targeting Criteria
As you can see in the targeting details for this advert, it is showing up to select users on Facebook and Instagram who meet the following criteria:
Females aged between 18 and 54 years old
Shown interest in Beauty, Shopping and more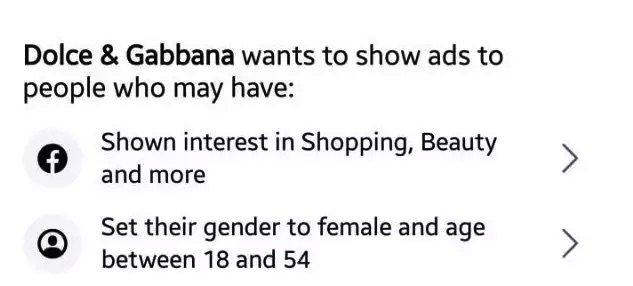 So, these targeting details are quite easy and apply to all of us. especially if you have a habit of claiming samples through sponsored posts.
---
Remember, these samples are available while supplies last. Considering the reputation of Dolce & Gabbana and the allure of the Devotion Collection, they're bound to run out fast so I can't stress enough the importance of acting quickly.
This is a golden opportunity to indulge in the sophisticated world of Dolce & Gabbana Beauty.
So, gear up, stay active online, and get ready to immerse yourself in the delightful notes and shades of the Devotion Collection.
Good luck!
Be the first to get the latest freebies in your inbox